Banoffee Shots Anyone???
You know what makes it even better???
"The Glencairn Crystal Glasses"
Originally From Scotland
.
This little glass is a masterpiece and ideally used for whisky but why not give them a make over!!!!
.
This exclusive collection is available at The Palladium Holdings and they're on a very attractive offer!!! Check Out Their Page for More Glassware etc…
.
Await a Fantastic Giveaway soon!!!
.
Visit their showroom @ 61/1,Duplication Road,Colombo – 04
https://instagram.com/palladium_holdings?igshid=6xvqi4tmnay5
Use my code myfj2020 and get an additional 10% off your purchase
These mini dessert glasses are ideally one serving.Starts with a base of crushed biscuits,then layered with caramelized banana,a drizzle of home made toffee sauce, a dollop of freshly whipped cream,Silky Chocolate Ganache and finally topped off with dark chocolate shavings!!!! Insanely Delicious in every bite !!!
Let's Get Started
You Will Need
Crushed Biscuits
Caramelised Bananas
Whipped Cream
Toffee Sauce made using condensed milk
Chocolate Ganache
Toppings of Choice : I used peppero sticks and chocolate shavings
Caramelised Bananas
4 large bananas sliced
4 tbsp brown sugar
A splash of heavy cream
A tbsp of butter(optional)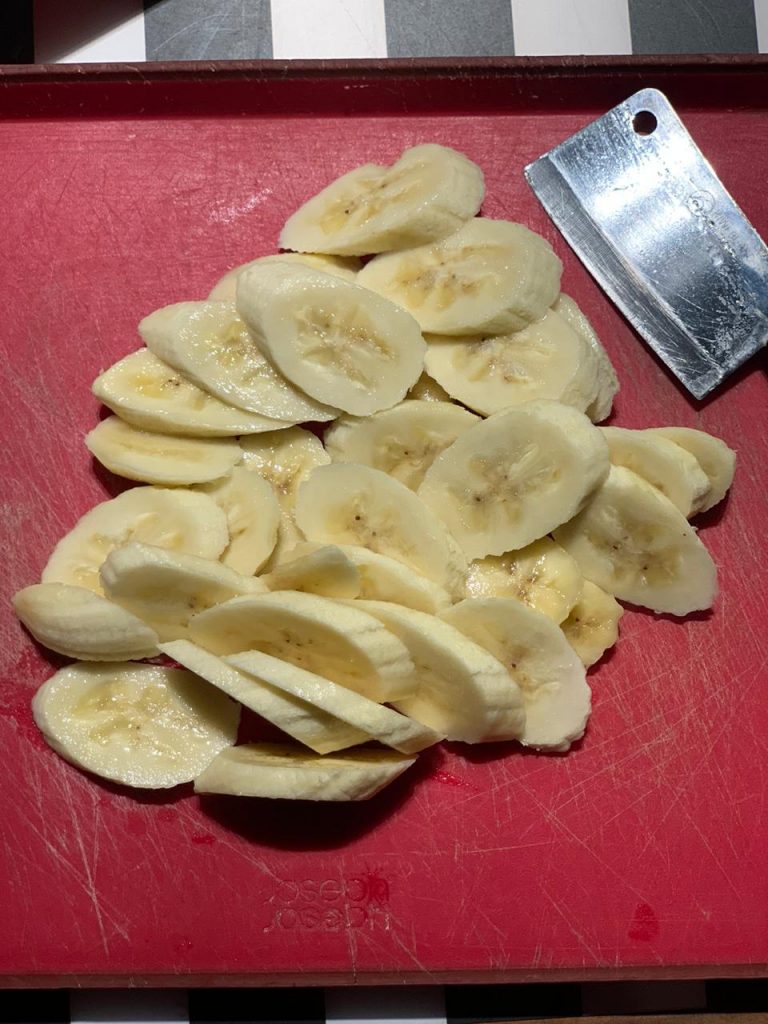 In a pan heat the brown sugar and let it melt, add the butter
Add the sliced bananas
Finally the heavy cream….yum yum I can just eat it off the pan!!!
Whipped Cream
Toffee Sauce
This sauce can be easily made at home using the milk maid condensed milk can
Check my post on The Golden Joy Slice to see how I made this easy sticky deliciousness!!!!
Link is attached below
Chocolate Ganache
Melt Dark Chocolate and Heavy Cream over a double boiler or in the microwave till its melted and smooth…
200g Chocolate with 1/2 cup Heavy Cream
Let's Assemble
Layer One :
Crushed Biscuits
Layer Two :
Caramelised Bananas
Layer Three :
Whipped Cream
Layer Four :
Toffee Caramel
Layer Five :
Chocolate Ganache
Final Layer :
More Caramelised Bananas and Top With Whipped Cream
I Finished with chocolate shavings!!!!
Chill and Serve
This can be made in a large serving tray as well but today I enjoyed making the individual shots using these magnificent glasses!!!
DO NOT MISS OUT ON THE HAPPENING OFFER!!!
Much Love Nuzrath?
srilankanfoodie #mylankanfoodjournal #colombofoodbloggers #exclusiveglasses #luxuryglasses #instafood #feedfeed #huffposttaste #onthetable #instadaily #foodphotgraphy #eatpraylove #begrateful #positivevibesonly#alhamdulillaforeverything?