When it's mango season it definitely calls for everything MANGO MANGO!!!!As you can see the chubster fingers trying to sneak some of those juicy strawberries 🍓🍓🍓
.
This is a recipe I gathered from my handwritten books that are almost a decade old…I combined a mousse with Greek Yogurt and it turned out amazing 👌🏻👌🏻👌🏻
.
This is a classic version that can be simplified as well : Delicious Mango Mousse topped with home Made Passion Sauce…
Let's get started
What You Need
Passion Topping
Double boiled Gelatine mixture
Double boiled yolk and sugar mixture
Stiffly Beaten Whites
Puréed Fresh or Stewed Mangoes 1 cup and 1 cup for in-between the cream
Heavy Cream 1/2 Cup
Whipping Cream 1/2 Cup
Greek Yogurt 250ml
Vanilla (optional)
Milk maid for sweetener instead of sugar
PASSION TOPPING OR SAUCE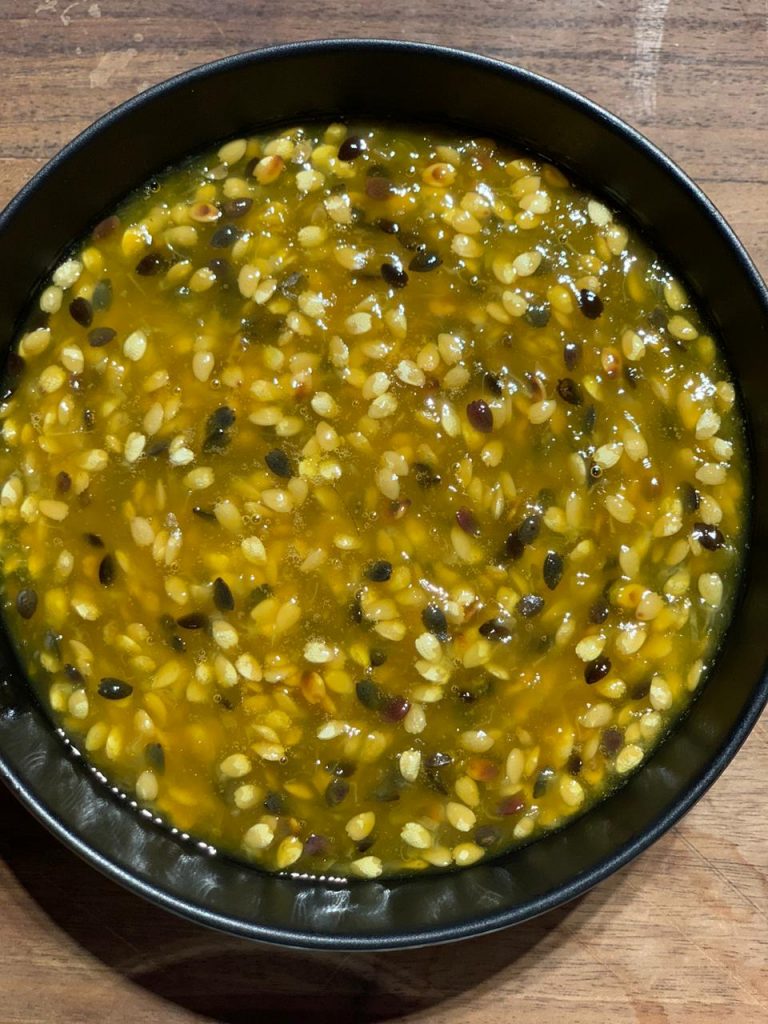 Ingredients :
Passion Fruit 10 fruits
Brown sugar 1 cup
pinch of salt
Step One : Remove the pulp from the passion fruit, sprinkle a pinch of salt.
Step Two : Transfer to a pan & add sugar
Step Three : Keep on low flame till the water simmers down and it thickens up…into a topping consistency.Let this cool completely before pouring over any cold dessert…
GELATINE MIXTURE
Ideally this is how gelatine is used in most desserts.Double boiling it helps activate its gelatinous properties and dissolves smoothly into any dessert.You could even double boil in a microwave,if you have one!!!
Ingredients :
2Tbsp Gelatine
2 tbsp lemon juice
1/2 cup water or juice
Follow the image attached below for step by step instructions
Step One : Mix the gelatine with water and lime juice or fruit juice
Step Two : Place over a double boiler or microwave for under one minute
Step Three : Make sure there are no lumps and let this cool while you're getting the other stuff ready…
DOUBLE BOIL YOLK AND SUGAR MIXTURE
Double boiling the yolk with some sugar makes it safer for consumption specially if you have food allergies etc…
Ingredients :
3 Egg yolks
Brown sugar 1/2 cup
Step One : Mix the yolks with sugar in a heat proof bowl
Step Two : Place over another pan with boiling water over a medium flame.Do not let the pan touch the water.The steam basically warm up the yolks without scrambling them…
Step Three : Keep whisking till it thickens and becomes foamy….The yolks are ready to be added into the dessert!!
STIFFLY BEATEN EGG WHITES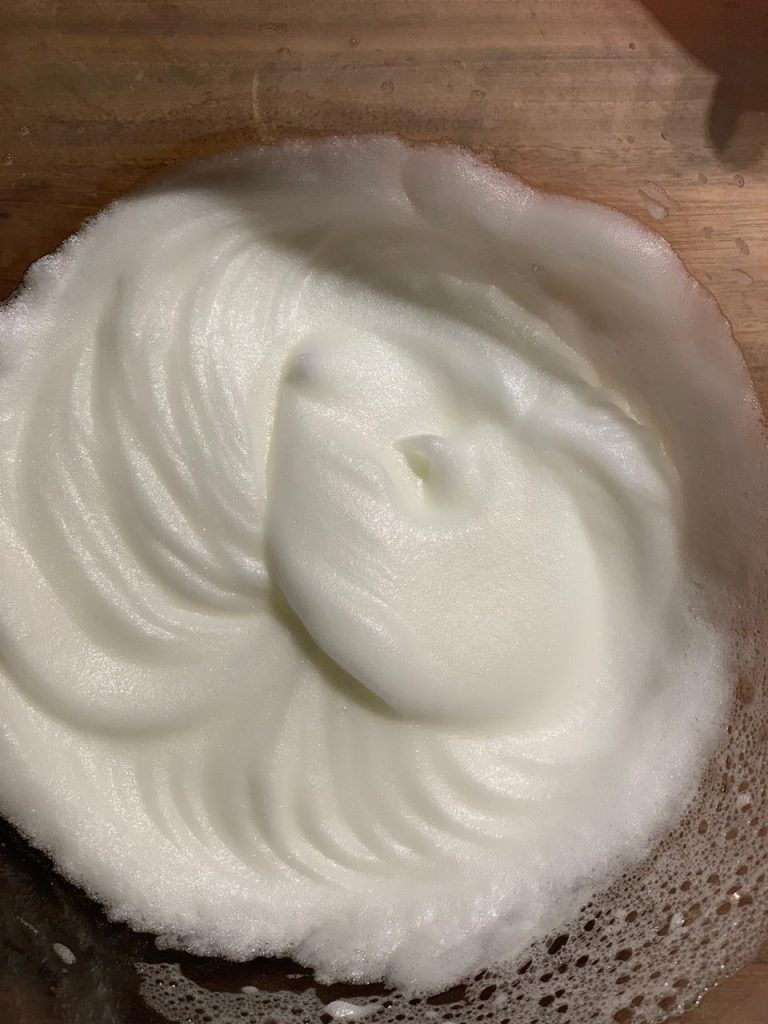 IMPORTANT TIPS
Make sure the beater and bowl is absolutely dry before dropping the egg whites in…Also make sure there's no bits or particles of the yolk within the egg whites because apparently the fats in the yolk will not allow the whites to stiffen up like it should.So if you're a beginner I would advise you to first separate the whites one by one into a small cup before transferring into the bowl of egg whites.
Ingredients :
3 Egg whites
Few tbsp of powdered Sugar(optional)
Refer to image below for steps :
Step One : Transfer the egg whites into a clean and dry bowl.
Step Two : Beat on medium high and gradually add in the fine sugar
Step Three : Beat till stiff peaks…Do not over beat though!!!When it is stiff enough you can literally try turning the bowl around and it won't drop!!DO NOT ATTEMPT IF IT'S YOUR FIRST TIME!!!!
LET'S START GETTING THIS TOGETHER
Refer to Image for Step By Step Details
Step One : Whip the cream until nice and fluffy
Step Two : Add Heavy cream.This is optional and if you don't have heavy cream you can add a can of Nestle Cream.
Step Three : Add Greek Yogurt
Step Four : The double boiled yolk and sugar mixture
Step Five : Double boiled gelatine mixture
Step Six : Puréed Mango Pulp
Step Seven : Now combine this with the stiffly beaten whites
Step Eight : Add vanilla and the mousse is ready for assembling!!!!
Let's Assemble
Spoon this deliciously creamy mousse into a serving bowl or individual servings like I did.I added an extra spoon of mango purée for more texture.Then topped with the home made passion sauce for some tang!!!!Soooo good….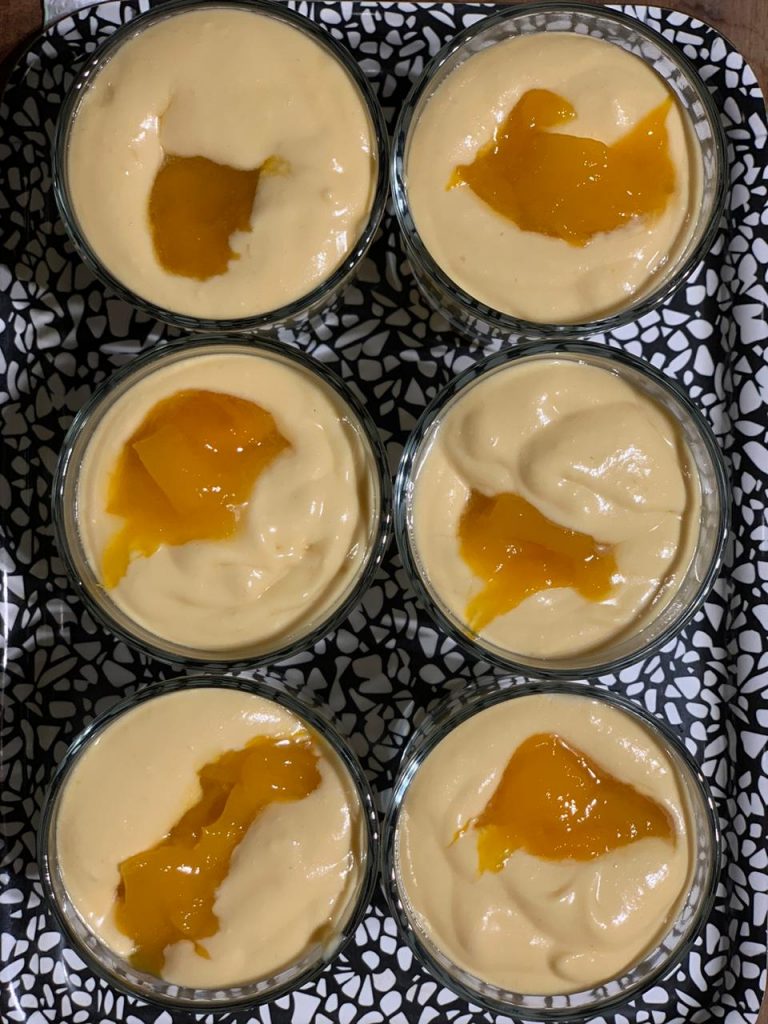 I'm loving the mini shot glass selection from palladiumholdings
🌟🌟These babies are selling out so fast🌟🌟UNTILL STOCKS LAST ONLY

I hope you have claimed your discounts with them!!!The SALE is still on !!!
They deliver and work online as well so send them a DM or WhatsApp on : +94 77 491 4662 to get your orders delivered🚚🚚🚚 Link is attached below
https://instagram.com/palladium_holdings?igshid=1mbc3xmrii14m
Would Love to see your remakes on this deliciousness
Product Details Below :
You could also use milkmaid condensed milk for sweetener instead of sugar
https://instagram.com/milkmaidsweetdelights?igshid=1xwf4qw6epq0d
For the original use Terra Vita Greek Yogurt :
https://instagram.com/greek_yoghurt_sri_lanka?igshid=wwj1rf62zuy1
Anchor Whipping Cream/Heavy Cream is always what I recommend but you can definitely use whatever is available :
https://instagram.com/fonterra_lk?igshid=8voyn7ha5cvn
Favourite Brand for Eggs
https://instagram.com/arogyafarm?igshid=8bko8vu8m8ji
Recommended Halal Gelatine :
https://instagram.com/mothasrilanka?igshid=442je0s37ny3
Strawberries are always sourced from the very best : Jagro
https://instagram.com/simplystrawberriesbyjagro?igshid=kwvkqz4ovafj
The tray I served them in was from nuzuta homz
They do have some fantastic deals going on this week as well!!!Link to their page is attached below
https://instagram.com/nuzutahomz.lk?igshid=ckr786e0ts1f
Happy Shopping You Guys!!!
Much Love Nuzrath 💕
srilankanfoodie #mylankanfoodjournal #colombofoodbloggers #instafood #feedfeed #huffposttaste #onthetable #instadaily #foodphotgraphy #eatpraylove #begrateful #positivevibesonly#alhamdulillaforeverything💕