As parents we want the best for our kids whether it be education or even food…
There are times when we do take shortcuts in between our busy schedules and that's ok…not bad parenting !!! We've all done this right???
In our home we don't believe in giving our kids instant noodles all the time but we do treat them every once in a while,as kids we enjoyed it too right ?? Unhealthy Goodness in the form or Maggi or kothu mee
Anyway the kids have been requesting me to make Fried Noodles and we had only this particular pack on hand that day due to restricted supplies so we made the most of it using some fresh Veges from @sunnybees.lk . Their service is fantastic so happy I chose them
Do check their page out to place your orders : Link is attached below
https://instagram.com/sunnybees.lk?igshid=1nmyib1y1u1tf
The Fresh Seafood and Chilli Paste Ofcourse from The Middle Cut Company that never disappoints me @middle.cut Check them out to get your fresh chilli paste
https://instagram.com/middle.cut?igshid=xzuz58oy4e99
I used @ceyloncoconut.company Coconut Aminos instead of soy sauce
I didn't add egg into the noodles I added them in seperately in the form of a thin Omlette,that's how we enjoy it!!!
Let's Get Started
You Will Need
Boiled Noodles
Protein of choice
Vegetables for stir fry
Sliced thin Omelette
Noodles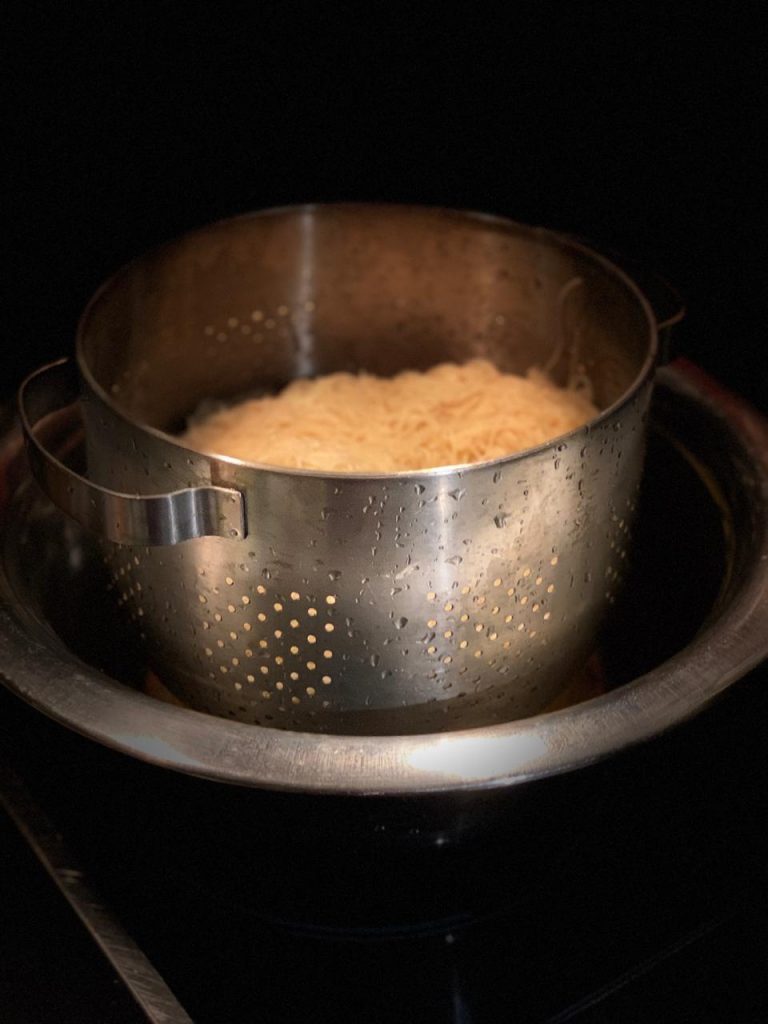 Noodles of choice : I used whatever I had at home, Parkview Noodles. Check instructions on the packet and cook them first.
Follow Steps to see how I did mine
Step One : Boil two litres of water for one packet
Step Two : Once this comes to a roaring boil, add in the noodles
Step Three : Let this come to a boil and keep on fire for 5 minutes
Step Four : You will notice the noodles have changed colour and they're done
Step Five : Strain and run through a cold water tap.Drizzle some oil on top to stop them from sticking to one another and avoid clumping
Protein Of Choice : Prawns
I cleaned them and marinated with salt,kashmir chilli powder and lime juice.Then I stir fried in some oil till nice and crisp.You could steam them if you prefer..
Skip this step if you're making a vegetarian version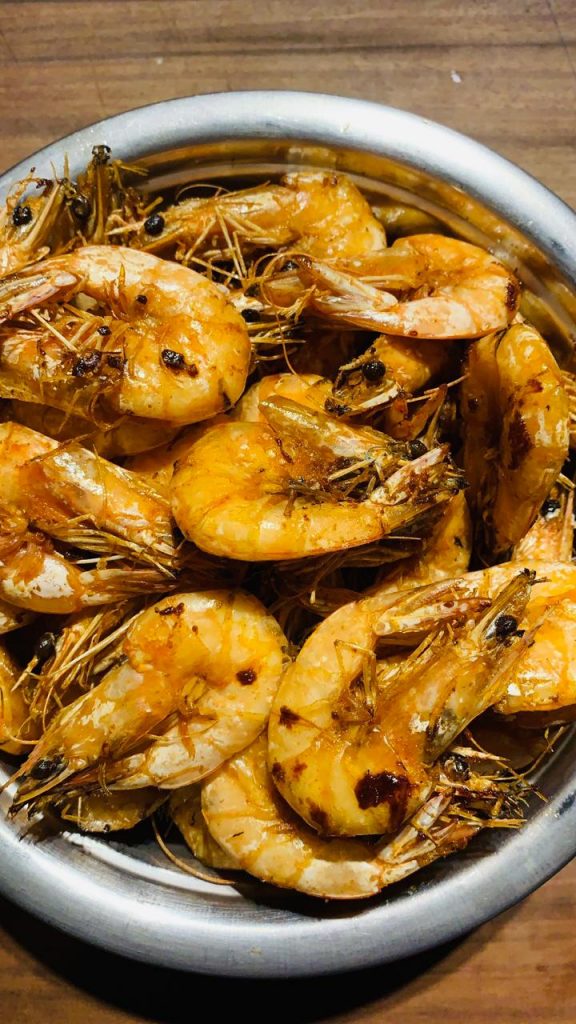 Vegetables for Stir Fry
1 Sliced B Onion
1 Sliced Tomato
3 Sliced Capsicums
1 Carrot sliced julienne
100g Beans Sliced
100g Leeks Sliced or Spring Onion Leaves
2 tbsp finely minced ginger and garlic
Curry Leaves, Pandan Leaves
2 tbsp Chilli Paste
Thin Omelette
You could definitely scramble your eggs while stir frying the noodles but this is what we prefer because we like to bite into the egg particles while eating the noodles instead of having to pick them in between the cooked veggies
It is very easy to make : Just follow the simple steps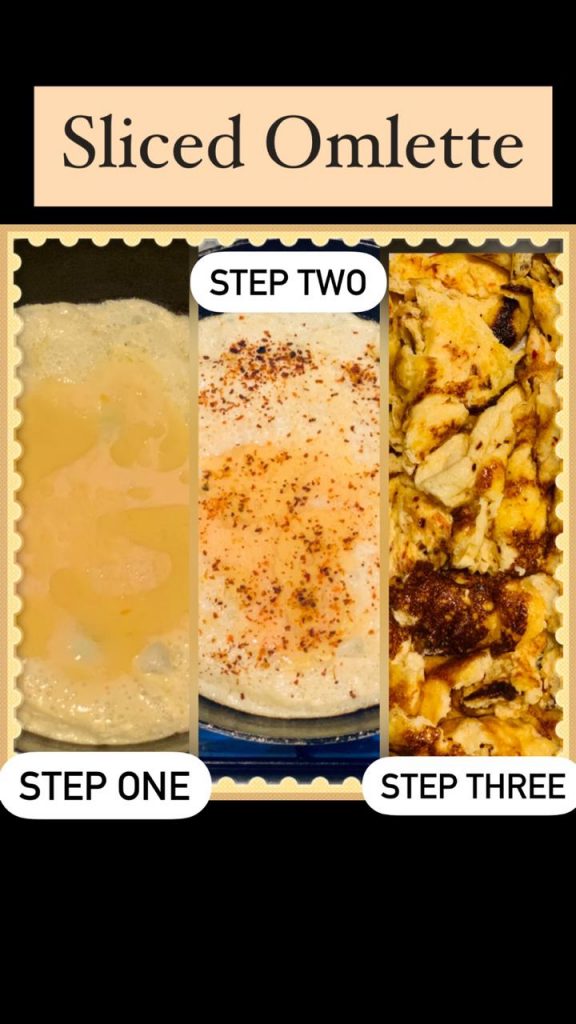 Step One : Beat 5 Eggs with a splash of milk.Pour a thin layer into an oiled non stick frying pan. Do not add all at once because you want thin layers
Step Two : Sprinkle seasoning of choice and cook this on low for at least five minutes or until the complete omelette is done.It is too thin to flip so don't attempt if you're not sure
Step Three : Transfer on to a flat plate and slice into thin strips.This can be used for rice or noodles
Let's Start The Stir Fry
Make Sure everything is ready when you're about to start on the stir fry
Follow the image to see the steps
Step One
Heat 1/2 Cup Oil or Butter and sauté Garlic Ginger and Onions till nice and golden
Step Two
Add Fresh Chilli Paste, curry leaves,pandan leaves
Step Three
Tomatoes and Capsicums
Step Four
Carrots and Beans
Step Five
Leeks
Step Six
Add in the cooked noodles and combine
Step Seven
Coconut Aminos ( Soy Sauce substitute)
Step Eight
Check for salt and spices,adjust accordingly
Comfort Food ready to be plated up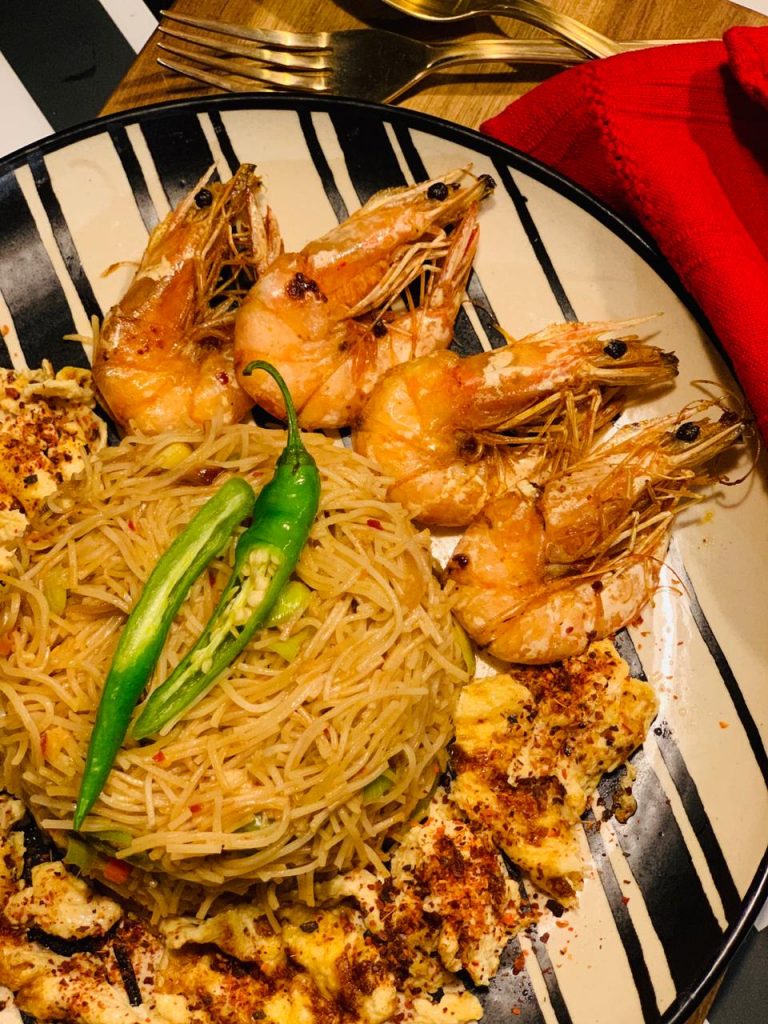 You could mix the seafood in but we prefer plating it on the side
So much going on in one plate…isn't that wonderful!!!
What is your favorite kind of noodles???
Do you like Instant Noodles??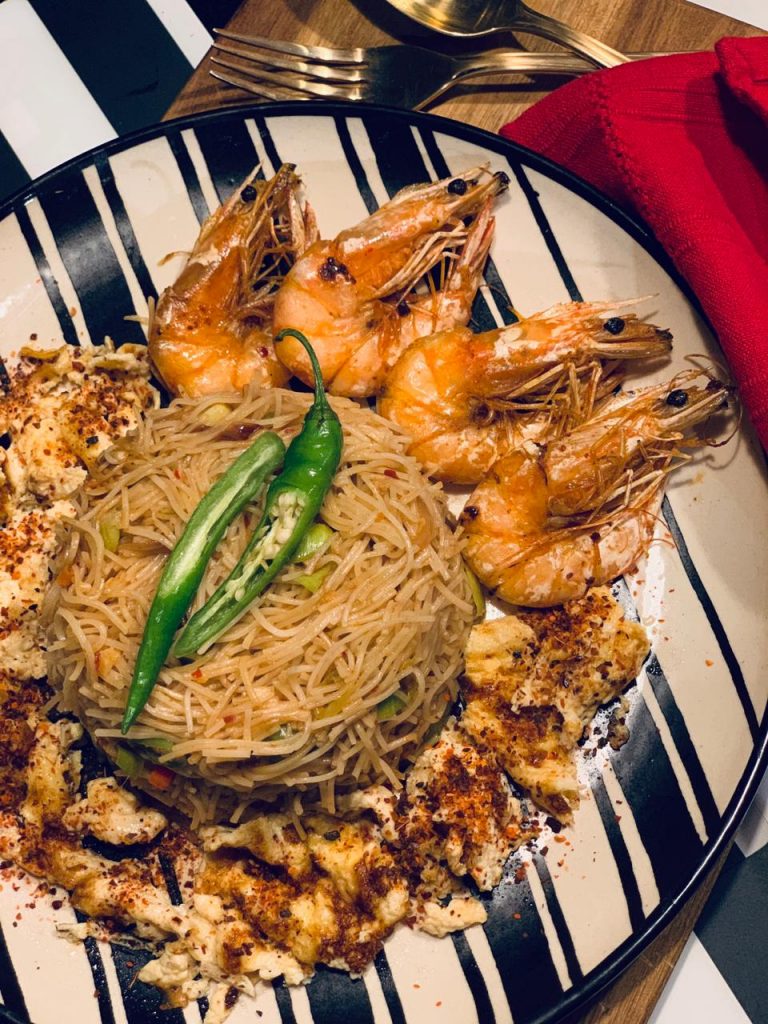 Do check my Instagram post and show some love ? Link is attached below
https://www.instagram.com/p/CHZl7wNhCxg/?igshid=jw78aiu6edfi
Would love to see your remakes on this dish,be sure to tag me or send me a screenshot if your account is private so I can re share it in my stories
Stay Safe ? Stay Home ? Stay Sane ? Stay Responsible
Much Love ? Nuzrath
srilankanfoodie #mylankanfoodjournal #colombofoodbloggers #instafood #srilankanfriednoodles #comfortfood #seafood #freshveges #homemadewithlove #onthetable #instadaily #foodphotgraphy #eatpraylove #begrateful #positivevibesonly#alhamdulillaforeverything?