Wouldn't want to call this a Proper Pilau but one of my favourite ways to cook meat with rice
One Dish Meals are a total winner these days !!!! Smart Cooking at it's best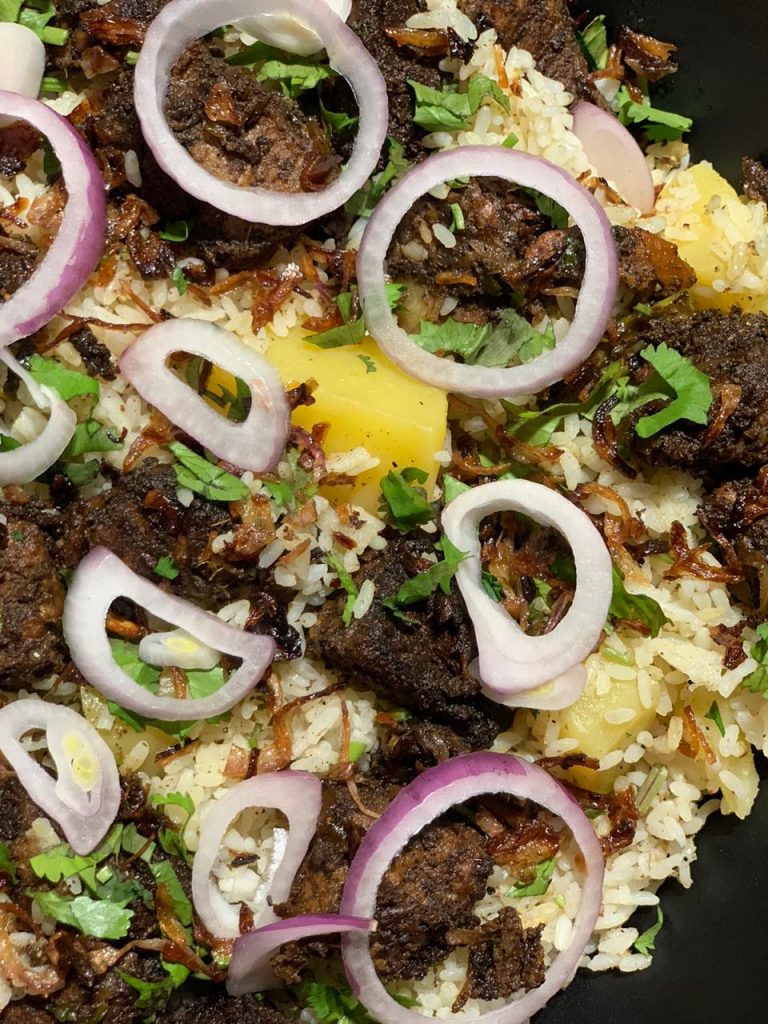 Ideally in a Pilau,Pulao,Pilaf whatever you may call it : the rice is cooked in flavoured meat stock, with added meat and veges.But my version is slightly different where I first cook the rice with the flavoured meat stock,then prep the meat separately and use as topping for the pilau.
I assure you, the taste is still as delicious or even better than a regular Pliau…Try it and thank me later !!! Read down to see why I prefer to serve this way…
I used beef to make this but you could definitely use any other kind of red meat.
Let's Get Started
There are Three Parts in this recipe :
Part One : Cooking the Meat
Part Two : Cooking the rice in Meat Stock
Part Three : Making The Meat Topping
Part One : Cooking The Meat
You Will Need
1 kg Meat cut into medium size pieces
Marination :
Salt
Tamarind
Two Cups Water
Two Cups Milk
One tbsp Ginger and Garlic Paste
Add 3 Potatoes cut into large cubes
One tbsp of freshly ground pepper spice mix (refer to image below)
Pressure Cook this (5 whistles) or Cook in a large saucepan for at least 30 minutes or until the meat is tender and still firm, but not falling off.
Separate the meat from liquid and set aside.The flavoured stock is for the rice.
Part Two : The Rice
I used 2 kg Rice but you could use little less or little more
Wash the rice and place in the rice cooker.Add the stock in accordingly and add more water if needed.Let this cook till it's well done.
Time to prep the Meat Topping while the rice is cooking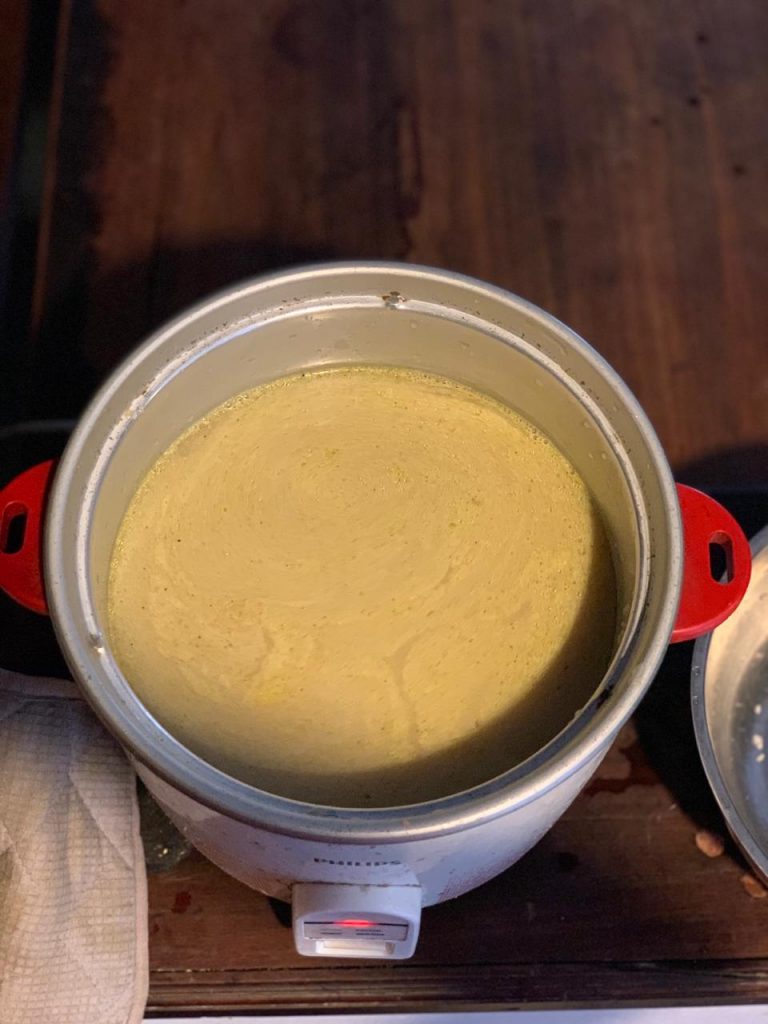 Part Three : Meat Topping
You will need
1/2 Cup Ghee
One B Onion sliced
Curry leaves
Cinnamon
Cardamom
Ginger and Garlic finely chopped
2 tbsp Freshly Ground Pepper Spice Mix
One cup beaten curd and 2 tbsp Cashew powder
Garnish :
Coriander leaves
Freshly sliced Onion Rings
Green Chillies slit length wise
In a wide saucepan heat up the ghee and let the onions get beautiful and golden
Then add in ginger garlic ,curry leaves whole spices and mix well
Then add the cooked meat and let this fry for atleast 20 minutes on low.Keep turning them around so it gets browned on all sides.
Add in the freshly ground spice mix
And make sure every part of the meat is coated well
Add in Curd and Cashew and some fresh coriander leaves (leave some to go on top)
Keep on high and let it simmer.Switch off flame and let this rest for few minutes before starting to plate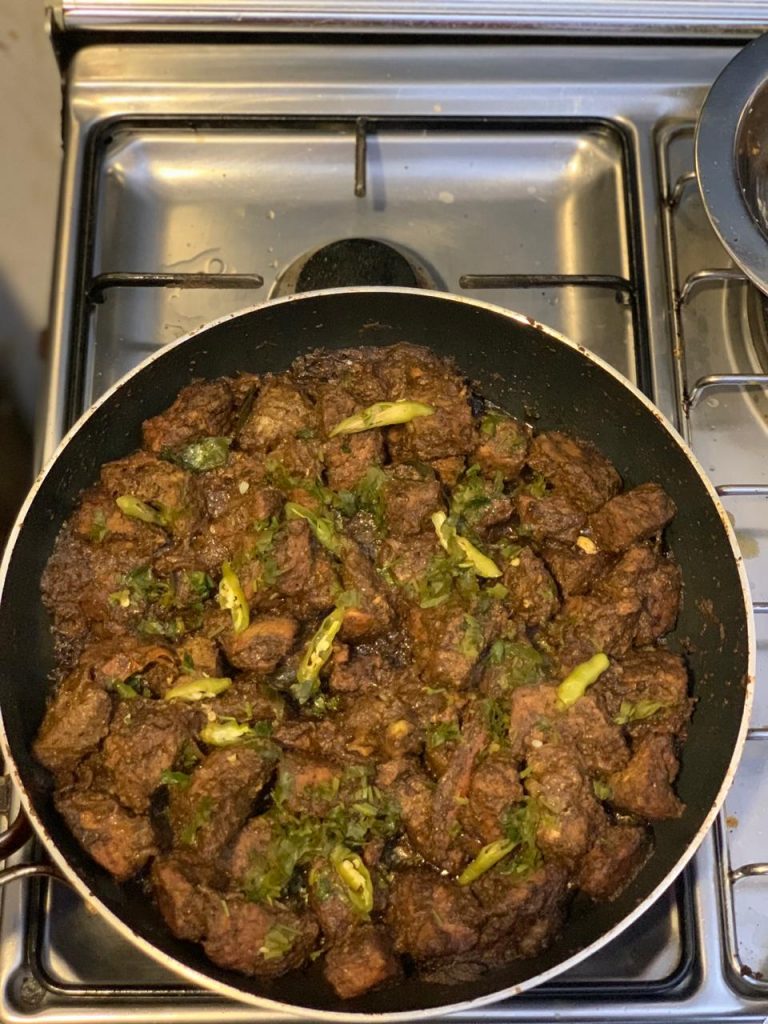 The Meat Topping is ready
And by now the rice is well cooked too.
This Meat Topping can be served on its own with some toasted flat bread.That's why I prefer serving this separately so I can re use the meat for another entire meal without having to mix everything with the rice….
Time to assemble the Pilau
Layer the rice at the bottom and top with the yummy meat
Garnish with the sliced onion rings more coriander leaves and fresh chillies
I served with fresh cucumber salad and sliced tomatoes with a drizzle of lime
Anyway I would love to see your remakes on this lip smacking goodness
Be sure to tag me on social media or send me a screen shot of your post if your account is private so I can re share in my stories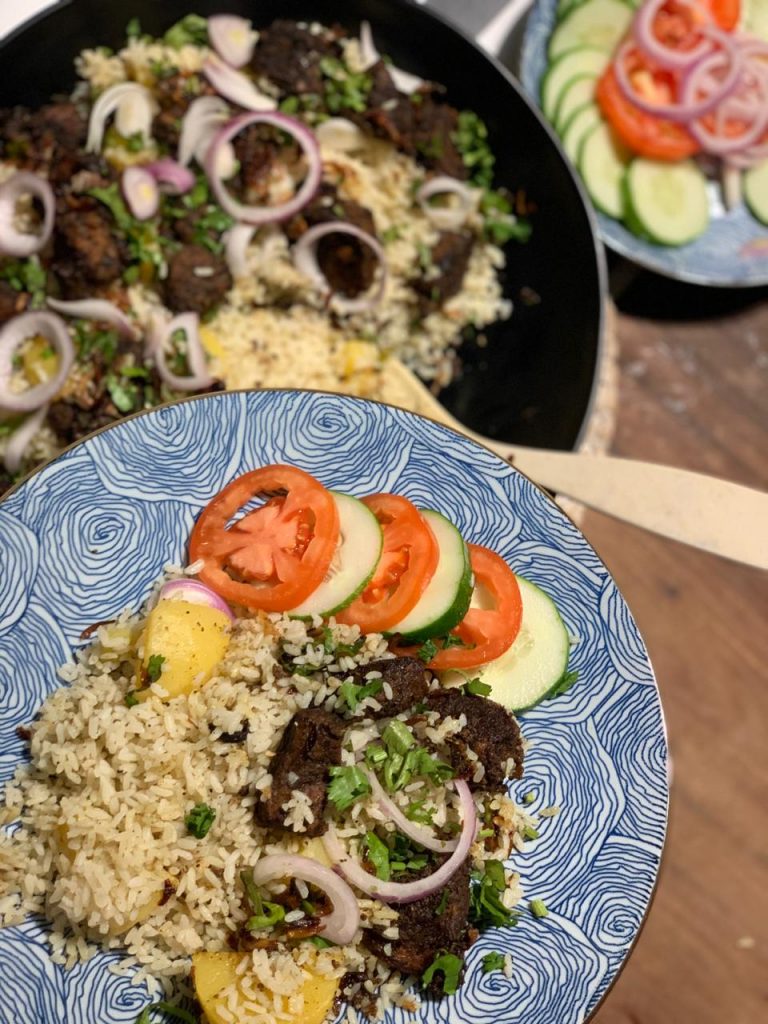 Stay Safe ?Stay Home ? Stay Sane ?
Much Love ? Nuzrath
srilankanfoodie #mylankanfoodjournal #colombofoodbloggers #instafood #feedfeed #huffposttaste #onthetable #instadaily #foodphotgraphy #eatpraylove #begrateful #positivevibesonly#alhamdulillaforeverything?