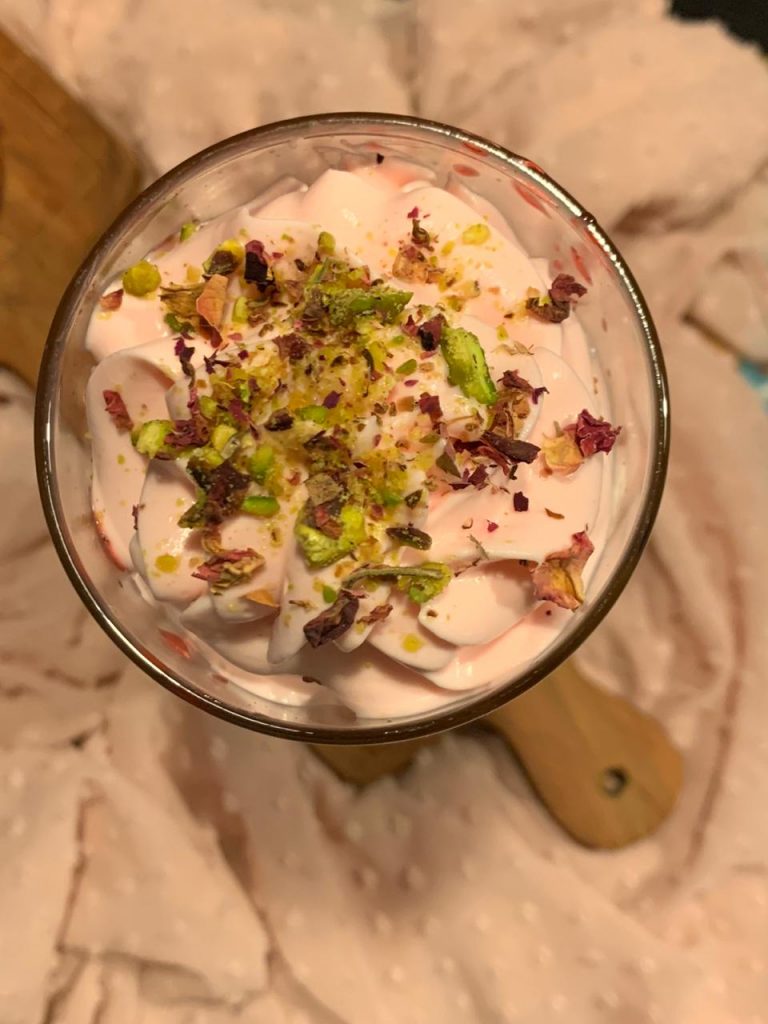 Faluda Or Sherbet Plays A Major Role During This Month Of Ramadan In Most Homes.Well,Atleast For The Kids It Is Mandatory After The Tharawee Or The Night Prayer
Faluda Is More Like A Dessert Disguised In The Form Of A Drink.Traditionally Made With A Base Of Cold Milk Mixed With Rose Syrup & Then There Are Many Layers That Make "The Fabulous Faluda" Like The Soaked Vermecilli,Cubed Agar Agar Jelly Cubes,Soaked Sweet Basil Seeds & Chopped Nuts.This Cold Drink Is Very Popular In South Asia But Apparently Originated From Iran(Some History From Where It All Began!!)
Anyway With All The Trending Dalgona Drinks Goin On I Decided To Give The Rose Dalgona A Shot Being Ramadan & All.
This New Pink Beauty Is Similar To The Origin Of The Faluda But What Makes It Different Is The Cloud Like Pink Fluff On Top.The Topping Is Made With Just Two Ingredients: Whipping Cream & Rose Syrup(I Used The Rooh Afza Bcz We Prefer It Low On Sugar But You Could Definitely Go Ahead With The Regular Bombay Sweet Rose Syrup)
MakeSure All Your Ingredients Are Chilled Before You Set Up
What You Will Need:
One Cup Whipping Cream
2 Tbsp Rose Syrup
Chilled Fresh Milk To Fill Your Glasses
Instead Of Fresh Milk I Used Nestle MilkMaid & Cold Water To Make Milk For The Kids Cz The Sweeter The Better For Them. Crushed Ice Cubes
Soaked Sweet Basil Seeds(optional)
Cubed Agar Agar Jelly(optional)Check My Previous Posts To Find The Recipe To Make Agar Agar
Soaked Vermecilli(optional)
Chopped Nuts(optional)
Start By Beating The Cream & Rose Syrup Till It Gets Nice & Stiff Enough To Handle.Do Not Over Beat You Will End Up Curdling The Cream

Enjoy This Chilled!!!!
.
Would Love To See Your Remakes On This Pink Beauty💕💕💕
.
StaySafe💕StayHome💕StaySane💕
.
srilankanfoodie #mylankanfoodjournal #colombofoodbloggers #homemadewithlove #ramadanseries #ramadanwithme #ramadanvibes #dalgona #rosedalgona #quarantineandchill #instafood #feedfeed #huffposttaste #onthetable #instadaily #foodphotgraphy #foodstagram #foodphotgraphy #eatpraylove #begrateful #positivevibesonly#alhamdulillaforeverything💕