Isso Wadey Or Prawn Wadey Is A Popular Srilankan Street Food Found Mainly In Galle Face Green Stalls But If You're Lucky You May Spot Them In Other Public Areas Too
.
Something That Has To Be Eaten Right There While It's Piping Hot ReFried In The Most Unhealthiest Way Not Worth Missing Though….(guilty)
.
The Base Is A Disc Shaped Fritter Made Of Wheat Flour Or Lentils & What Makes It Special Is The Tiny Flavoured Prawn??? On Top.This Refried Treat Is Then Served With A Splash Of Gravy,Tangy Lime Juice & Topped With An Onion Salsa.
Well,You Really Need To Try This Concoction Of Strong Flavours To Really Understand The Taste,Theyr So So Good!!!
.
May Not Be The Healthiest But One Of The Most Phenomenal Street Food Flavours Thats Not Worth Missing If You Ever Visit Our Little Paradise Island!!!
.
This Recipe Was Inspired By My Sweet Sister By Law Nazia Who Was Kind Enough To Help Me Out On This One???
Founder Of Bedding Dye
https://instagram.com/thebeddingdye?igshid=1j8pozh4l3caz
.
Now Let's Get To The Recipe.
.
This Base Is Made Of Wheat Flour,Coconut Pulp That's Basically The Residue When You Make Fresh Coconut Milk,Baking Soda 1/2 Tsp per cup & Salt.Mix The Same Quantity Of Flour & Coconut Pulp,Add Water & Form Into A Dough.Do Not Over Knead.Drizzle Some Oil,Cover & Let This Rest For Atleast An Hour.
.
Prep The Prawns By Half Cleaning Them:Leave The Tail & Head If You Prefer.I Just Had These Prawns Already Cleaned In My Fridge So Used Them As It Is.
Season The Prawns With Salt,Pepper,&Chilli Pwd
.
You Could Use Toppings Of Your Choice But These Are What I Used:
While The Dough Is Resting Make The Tamarind Chutney.You Could Even Make This Ahead.
You Could Even Use Leftover Gravy If You Prefer Instead Of Tamarind Chutney
Check My Instagram Post On Samosas & You Will Find The Recipe For Home Made Tamarind Chutney

.
Other Toppings:
Finely Chopped Onions
Finely Chopped Green Chillies
Finely Chopped Carrots
Fresh Corriander Leaves
.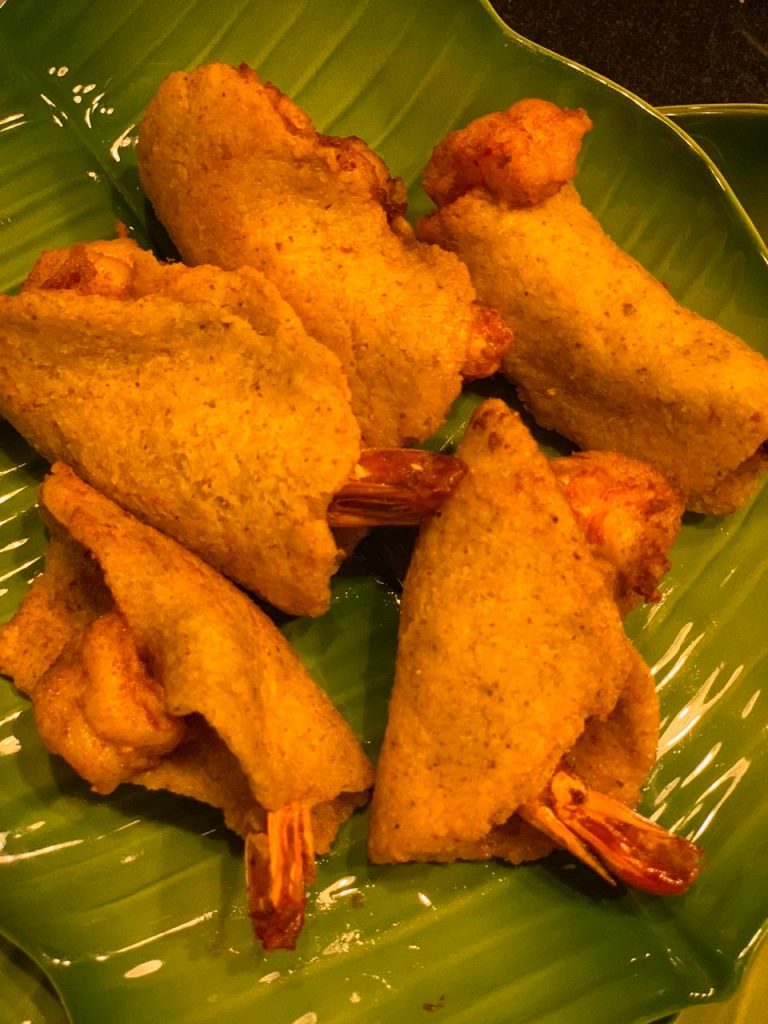 srilankanfoodie #mylankanfoodjournal #colombofoodbloggers #homemadewithlove #ramadanseries #ramadanwithme #ramadanvibe #quarantineandchill #issowadey #srilankanstreetfood #gallefacegreen #seafood #socialdistancingcooking #instafood #feedfeed #huffposttaste #onthetable #instadaily #foodphotgraphy #foodstagram #foodphotgraphy #eatpraylove #begrateful #positivevibesonly#alhamdulillaforeverything?