When my friend Muzna initiated the #foodxwomenthatinspire collaboration I was not really sure which dish to pick because there's so many I would like to share and every recipe on my page has a story to tell…Most of it associated with memories of the great women in my life :
My mother who taught me to be kind no matter what…
My grandmother who always inspired us with her stories of travel with our grandfather.She taught us the importance of eating healthy from a young age
My moms only sister who literally brought me up just like her own and she is one of the most forbearing women I know
My mother by law whom I met 15 years ago : so warm and welcoming so blessed to be a part of her life
May we grow to be like them and raise women like them !!! Women like them deserve to be celebrated and appreciated every single day for all their endurance just to make sure we are who we are today!!!
This particular snacks brings back a lot of memories and am sure you must've tried this at least once if you're local 🇱🇰
Awal in Tamil
Habalu Pethi in Sinhalese
Rice Flakes in English
It is basically a dehydrated version of rice transformed into a deliciously healthy
snack enjoyed by both kids and adults…
Also known as "Poha" in India
This humble snack is made quite often in the villages where Kithul Jaggery is easily available in every house hold and fresh coconuts are in plenty…my mom and grandma used to love this delicious snack and my mom would make this often for my dad !!!
This dish is made using Kithul Jaggery and freshly scraped coconut : it comes together in a few minutes.A pinch of salt helps bring out the flavours
Ideally topped with sliced bananas 🍌🍌🍌 and chopped nuts or sultanas if you're feeling a little extra !!!
According to my family this has to be washed and dried before using (OCD Issues)
Let's Get Started
You Will Need
2 Cups Rice Flakes washed and drained
1 Cup freshly scraped coconut
1 Cup grated Kithul jaggery
Pinch of salt
Sliced kolikuttu banana
Chopped nuts(optional)
Sultanas(optional)
Step One : Wash the rice flakes before use.Add pinch of salt
Step Two : Add scraped Kithul Jaggery
Step Three : Add scraped coconut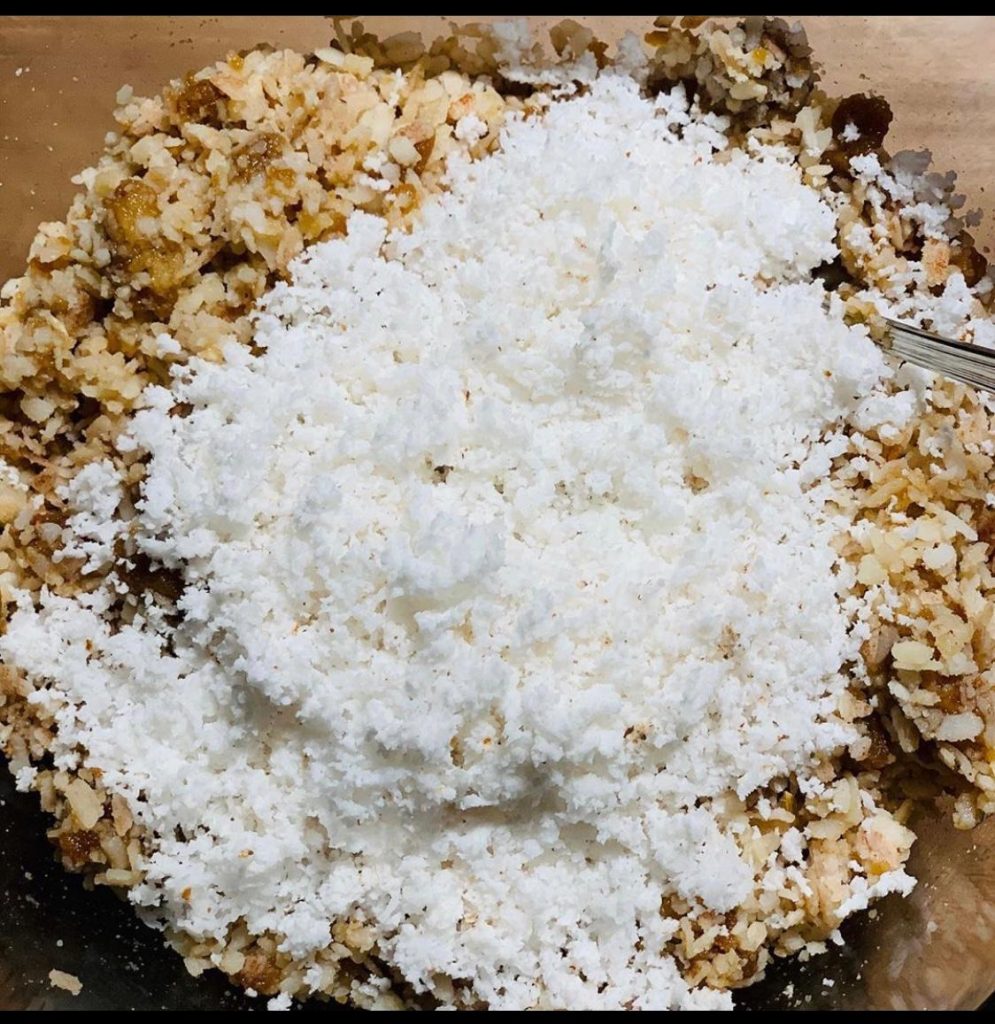 Mix everything lightly and add in toppings of choice.You could add nuts,sultanas and sliced bananas
Serve Immediately after topped with bananas.Otherwise can be refrigerated for a few days
Would love to see your remakes on this delicious and healthy snack
Be sure to tag me on social media and send me a screenshot if you're account is private so I can reshare them on my stories
Happy Women's Day 2021
Much love ❤️ Nuzrath
srilankanfoodie #mylankanfoodjournal #colombofoodbloggers #homemadewithlove #smartsnacking #localfood #riceflakes #jaggerylife #quarantineandchill #stayhome #staysafe #staysane #instafood #instadaily #foodphotgraphy #foodstagram #eatpraylove #begrateful #positivevibesonly #alhamdulillahforeverything💕