This cake was inspired by the Jamaican Pineapple & Coconut Cake originally served with house made rum syrup….We used Coconut Treacle instead!!!!
Pineapple upside down cake is a very famous treat in Srilanka.Made by mom & her mom too…A base of neatly arranged pineapple rings with generous amounts of kithul jaggery that caramelises perfectly when baked & creates an amazing topping.However today I reduced the jaggery & served the treacle on the side due to special request!!!You could definitely do both ways, either way I promise this will turn out to be so delicious!!!The top part which will end up flipped to the bottom is a basic yellow cake batter.
Today I have made a few changes inspired by The Fabulous Jamaican Pineapple & Coconut Cake which was my contribution to #FOBO or "Food Of Black Origin"
Racism is of many kinds and cannot be accepted in any form whether it be skin colour or religious ethnicity!!!
Staying on this subject I would like to share just a little insight on someone who is very special in Islamic History
.
Bilal Ibn Rabah : One of the most faithful companions of Our beloved Prophet Muhammed (Sal)
.
He was the first person appointed to call out the Azan & it is said that he had the most melodious voice that would fill the hearts with faith & ears with awe…Subhaanalla
.
Reminder : He was a freed slave & from amongst the black community.Not from the reputed Arab tribes but
he was described as "one of the inhabitants of Paradise"
.
What made him so special ???
.
He was human and had the most amazing qualities.Humble,Noble,Kind &
The amount of sacrifices when he embraced the religion that took him from darkness to the light… nothing else mattered….
NOTHING ELSE MATTERS DOES IT????
SO LET'S BE KIND AND RESPECT EACH ONE FOR WHO THEY'RE.NO ONE IS HIGHER THAN THE OTHER IN THE SIGHT OF ALLAH IN TERMS OF ANYTHING WITH REGARDS TO MATERIALISTIC THINGS
Getting back to this delicious recipe
Here's what you will need to make this cake
Pineapple filling
Yellow Cake Batter
Prepped Cake Tin with pineapple rings and Jaggery
Coconut Treacle Or Kithul Treacle or any liquid syrup of choice
Pineapple Filling ?
You could definitely get store-bought pineapple sauce but once you try this recipe you will never go back to buying.It is so easy to make & asks for minimal ingredients…Also costs you less than half the money you will spend if you bought it off the shelf.
Ingredients
One ripe pineapple cut into tiny cubes.I prefer it abit chunky but you could definitely go smaller.
Liquid from the canned pineapple rings that we are using for the cake or any fruit juice/Thin coconut milk
Sugar if you prefer
Tbsp cornflour
Pinch of salt
Mix all the above ingredients & keep on low till it becomes nice & saucy.Make sure the pineapple is completely cooked & soft.This helps the leftovers last longer when refrigerated.Let this cool completely till you make the yellow cake batter.
Yellow Cake Batter
You could definitely take a shortcut method by opting for store-bought yellow cake batter and adding in the extras like coconut,sour cream & pineapple filling.
BUT
Iam also gonna teach you the original way : You can choose either!!!!
Here's what you will need for the yellow cake batter from scratch
250g Butter
250g Light Brown Sugar
5 Large Eggs
300g All purpose flour with 2tbsp Milk Powder,2 tsp baking powder & a pinch of salt.Sift them together twice.
1 Cup Sour Cream or Coconut Cream(coconut milk or regular fresh milk would work fine if you don't have sour cream)
1 cup Pineapple filling we made earlier
1 cup shredded unsweetened coconut(Optional)
Tbsp vanilla extract
Method
Follow the image below for step by step guidance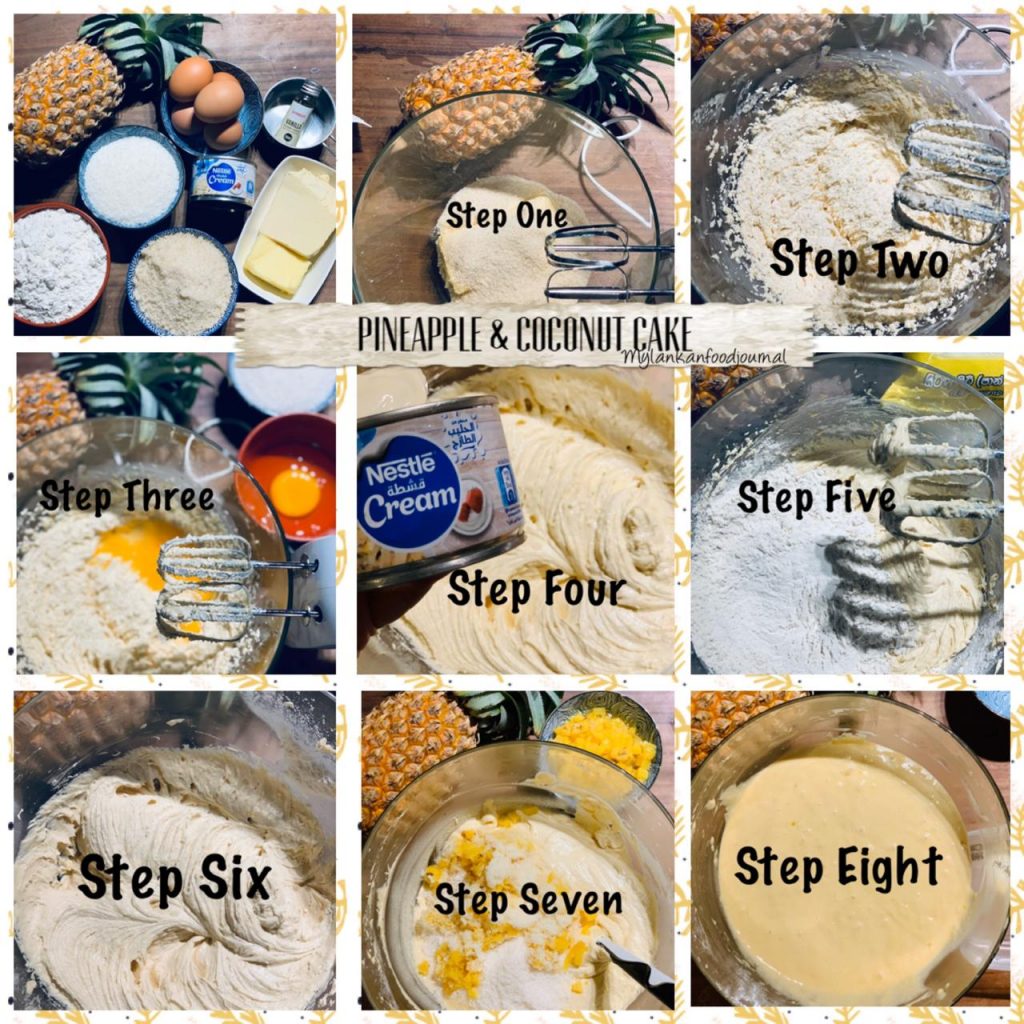 Step One : Beat Butter & Sugar till it becomes nice and fluffy.
Step Two : You will notice the colour changes to a pale yellow.Scrape down the sides to make sure you get everything together.
Step Three : Add eggs one by one & beat each one for half a minute or so.Do not over beat….
Step Four : Mix in sour cream
Step Five : Gradually add in the flour and fold it in lightly.
Step Six : Make sure the mixture is well combined and there are no lumps.
Step Seven : Mix in the pineapple filling and shredded coconut
Step Eight : Finally add Vanilla.The cake batter is ready to be poured over the prepped cake tin.
NEXT
Prep The Cake Tin
What You Need
Cake Tin
Grated Jaggery One Cup
50g Butter
Maraschino Cherries(Optional)
Arrange the pineapple rings and cherries at the bottom of a lined, buttered cake tin.I used this ring pan because the cake looks so pretty in this shape.But if you don't have this just use a normal oven proof dish that's available in your shelf.
Spread as much or as less jaggery as you want over the pineapple ring layer.Also drop a few knobs of butter for more richness & flavour.I had to go low on both because my dad wanted a less sweet version…Making him happy was priority!!!Meeting him after weeks so giving him what he wants ?
Anyway, transfer the cake batter over this prepped cake tin.Bake in a preheated oven for at least 30 minutes or until a toothpick comes out clean.
Remember!!!!!!
Let the cake cool for at least 10 minutes before you flip it….I repeat!!!let the cake cool slightly!!!My kids had no patience because they were so excited seeing their cousins in a long time and it did break abit but Alhamdulillah we managed to patch it up and still enjoy the cake.It was nothing less than delicious though!!!!
Also loosen the edges using a spatula or knife before flipping
You will end up with the most amazing Pineapple Upside Down Cake Ever
Serve it with the Treacle on the side….Yummers!!! I think am gonna have another slice already!!!!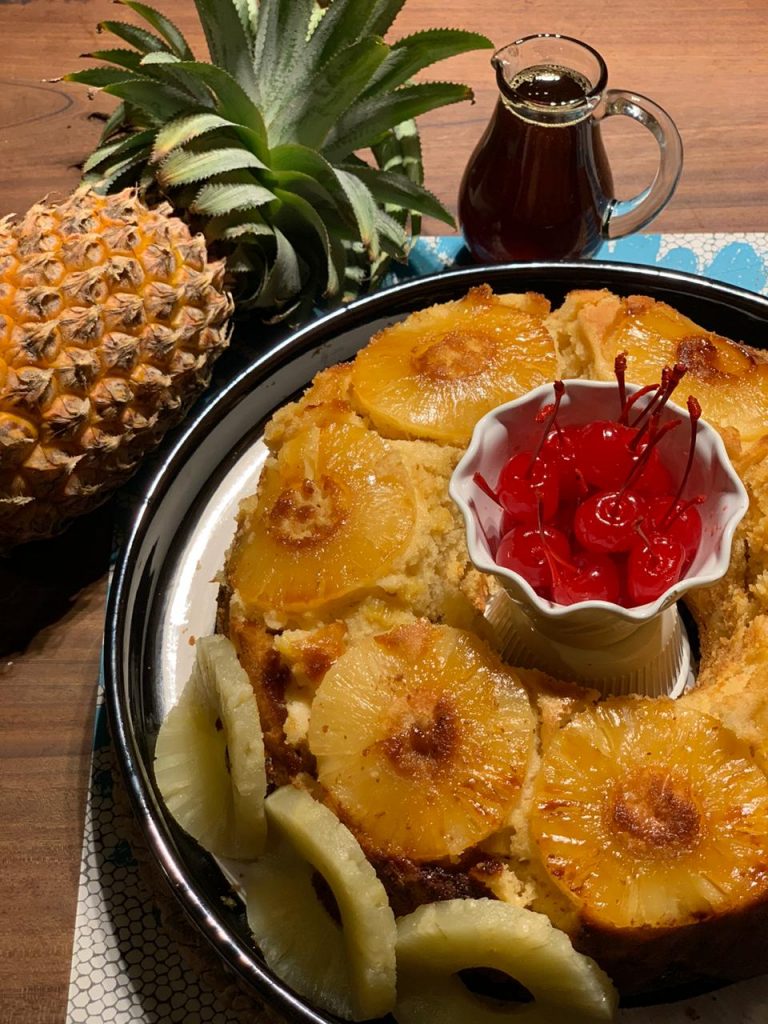 Would love to see your remakes on this beauty!!!!
Much Love Nuzrath ?
#fobo #blacklivesmatter