Pani Pol/Pol Pani or Lankan Coconut Stuffed Pancakes/Crepes whatever you want to call it but if you're Sri-lankan and a 90's kid you probably grew up with this during teatime…
We call this "Surutt-Aappam" in Tamil which literally means pancakes for "Aapam" and Cigar shaped or Rolled for "Suruttu"

This is a light turmeric coloured pancake stuffed with a Fresh Coconut Filling sweetened with Original Kithul Jaggery, infused with cardamom spice and sago pearls with nuts for texture..
The Pani Pol Filling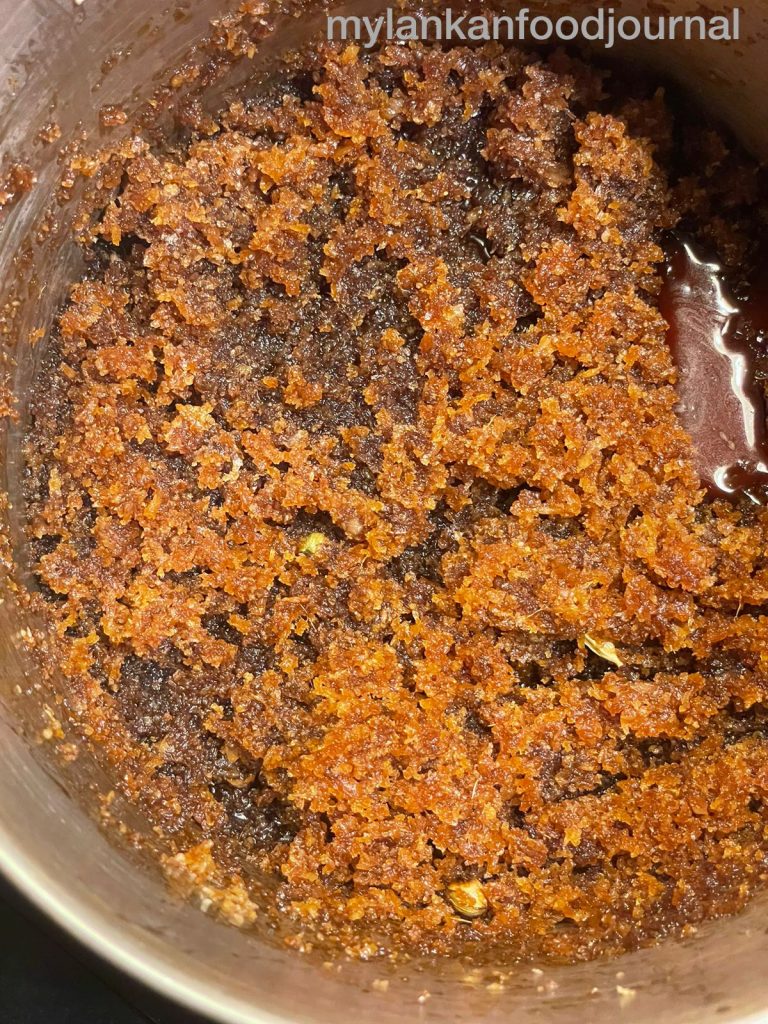 PANI POL : "Pani" means Treacle and "Pol" means Coconut in Sinhalese
"Paani Sundal" in Tamil
Two cups freshly grated coconut
01 cup scraped jaggery 
1/4 cup water
1/2 tsp Cardomom pwd, 1″ cinnamon stick
1/2 tsp Vanilla(optional)
Pinch of salt
2 tbsp Chopped nuts
02 tbsp of uncooked sago pearls
First melt The jaggery with the water and whole spices.
Let this come to a boil, by now the aroma of whole spices must be filling up your kitchen…
Mix in the grated coconut and let this cook on low and simmer, till the mixture is almost dry.
At this point you can sprinkle the sago pearls. I just like the texture when biting into these tiny half cooked pearls. This is just an extra step and completely optional so you can just skip this part.
Keep stirring occasionally, to avoid burning this mixture.
If you prefer the filling to be nice and syrupy then switch off heat at the point before it gets too dry.
Finally add in chopped nuts and mix well to combine.
Ingredients For Pancake Batter:
Two cups Plain Flour
Two cups coconut milk
1/2 tsp tumeric
2 eggs
Refer to image to image below on how to make Coconut Milk Two Ways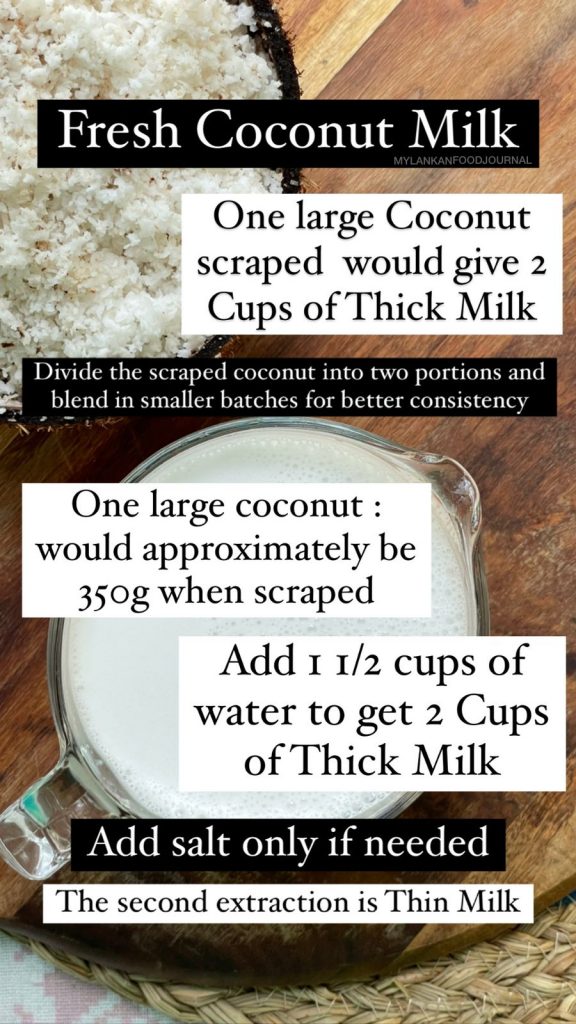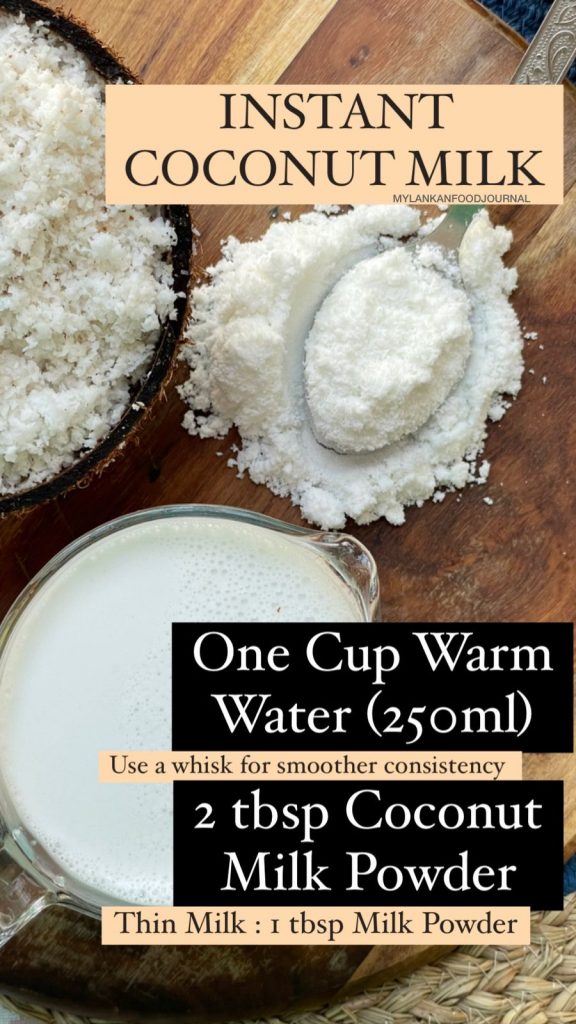 The pancake batter is coloured using turmeric powder
Blend everything together and chill the batter for at least 30 minutes before pouring out the pancakes.
Use a scoop to spoon out your batter, this makes it easier to pour and roughly measure. Each scoop should hold at least 5 tbsp of batter.
This quantity makes about 15-20 pancakes.
Pour the batter on a heated flat pancake pan 
Nonstick pan would be ideal, but if you don't have a non stick pan don't forget to grease your pan in between every round of making a single pancake.
Let it cook on low for atleast few minutes or until you see the colour change and it looks fully cooked.
Slowly lift the edges to see if it's still sticky
Remove from pan to a flat plate and place filling on one edge and roll away to make the most delicious sweet pancakes..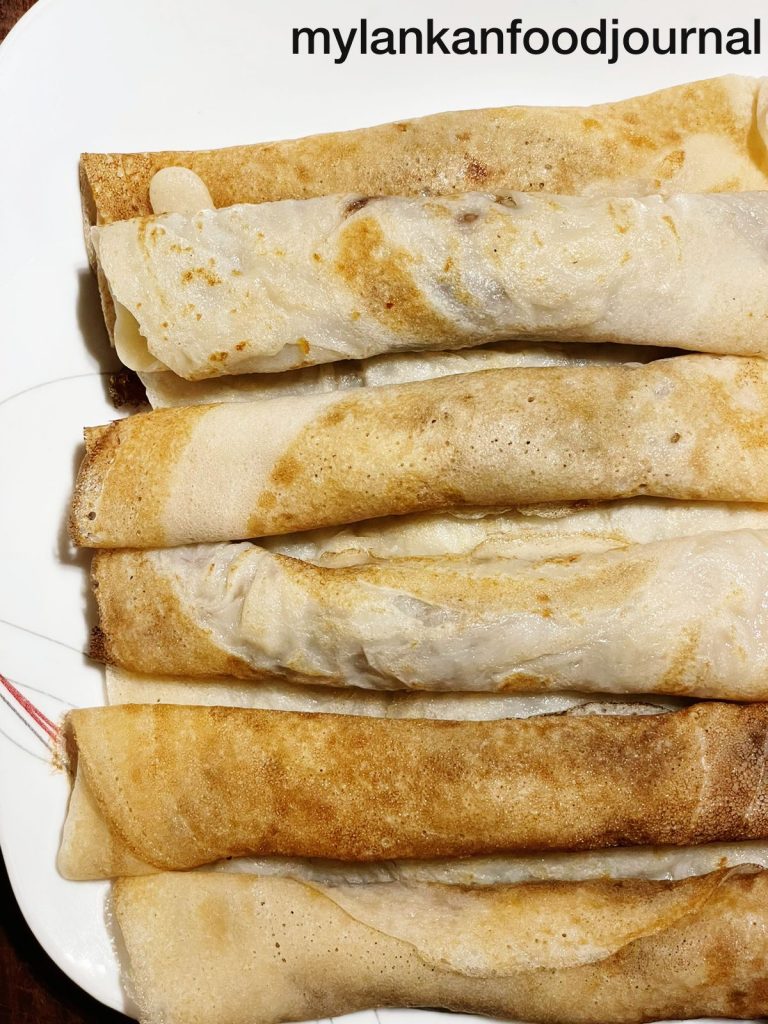 Perfect teatime snack loved by almost everyone regardless of age….you cannot stop with one and I'm sure most of you agree with me !!
I would love to see your remakes on this recipe of mine.Be Sure to tag me or send me a screenshot if your account is private so I can re share on my stories.
Check out my instagram page for more cooking inspiration : @my_lankan_food_journal
Much Love Nuzrath
srilankanfoodie #mylankanfoodjournal #foodblog #colombofoodbloggers #foodiesofintsagram#onthetable #instadaily #igers #eatpraylove #positivevibesonly #ramadankareem #ramadanmubarak #ramadan2023 #ramadanwithme #ramadanseries #homemadewithlove #spiceofsrilanka #muslimfood #moorfood #iftarmeals #iftar2023 #srilankanpolpanipancakes #panipolpancakes #kithuljaggery #sweetjaggerypancakes