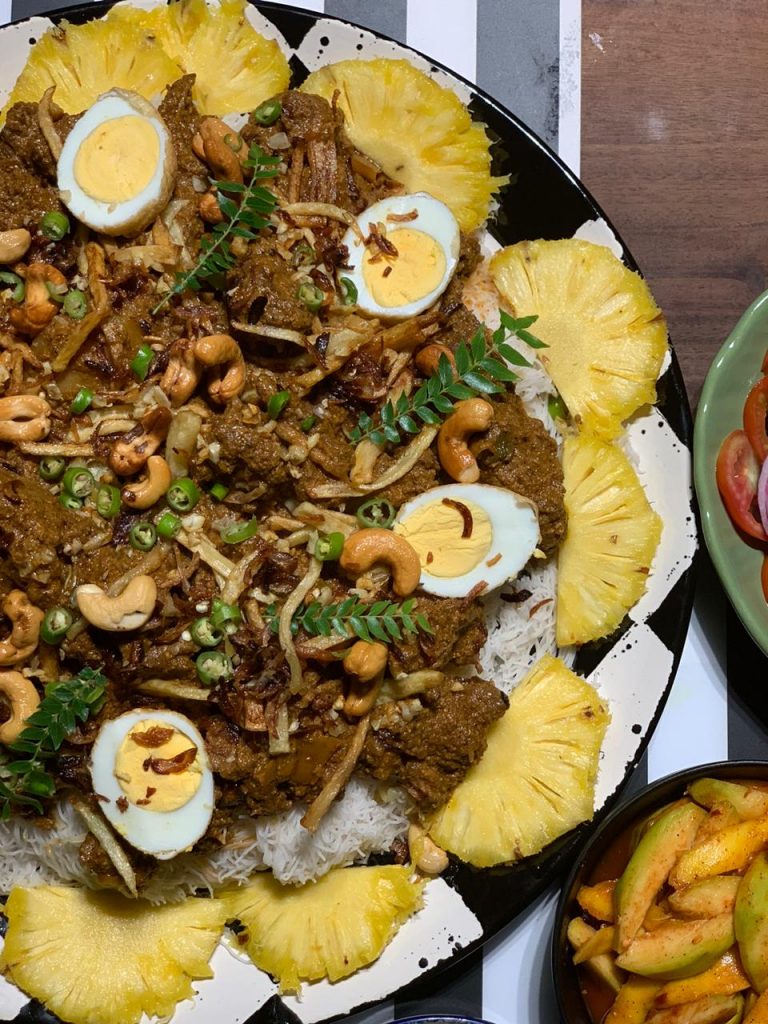 String Hopper Biryani is a favourite in most Srilankan homes.It is a delicious layered dish that's similar to the rice Biryani but instead of rice it is layered with steamed string hoppers.This dish is mainly served during weddings or special occasions with a variety of side dishes👌🏻👌🏻👌🏻
String hoppers are steamed rice flour noodles made using a dough of roasted rice flour & hot water.This mixture is then pressed through a string hopper mould over the circular string hopper mat that is stacked in the steamer to cook these fluffy noodle cakes.These light & fluffy string hoppers are a staple breakfast dish in Srilanka🇱🇰 Also found in parts of India 🇮🇳.This is usually served with gravy & pol sambol: The best combination!!!
We use the leftovers to make a string hopper kothu or string hopper pilau.
On a sweeter side,in the villages,leftover string hoppers are sundried or even deepfried & served with kithul treacle as a snack.yum yum!!!
The authentic String Hopper Biryani is made by slow cooking the spiced meat to perfection,then the soft spongy string hoppers are crushed & mixed with milk & saffron.Later the string hoppers are layered over the fabulous meat masala,sealed & slow cooked till the flavours of the meat get infused into these spongy strings.It is then served warm while mixing the string hoppers into the half soaked masala & topped with fried onions,cashews & sultanas.
Paired with the famous malay pickle,raita,mint chutney,fresh pineapple slices & not to forget the oh so amazing!!! Maldive fish fry!!!Iam craving for another plate already….
Anyway this recipe is a shortcut I take when making this for my family bcz Iam no professional Chef 👩🏻‍🍳👩🏻‍🍳👩🏻‍🍳👩🏻‍🍳👩🏻‍🍳 & this page is all about making things easy but delicious!!!!Watch
I layer the string hoppers on the serving platter & pour the meat masala over it.This Biryani is ready just like that!!!
Watch my insta post to see the video on how I layer the dish….
All that matters is the flavour of the meat masala.Right here is my easy meat masala recipe for which I freshly grind my spices bcz that really makes a difference.And my kids hate to bite into whole spices while eating,it really puts them off 🌿🌿🌿🌿
These are what I had at home so I used what I had for today,if you make your own spice powder,feel free to go ahead & make the best version of this!!!
MIX THE TUMERIC POWDER AFTER YOU GRIND INTO POWDER,DO NOT ROAST TUMERIC POWDER
DRY ROAST THESE WHOLE SPICES & GRIND THEM IN A DRY GRINDER TILL FINE POWDER OR USE THE PESTLE & MORTAR IF YOU OWN ONE.
THIS MASALA CAN BE USED TO PREPARE ANY MEAT CURRY
Marination for meat:
1 kg Beef
Two tbsp freshly ground curry pwd
Salt
1 tsp kashmir chilli pwd(optional)
Tamarind 2 tbsp
Coconut Aminos(soy sauce substitute)
Two tbsp tomato paste
Other ingredients:
Fresh mint & corriander leaves
Soaked white kasa kasa/poppyseeds ground into a paste
Fresh grated coconut ground into a paste
One cup beaten curd
One cup coconut milk(I used Maggi Coconut Milk Powder)It is so convenient for quick fixes
LETS GET STARTED WITH THIS DELICIOUSNESS
Refer Picture Below & Follow The Steps
Step One Mix 3 tbsp ghee & 3 tbsp oil with marinaded meat & let this brown on medium heat.This really helps bring out the flavour in the meat.
Small Tip: Add few pieces of goraka (garcinia) to help tenderize the meat.
Step Two After about ten minutes of browning,add in the 500g cut potatoes & let this cook covered for at least 10-15 minutes.
Step Three Mix fresh mint & corriander leaves,sliced green chillies & mix well.
Step Four Mix in the blended pastes,curd & coconut milk.Combine well & make sure everything is well coated.Cover & let this cook till the meat is completely cooked.
While the meat is getting cooked,in another pan sauté onions & prep to mix into this cooked meat mixture.
See following picture for reference & follow steps
Step One Saute three large sliced B.onions in 3 tbsp ghee, let this get nice & golden.Add a tsp salt.Then,add in curry leaves,cardomom pwd & finely chopped ginger & garlic, let this get nice & fragrant.Then add in five chopped tomatoes,mash them using the spoon while mixing.This helps release all the saucy flavours
Step Two Add the cooked meat into this & mix well. Since my pan was not too big I mixed in some of the cooked meat gravy into the sautéed onion & tomatoes for it to soak up the flavours first & then poured that back into the bigger pan with the meat.
Step Three Add more water if needed & cook covered for about 10 minutes till the meat is nice & tender.Keep checking to makesure it won't over cook.Check for salt & adjust accordingly.
Step Four The gravy gets thicker as it cools so if you prefer more gravy feel free to add more water & reheat when about to assemble.The meat masala is ready!!!
TIME FOR ASSEMBLING
I used these toppings but you could do your own favourites or even have only this meat masala just topped over the string hoppers.It is so good either way.
Ideally the string hoppers are broken into tiny bits and then tempered in ghee till its fragrant.Then theyr used for layering.Today I didn't do that extra step but doing that really flavours the stringhopper layer.
We just like it EXTRA!!!
Toppings : Fried onions, fried garlic, fried cashews, sliced green chillies, fresh coriander & mint leaves, hard boiled eggs, french fries,7 sliced pineapple 🍍
I JUST SERVED IT WITH THE SIDES REQUESTED BY KIDS!!!
MINT & CORIANDER CHUTNEY WIT YOGURT(RECIPE IS AVAILABLE IN PREVIOUS POST)
RAW MANGO & AMBERELLA ACHARU
SLICED ONIONS & FRESH GREEN CHILLIES WITH JUST SALT & LIME
WOULD LOVE TO SEE YOUR REMAKES ON YOUR VERSION OF THIS DELICIOUS DISH
MUCH LOVE NUZRATH
Stay Safe )( Stay Home )( Eat Biryani )( StaySane )(
srilankanfoodie #mylankanfoodjournal #colombofoodbloggers #homemadewithlove #ramadanseries #ramadanwithme #ramadanvibes #quarantineandchill #stringhopperbiryani #socialdistancingcooking #instafood #feedfeed #huffposttaste #onthetable #instadaily #foodphotgraphy #foodstagram #foodphotgraphy #eatpraylove #begrateful #positivevibesonly#alhamdulillaforeverything💕