Egg Rotti is another favorite street food enjoyed by most Srilankans.Found in different versions all over the country & the closest pillawoos or plaza where you would go to enjoy a plate of dolphin Kothu or cheese rotti once in awhile with an iced milo maybe……
It is a thin most oftenly square shaped godamba rotti stuffed with beaten egg & spices.
This is usually made with so much oil just to make it look appealing over the glass windows where theyr all stacked up.
But this can be made at home in a much simpler & cleaner way.
This week for iftar we have been making dinner menus so on today's menu was chicken curry over egg rotti & it is so delicious you will definitely keep bringing this back into your menu every week!!!
You could definitely take the shortcut & buy the egg rotti,I would totally do that on lazy days……but past few months we got used to making most things from scratch like even your own kadey paan!!!This egg rotti is so simplified you could try it once & decide whether you should make these babies at home instead…when these fresh egg rottis are soaked in the most amazing chicken masala,you will get what I mean…yummers!!!
I have already mentioned my godamba rotti recipe in my post on the stuffed curry rotti.
Refer to that for full recipe & make the dough & set aside to rest.
Let's make the egg rotti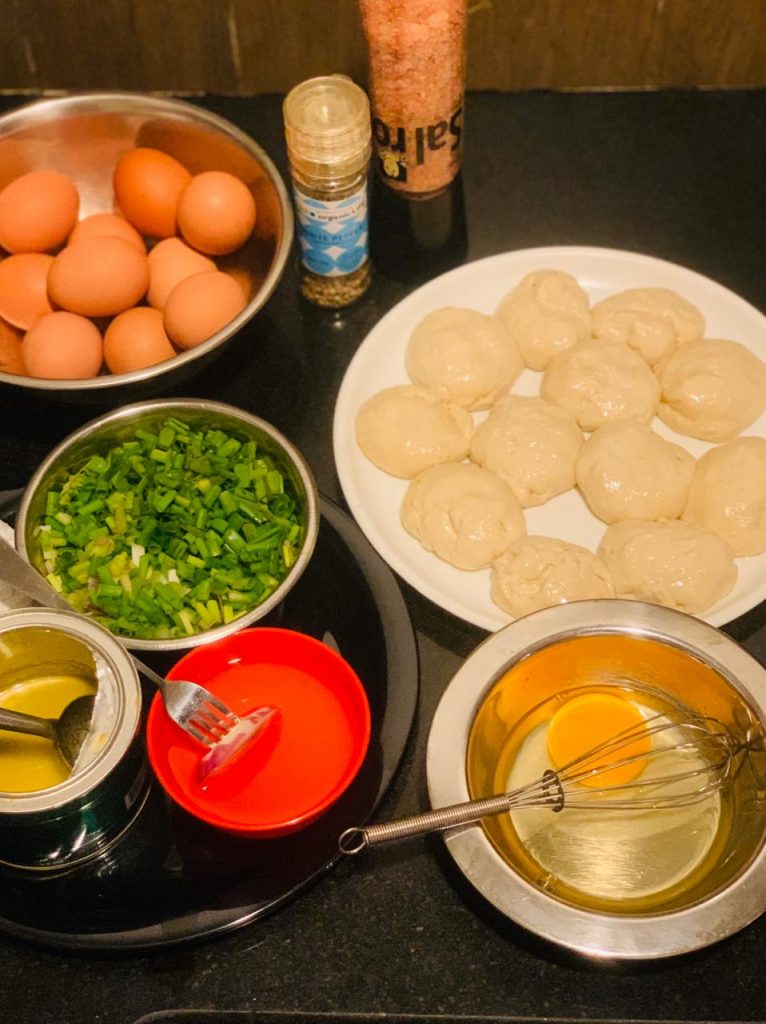 First keep everything ready & set up to make the rotti

You will need:
Beat eggs & place in a bowl sprinkled with salt & pepper.I did one by one
Chopped spring onion leaves
Oil or ghee to use for making & cookin the rottis
Make the dough into medium sized balls so each rotti wil be of similar size
Place the non stick pan on the stove on low till you start spreading out the dough.
Using a silicon spoon or wooden spoon with your non stick pans is a wise choice.
Non stick pans can be pretty expensive but if maintained well,they last longer.
Small Hack: Use a part of the onion to spread oil on the surface of the pan,helps to spread oil evenly & at the same time infuses the oil with its roasted flavours
Refer to the following picture for each step on making the rotti
Each step has to follow the other quickly otherwise you might end up with over cooked rotti
Step One
Place the dough ball on an oiled surface & start spreading the dough using the tip of your fingers.Spread as thin as you can like a handkerchief if possible.Dont worry about small tears,that can be fixed when pouring the egg mixture.
Step Two
Remove the stretched dough & Place carefully over the oiled pan.Do not panick over slight holes on rotti,when you pour the eggy mixture it covers up the damages??????
Step Three
Pour beaten egg mixture & let it cook open for half a minute or so.Drizzle more oil or ghee if you like the flavour.Dont worry if the eggy mixture spills out,just put it back in using the flat spoon you're using to flip the rotti.As a variation you could even add cooked shredded meat as filling with your Egg Rotti similar to murthabah.
Step Four
Then fold over on opposite sides to make a square shape like so.You could use any fold method you prefer,this is just how I simply do it.
Step Five
Flip carefully when one side is cooked & let this cook on medium low
Step Six
Make sure both sides are cooked well before removing off the pan.Let this rest on a flat plate.
Now that the rotti is done,let's start prepping to assemble the dish.
Let's get to making the chicken curry
THE CHICKEN CURRY
I made my own spice mix for the beef masala I made yesterday & had leftover pwd so I decided to use that but if you have any home made roasted masala pwd,go ahead & use that.
.
See pic to find the ingredients I used to grind my own masala powder at home

This can be made in bulk & stored in an airtight container

I used chicken leg & thigh but you could go with any part you prefer
I used 1 Kg Chicken slightly boiled & deepfried
To boil I marinated the meat with two tsp salt,a tsp pepper,a tsp kashmir chili pwd,a tbsp roasted masala pwd,& tamarind.
Other ingredients:
One sliced large B onion
1/2 Cup ghee
tbsp ginger & garlic paste
Curry leaves
A tsp salt
A tsp pepper
A tsp kashmir chilli pwd
Two tbsp freshly roasted masala pwd
Two green chillies
3 Tomatoes finely chopped
Leftover liquid marinade
One cup beaten curd
One cup coconut milk
3 tbsp tomato paste
Freshly ground coconut paste(optional)
A tbsp cashew pwd(optional)
Fresh mint & corriander leaves finely chopped
Sauté sliced B onions in ghee,let it get nice & golden.Then add in curry leaves,whole spices,& ginger & garlic paste.I didn't add to this recipe bcz my roasted masala pwd has everything in it as you can see.My kids hate biting into whole spices in dishes like this.If you have opted to use regular roasted curry pwd for this recipe,add a few cardamoms & a cinnamon stick for tempering.
Next,add in all spice powders, and let this fry for a minute or two.Then mix in tomatoes,green chillies & mash them while stirring in between.
Now add in the tomato paste, beaten curd, liquid marinade, coconut milk, & mix well.If you're adding the regular store-bought spice powder, I highly recommend you add the freshly ground coconut paste & cashew powder.I have mentioned optional because my homemade masala pwd has everything in it.
Let this gravy simmer & come to a boil.Check for salt & adjust if needed.You could add in the fried chicken at this point for more flavour.Since theyr already cooked, there's no need to keep them on fire for too long.They will break apart otherwise.
Finally mix in fresh coriander & mint leaves.
The chicken masala is ready!!!!You could eat it as it is with the home made egg rotti but todays dish is about an all in one meal.
So Lets Get To The Layers & Toppings
Another Layer I added today was my husbands favourite: Potatoes & Onions tempered in oil with spices & maldive fish chips.See pic for simple recipe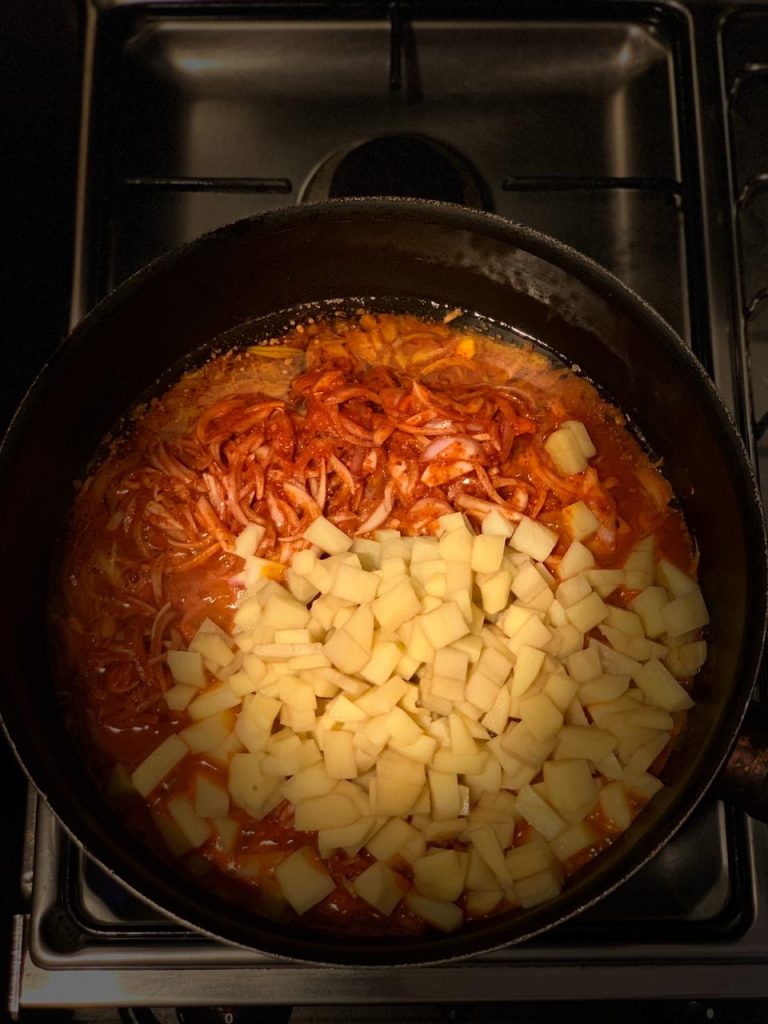 OTHER TOPPINGS I USED
Fried Onions
French Fries
Fried Cashew
Spring Onion Leaves
Fried Garlic Slices
Follow The Pic Above To See Steps On Layering
Layer One: Sliced Egg Rotti
Layer Two : Onions & Potatoes Tempered
Layer Three : Chicken Masala
Finally Sprinkle The Rest Of The Fried Toppings
We Like To Serve This Warm With Fresh Onion Rings & Sliced Green Chillies Wit Lime & Salt
Each Layer Compliments Another So Well!!!Would Love To See Your Remakes On This Fabulous Meal..
Scroll To See How We Served For Iftar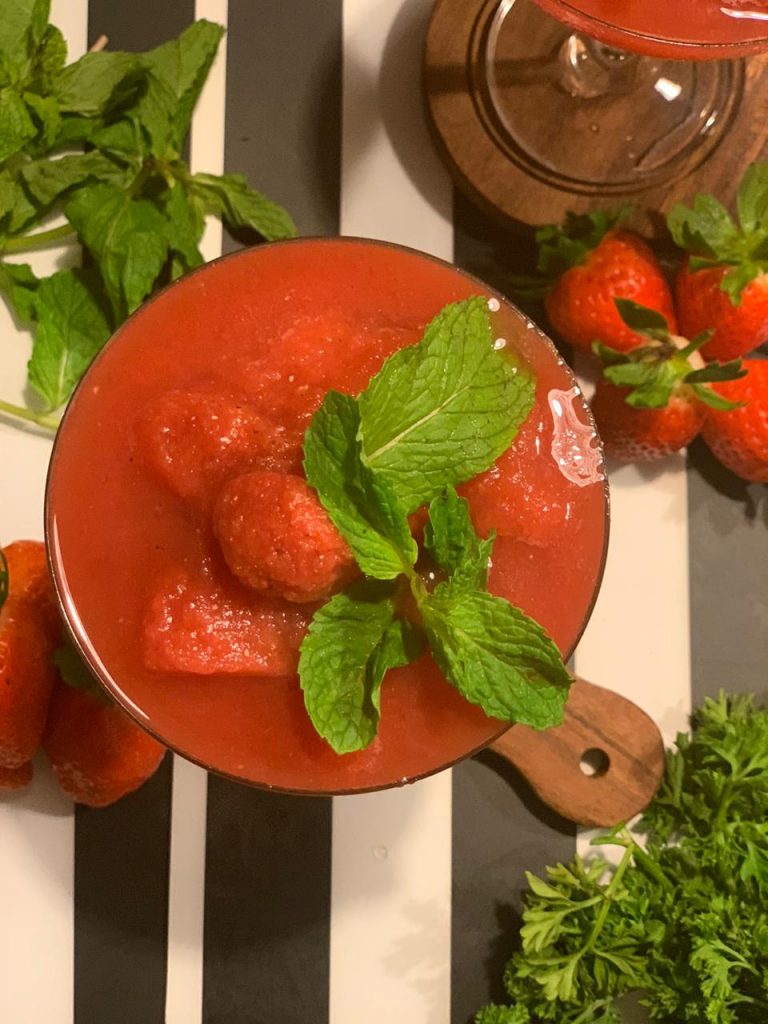 The image below is of the mini version I made to take for a dinner party recently.Each one was portioned out for one serving.How cute are those bamboo plates, ideal to set up at parties.
Would love to see your remakes on this dish!!!Please keep me posted if you do give it a try!!!!Have a Great Day Y'all!!! Much Love Nuzrath