France Aapa directly translated to french hoppers and please don't ask me why??? You Just Know If You Know
bcz I have no idea why this savoury meat cake was named after something that has absolutely no connection. Which is neither french nor is it in any way a kind of hopper of any sort from what I know LoL!!!
If any of you know please feel free to comment💕💕💕
Anyway this was introduced to me by one of my moms good friend(both not living anymore in this world, Allah bless them both with the best in the Akhira💕)She mentioned this dish originated from the beautiful city Galle which is quite popular for it's variety of unique dishes & flavours.
Since then, this dish has been making an entrance to my iftar table quite often in my own version ofcourse.
So this is not an authentic version, please do not judge me for not following the authentic version. Did not mean any disrespect nor any harm.
A foodie all my life & being married to a fantastic foodie our love & respect for everything & anything to do with food is unreal.But when we try any recipe we like to tweak it a little bit & make it personal for our little family. To the extent that each time i make a slight alteration😃😃😃
If that doesn't make sense to you I am sorry I can't help you. 🙏🏻🙏🏻🙏🏻
So this "France Aapa" is a meaty savoury cake that is made using a base of dry roasted semolina & flavoured pulled beef mixture that is further roasted in ghee. Then this is made into a batter like consistency with gravy fresh coconut milk & beaten eggs. This makes it so full of flavour in every bite. Perfect to be made with leftover gravy….
Usually served with pickle or gravy but we have it with a fresh onion salsa instead…..Sooo Good👌🏻👌🏻👌🏻
Let's start making this yummy cake shall we???
Things you will need for the whole recipe:
200g Roasted Semolina
While roasting the semolina,pop in some curry leaves,infuses the semolina with some flavour
500g Boiled & Shredded Beef(Leftovers Work Better Too)
10 Small Onions Finely Sliced
Two Green Chillies For Heat
Curry Leaves
A Tsp Cardomom Pwd
3 Sliced Capsicums
A tsp Salt,Pepper,Kashmir Chilli Pwd,Roasted Curry Pwd,Tumeric,
Tamarind Pulp Or Lime Juice
Coconut Aminos/Soy Sauce Substitute
Leftover Gravy One Cup
Two Cups Coconut Milk
6 Eggs Beaten
Fresh Corriander Leaves/Parsely
Fried Onions For Topping
Leftover Gravy Or Onion Salsa For Serving
In a pan,sauté the onions in ghee till Theyr nice & golden
Next add in cardomom pwd,curryleaves & green chillies.Mix well.
Add in spices & let this cook for few minutes
Add in the cooked shredded beef & capsicums.
Now add in the roasted semolina & mix well.Gradually add in one cup of regular water or stock & keep mixing.Do not let this get lumpy.Make sure the semolina is well coated with the spices & meat as it can be very bland if not seasoned well.Add in the tamarind, coconut aminos & leftover gravy.
This spiced semolina mixture will absorb quite abit of liquid so don't worry if you feel it looks watery at the beginning.
Next,add in the beaten eggs & coconut milk & combine well.Check for salt & spices & adjust accordingly.If you added gravy & stock you wouldn't have to worry about seasoning this too much.add in fresh green leaves.The mixture would resemble a cakey batter
Transfer this to a greased oven proof baking dish & bake at 180' in a preheated oven for atleast 45 minutes.Or untill the top is fully cooked & a toothpick comes out clean.
Let this cool abit before serving.Like I said earlier this is usually served with gravy or pickle but today we decided to go wit onion salsa.
Stores well for a few days in the refrigerator but freezes for longer if it even lasts for that long.I made a larger batch with that intention but didn't even last for more than one iftar !!! Managed to save a piece for the following suhoor meal 😃😃😃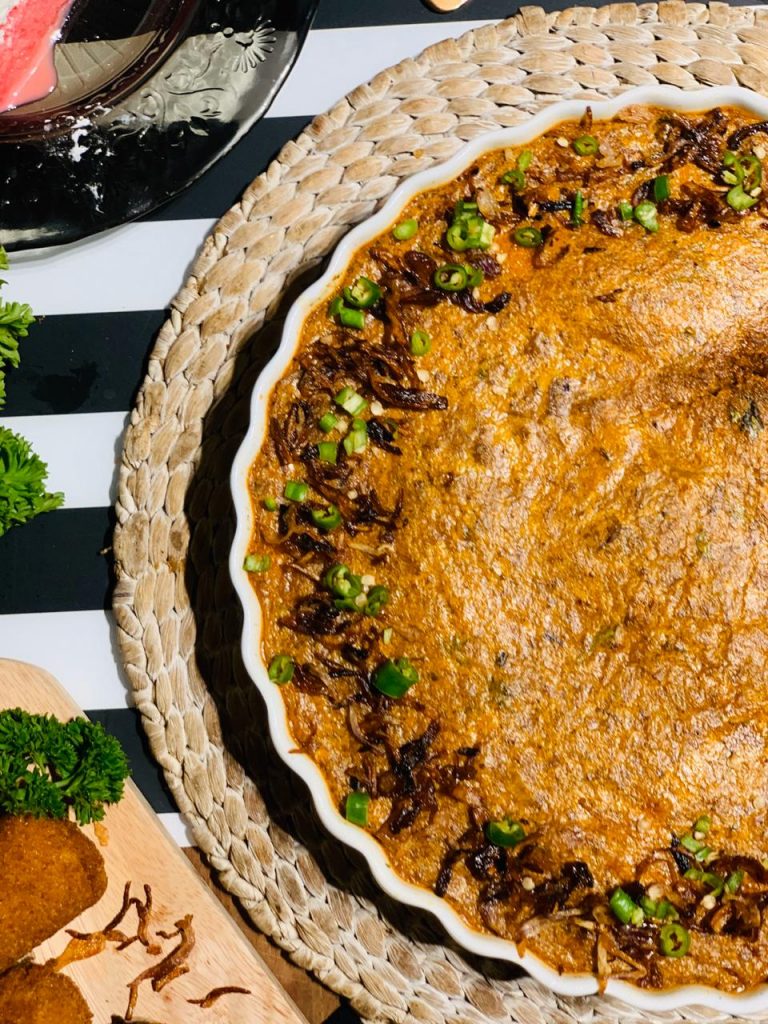 Anyway do give this recipe a try & lemme know how you liked it & if you have ever tried this before???
Stay Safe💕Stay Home 💕Stay Sane
Much Love
Nuzrath 💕
srilankanfoodie #mylankanfoodjournal #colombofoodbloggers #homemadewithlove #ramadanseries #ramadanwithme #ramadanvibes #quarantineandchill #srilankancuisine #iftardiaries #srilankanshorteat #franceaapa #frenchhoppers #savourycake #socialdistancingcooking #instafood #feedfeed #huffposttaste #onthetable #instadaily #foodphotgraphy #foodstagram #foodphotgraphy #eatpraylove #begrateful #positivevibesonly#alhamdulillaforeverything💕