Referring To The "SriLankan Chinese Rolls"
It Always Gets Me Thinking…… There's Definitely Nothing Chinese About These Rolls Other Than The Shape Similar To An Asian SpringRoll Maybe,Not Sure If Thats Technically Chinese Even
But One Things For Sure,Theyr So Good You Wont Be Able To Stop Yourself With One!!!
These Deep Fried Goodies Remind Me Of My Childhood When We Would Go To Any Occasion One Of The First Few Things To Be Served With The Spread Of Snacks Were These Humble Rolls.
OfCourse Being A Foodie From Birth,Memories Connect With Food LoL & Am Not Ashamed Of That Bcz I Think Food Connects People In The Most Unbelievable Ways
When We Visited The UK Last Year,I Spotted These Crispy Cylinders Labelled "Srilankan Rolls" In A Small Shop In The UnderGround Station While Were About To Get Into The Train???
The Taste Was Nothing Like The Ones We Would Get Back In Our Local Bakeries But Seeing Our Srilankan Chinese Rolls Making It's Way Around The World Does Give A Small Sense Of Happiness To Every Lankan Right??? I Was Probably Missing All The Srilankan Food By Then Too…… ????????????????????????????????????????????????
Anyway Let's Get To Making These Spicy Babies….
Theyr Often Found Stuffed With Cooked Canned Fish Filling But Today I Have Used A Meaty Filling The Way We Prefer.You Could Surely Opt For A Filling Of Your Choice
THINGS YOU WILL NEED TO MAKE THESE CRISPY TREATS
?Pancake Batter
?Meaty Filling
?Crumb Coating Station
?Which Includes Beaten Eggy Mixture With Few Tbsp Of Pancake Batter
?Dried Bread Crumbs(Biscuit Kudu)
?Oil For DeepFrying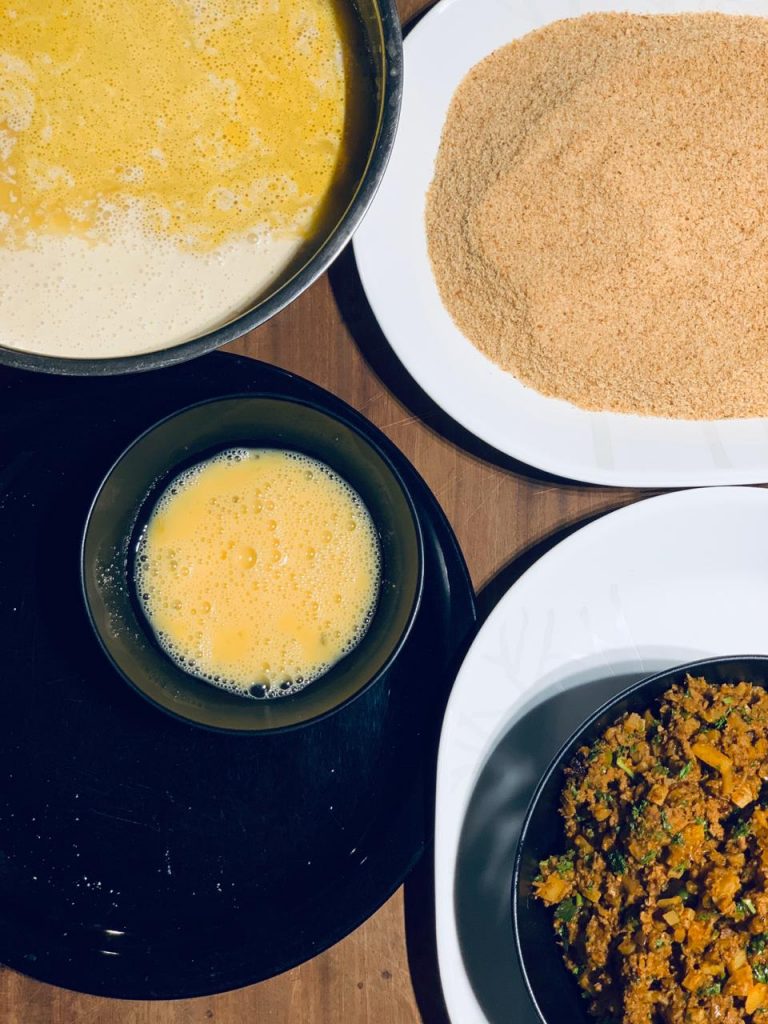 First Let's Make The Pancake Batter : It Is Pretty Simple & Basic,Just Chuck Everything Into A Blender & Make A Pourable Batter & Let This Sit For Atleast 30 Minutes.
How Do You Check If Your Pancake Batter Is The Right Consistency???
Once The Batter Is Ready Use The Back Of A Steel Spoon & Dip Into Your Batter.Then Run Your Fingers Through The Middle & If The Batter Doesn't Run Into Each Other Then Your Batter Is Perfect!!!
But If It Does Then The Batter Is Too Watery & Needs Abit More Flour
Hope This Was Clear Enough For You Guys….
This One Makes About 20 Pancakes
Two Cups All Purpose Flour
3 Cups Water
Do Not Dump The Whole Liquid In Together,Once The Batter Is Made If You Feel It's Too Thick Add More Water & As It Rests The Batter Gradually Thickens On It's Own So You Can Keep Adding If Needed Only.
You Could Even Add Half Milk Of Choice(Coconut Milk,Cows Milk) If You Prefer But Do Not Stress Yourself Over This Extra Tiny Step
1/2 Tsp Baking Pwd
1/2 Tsp Salt
A Tsp Tumeric
One Egg
1/4 Cup Melted Butter/Oil(Optional)
WHILE THE BATTER RESTS MAKE THE MEATY BEEF FILLING
FOR FILLING YOU WILL NEED
500G Minced Beef/You Could Even Used Freshly Boiled & Shredded Beef
3-4 Tbsp Coconut Oil
Two Finely Chopped B Onions
A Tbsp Crushed Ginger & Garlic Paste
Two Or Three Potatoes Cut Into Small Cubes(Not Boiled)
CurryLeaves
Stick Of Cinnamon
Few Cardomoms
Two Green Chillies Finely Chopped
A Tsp Kashmir Chilli Pwd
Two Tsp Black Pepper Pwd
A Tsp Chilli Flakes
1/2 Tsp Tumeric
A Tsp Roasted Curry Pwd
Two Tsp Salt
Tamarind Pulp Or Lime Juice
A Tbsp Coconut Aminos/Soy Sauce
Fresh Corriander Leaves
Heat Some Oil In A Pan,Sauté Onions Till Nice & Golden,Then Add In G&G,Whole Spices & Curry Leaves,Let This Get Fragrant For Few Minutes.Then Add In Spice Powders & Mix Well
At This Point You Could Add In The Raw Minced Meat(I Just Blended Mine In A Food Processor) But If You're Adding Cooked Meat,Add It After The Potatoes Are Cooked
Next With The Raw Meat Add In The Potatoes,Cover & Cook For Atleast 10 Minutes Or Untill They Are Tender But Still Firm.The Potatoes Flavour Well When Cooked Together With The Meat.Let This Simmer Till The Filling Is Almost Dry
Finally Add In The Coconut Aminos & Lime Juice.Mix In Fresh Corriander Leaves.
The Meat Filling Is Ready!!!Always Check For Salt At The End To Makesure Everything Is Perfect ??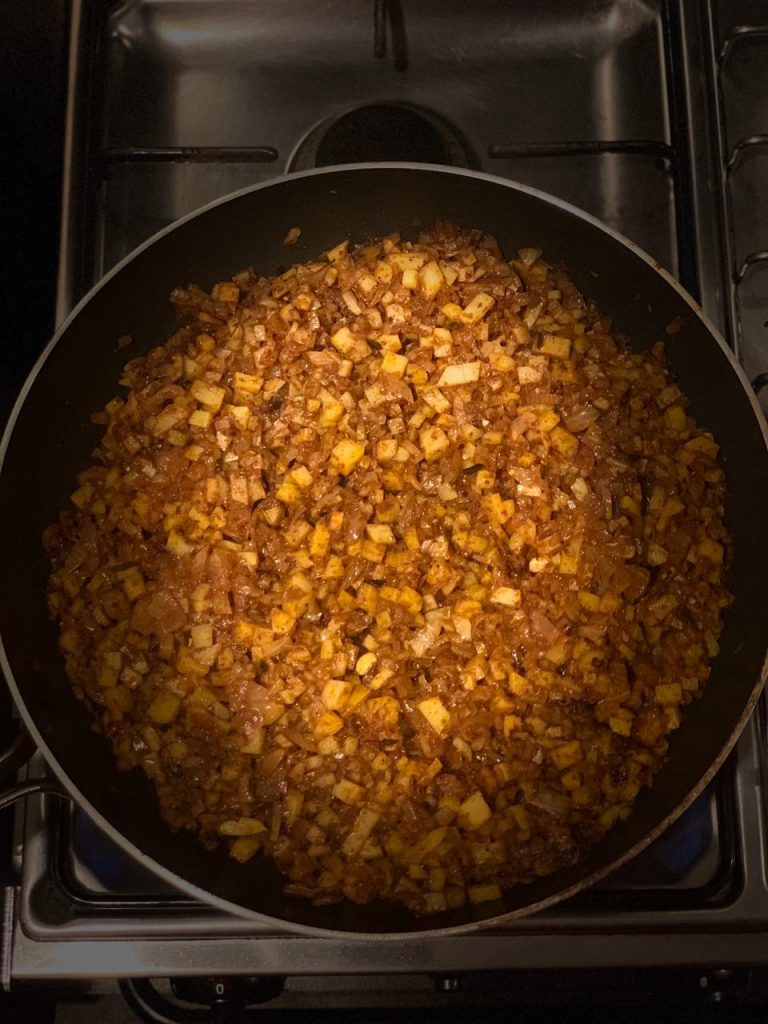 A Small Additional Step I Did Which Is Completely Optional
Just Something We Prefer Once In A Way With Our Regular Meaty Roll Filling
This Does Not Change The Colour Of The Filling But Takes The Flavours To Another Level I Promise!!!Try It Once & Lemme Know What You Think ???
???Not For Non Cheese Fans Though So Dont Even Try ???I Added Few Triangles Of Cheese Into This Mixture & Combined Well.You Could Even Mash It Up Before Mixing Into The Filling So You Wont End Up Biting Into Chunks.
Time To Get The Crumb Coating Station Ready & This Is Where You Need To Really Be Prepared In Making Your Chinese Rolls
You Could Definitely Dunk Them In Just Beaten Egg But I Prefer Adding In A Few Tbsp Of Pancake Batter Just For More Assurance.
LETS START MAKING THE PANCAKES!!!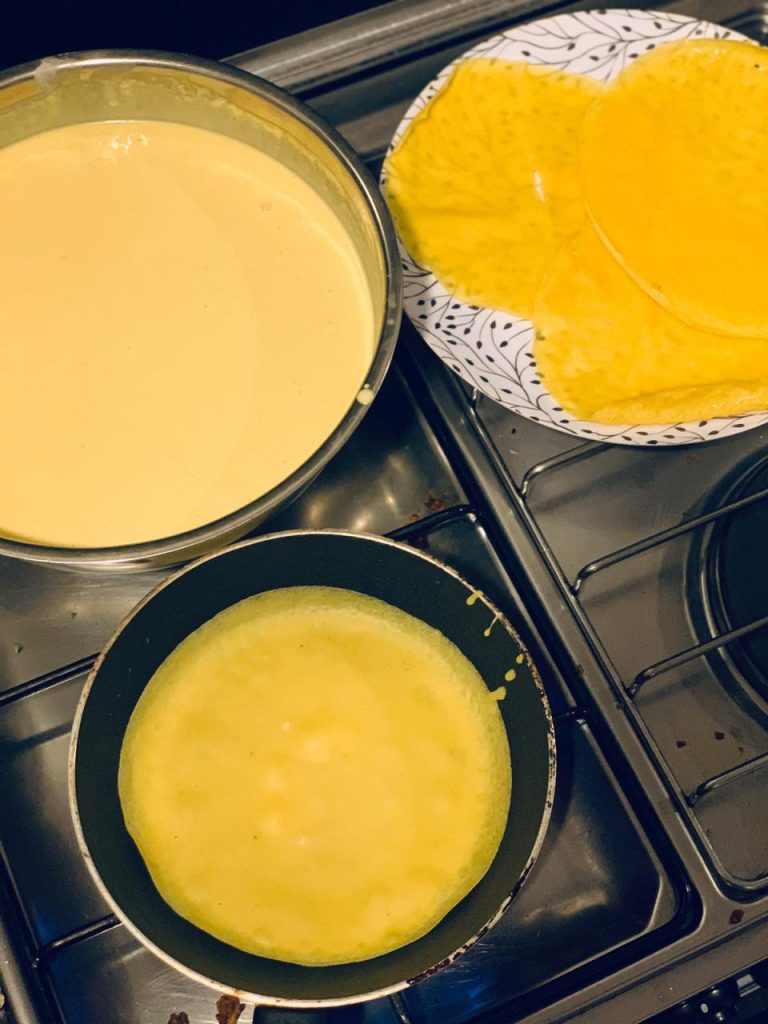 Apply Some Oil On The Pan Only For The First Few Pancakes.If It's A Non Stick Pan You Have Nothing To Worry.
Spoon Out The Batter(About 3 Tbsp) & Swirl It Around To Spread The Batter & Make An Even Pancake
Let This Cook For About 2-3 Minutes Or Untill You Notice The Bottom Is Cooked & Dry.Do Not Flip
Place This On A Flat Plate & Start Rolling These Babies!!!
Follow The Pics To See How You Can Bring These Delicious Rolls Alive!!!
First Place About Two Tbsp Of Filling On One Edge Of The Pancake(The Side Closer To You)Do Not Use Too Much Filling As They May End Up Breaking When Rolling…
Also Place The Dry Side Down,This Also Helps In Not Breaking Your Rolls.
Still If They Do Have A Few Small Cracks Dont Get Worried Bcz You Can Fix Them While Crumb Coating Them.
We Did Have A Couple Of Cracks Cz The Kids Wanted To Help Out & There's Nothing A Little Love & Patience Can't Fix ??????????????
Incase Theyr Big Breakages & You Still Want To Fix It : Pour Some Pancake Batter OnTo The Broken Gap & Slowly Cook This On The Pan.All Can Be Mended Don't Worry Be Happy ???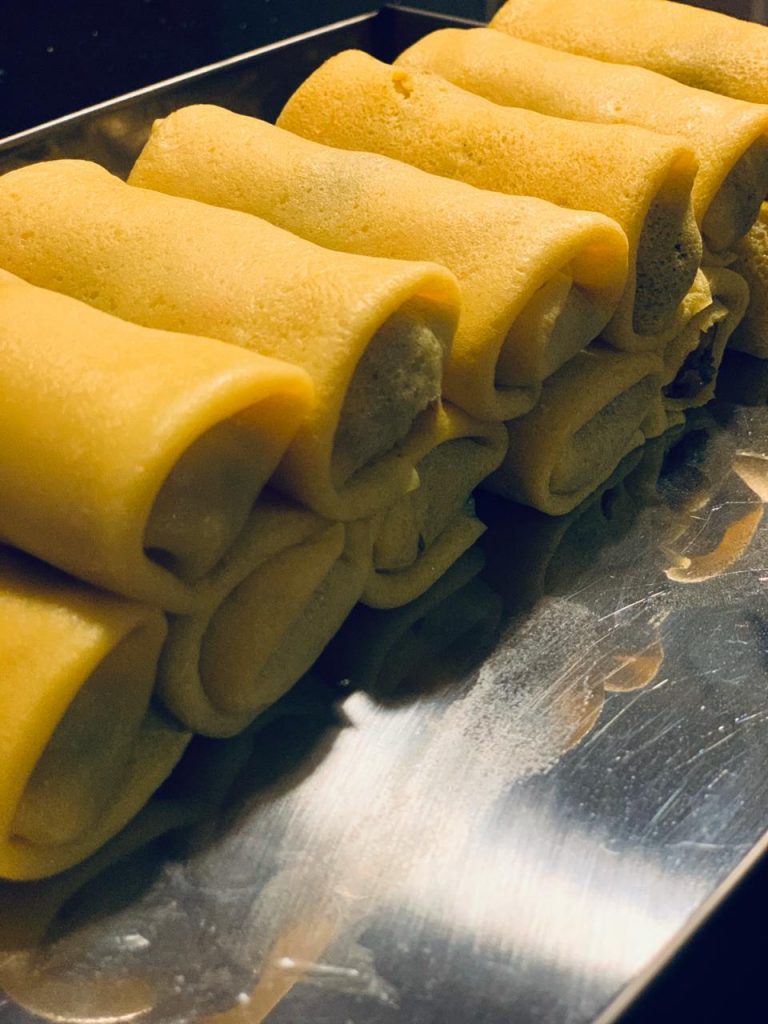 Once You're Done Making The Pancake Rolls,Place Them On A Flat Tray & Start The Crumb Coating
First Dunk Them In Eggy Pancake Batter
Then First Crumb Coat
Refrigerate This For About 15 Minutes(Optional To Refrigerate Between Coats But Refrigeration After Second Coat Is Important If You're A BEGINNER)
Pls Do Not Read Further If You're A Pro Bcz This Page Is Mainly For Beginners…
Am Sure This Is A Breeze For The Professionals ??????
Dunk In Eggy Batter Again
Second Crumb Coat
Refrigerate For Atleast 30 Minutes Before DeepFrying
DeepFry & Serve Warm We Don't Do Ketchup So We Had Hot Sauce Instead!!!Yummers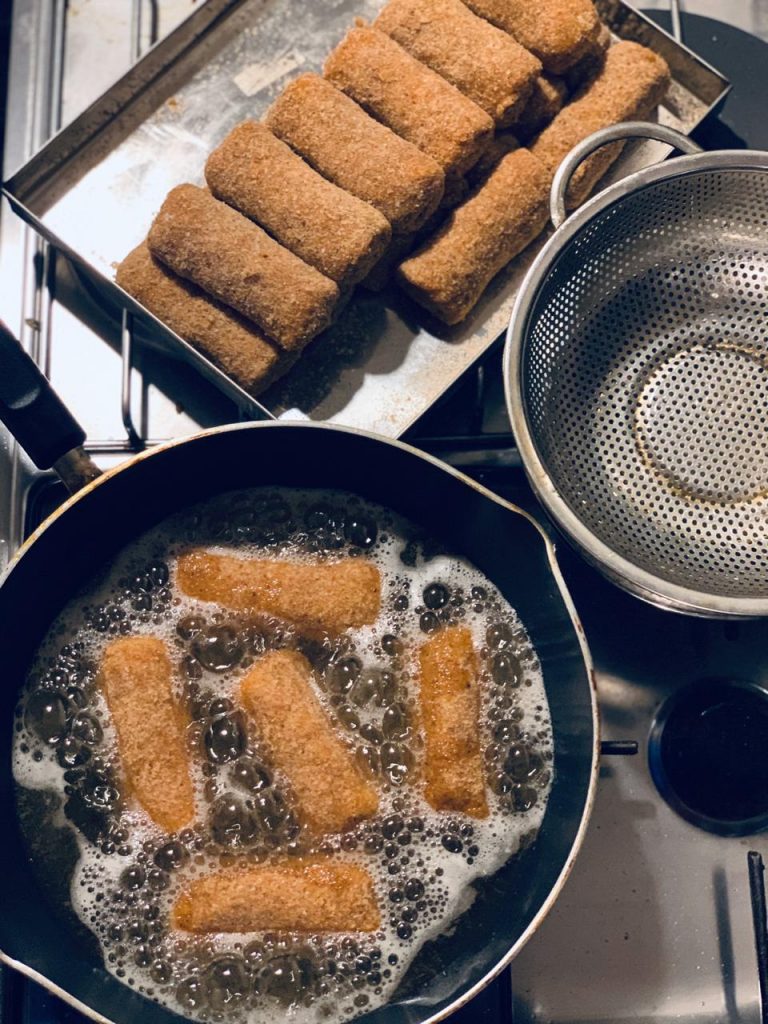 ???Just Few Things We Learn Over Time & Something That Should Be Passed On ???
If You're A Beginner I Just Want You To Know That This Is Abit Time Consuming But Definitely Worth It Bcz This Can Be Made In Large Batches Ahead & Freezes Really Well Too If Stored Properly.
Half Fry Them Before Freezing Them In Batches.
This Is Also A Budget Friendly Snack If Made With Canned Fish Which Is Perfect For The Hungry Kids These Days!!!Such A Crowd Pleaser!
Makesure Everything Is Ready When You're About To Get Rolling.Bcz I Would Not Advice You To Make The Pancakes & Leave Them To Dry Out.Make The Rolls While The Pancakes Are Still Warm,Thats When The Pancake Sticks & Holds Shape.
Keep The Dry Side Down When Making The Roll & It's Not Necessary To Cook Both Sides.This Helps In Less Breakages
Makesure You Roll Them Tight & Firm So They Wont Open Up At Any Stage
Second Crumb Coat Is Essential To Makesure You End Up With A Perfectly Coated Firm Roll
Refrigeration Inbetween The Coats & Before DeepFrying Also Plays A Major Rolls.But You Could Definitely Go Ahead & Do Them Your Way If You're In A Hurry But As A Beginner I Found These Tips Very Useful
The Pancakes Or Crepes Need To Be Thin Enough But When I Say Thin Not Too Thin That They May End Up Breaking When Rolling Up
And Not Too Thick Bcz No One Likes Biting Into Thick Floury Rolls
Using A Ladle Spoon To Pour The Batter Makes It Easier To Get Exact Batter For Each Pancake
I Would Highly Recommend Using A Good Non Stick Pan If You Can Afford It Bcz Getting Those Pancakes Off Ain't Gonna Be Pretty Otherwise.We Actually Have A Seperate Pan Just For Pancakes ???
That's How Seriously We Take Our Rolls LOL.Am Sure Am Not The Only One Though!!!!Ask Your Aunties!!!
Make Sure You Deep Fry In Medium Hot Oil & If The Oil Is Not Hot Enough,They Might Start Breaking Up.Since The Filling Is Cooked There's No Need To Keep Them On Fire For So Long,You Just Need That Golden Crust & You Have Your Perfect Stuffed Rolls ??????
Maintain The Right Temperature Of The Oil To Avoid Smoking Up The Place
OverCrowding Your Pan Can Cause Breaks & Bursts In The Hot Rolls So Be Careful When Frying Them & Fry Them In Few Batches If Your Pan Is Too Small.This Helps Save Your Oil Too As Re Using This Oil Can Be Harmful To Your Health According To Certain Studies
HOPE THESE TIPS WERE USEFUL TO YOU AS IT WAS TO ME WHEN I WAS A BEGINNER.HAVING SAID THAT IAM NO PROFESSIONAL.WE ARE ALL LEARNING SOMETHING NEW EVERY SINGLE DAY!!!!!!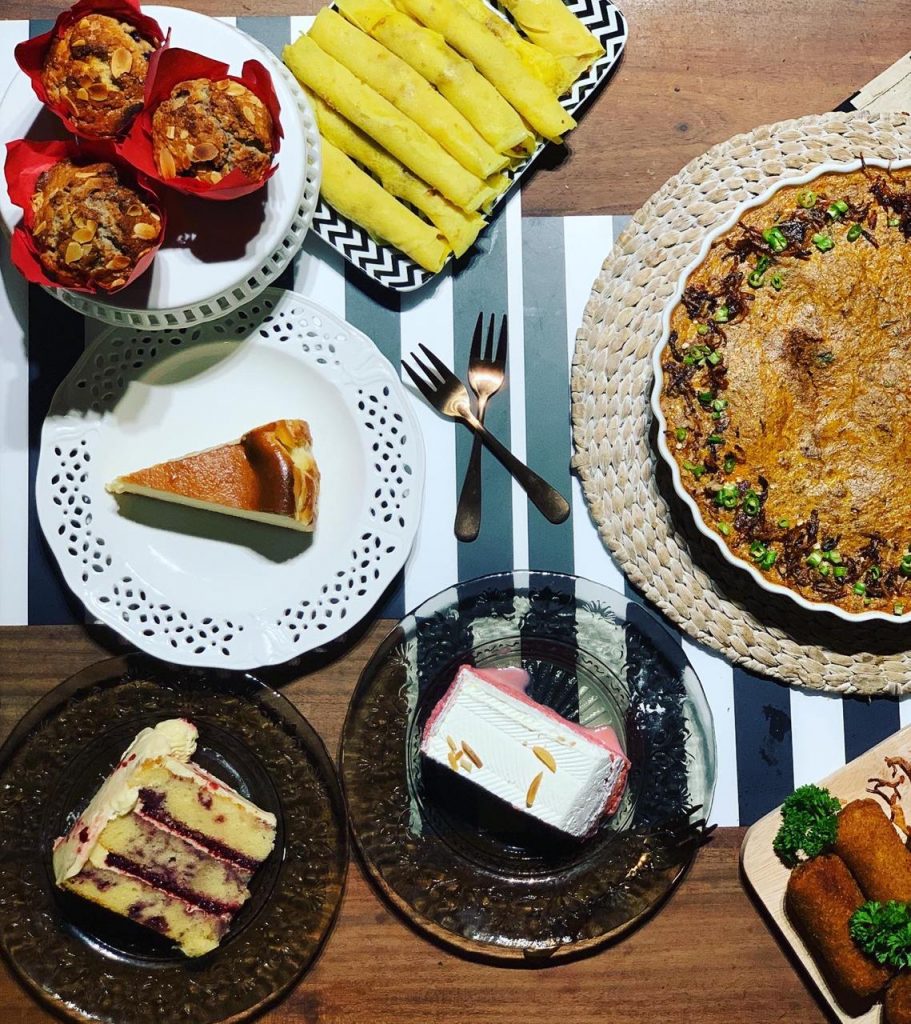 IMPORTANT MESSAGE TO ALL MY VIEWERS Just A Gentle Reminder That Each Of These Recipes Have Been Tried & Tested Only By Me. Some Maybe Inspired By Other Personalities But Theyr All Completely Different Versions Recreated By Me. I Have Sole Ownership To My Photographs So Using My Recipes Or Photographs Without Prior Permission Can Prove To Be An Offense Thanku So Much???For Respecting My Efforts On This Blog Page
Have A Great Day Everyone
Stay Safe?Stay Home ?Stay Sane?
srilankanfoodie #mylankanfoodjournal #colombofoodbloggers #homemadewithlove #ramadanseries #ramadanwithme #ramadanvibes #quarantineandchill #srilankanchineserolls #srilankanshorteats #socialdistancingcooking #instafood #feedfeed #huffposttaste #onthetable #instadaily #foodphotgraphy #foodstagram #foodphotgraphy #eatpraylove #begrateful #positivevibesonly#alhamdulillaforeverything?