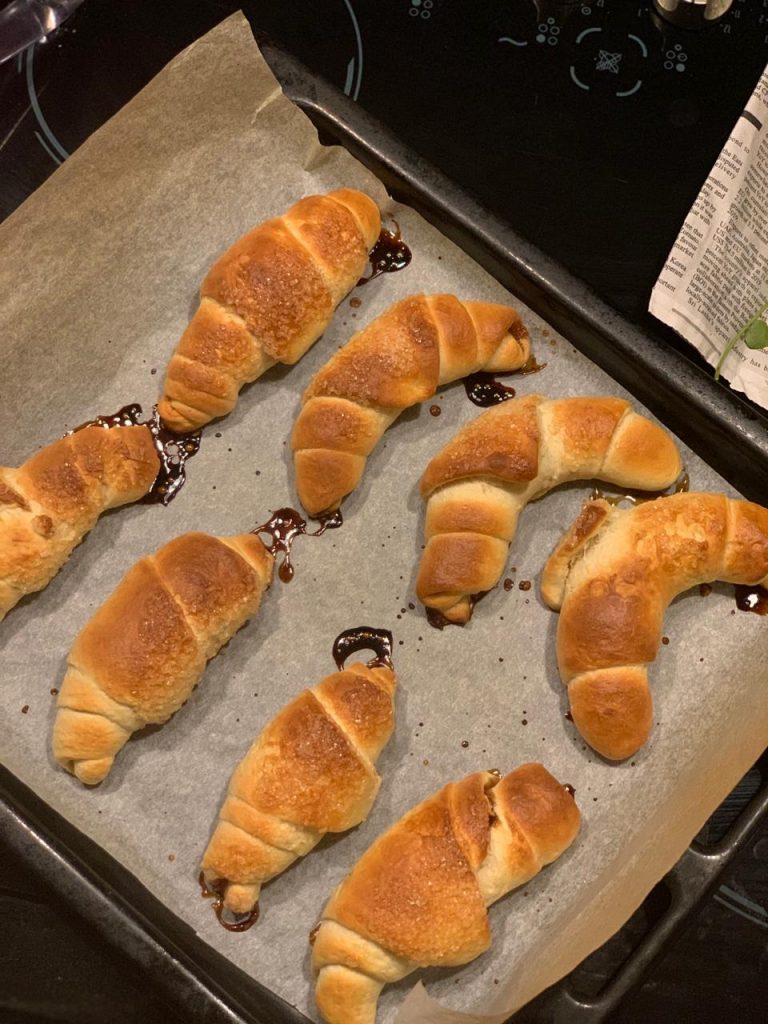 If you are a 90s Lankan Kid and you don't remember Kimbula Bunis!!! Who are You ??? I mean really …. These warm and sugary babies bring back so many wonderful memories
As a child this was a part of our morning routine and from the time I remember my dad would bring us a variety of buns after morning prayers….and this one was definitely a favorite in our home 🥐🥐🥐My brother and I always fought for the corners, now I take my husbands share,lol
For those who are not Lankan : Kimbula Bun or Kimbula Bunis also directly translates into "Crocodile Buns"
It is a twisted sugar coated bun that resembles the shape of this reptile maybe that's why the name….The ends are usually the best part according to me because they're harder than the centre 🥐🥐🥐
I have also tried making this same kimbula buns stuffed with Jaggery or Pol Panni : NEXT LEVEL !!!!
This sweet deliciousness is a perfect morning treat with some Ceylon Tea !!!
Who can refuse a warm and crusted sugar bun that is home made… Yummers
Check out my instagram post and show some love.Would love to see your remakes on this Deliciousness.Be sure to tag me or send me a screenshot of your post if your account is private.So I can re share them on my stories
https://www.instagram.com/p/CIVOUJ5BATf/?igshid=17gyjmn0q0cn9
This recipe was my sisters and she still makes the best one til date💕
This same dough can be used to make a variety of different stuffed sweet buns etc but I made The Most Popular Kadey Paan during Lockdown Part One.The method of making the dough remains the same while few steps to making the bread itself may vary…
Follow my next post to see how that's made.Refer to link attached below :
Let's Get Started
You Will Need
500gm flour
4 tbsp Milk Powder
5 tbsp of sugar
1 tbsp yeast
1 egg
1/4 cup oil or melted butter
1 tsp salt
Milk 1/2 cup (maybe less maybe more)
Step One : Mix the yeast and sugar with Luke warm milk and let this react.This helps you judge whether your yeast is still active or expired.Make sure the milk is not too hot.This will kill your yeast and stop from activating.
Step Two : Once the yeasty mixture is ready, add in melted butter and beaten egg and combine
Step Three : Mix the wet and dry ingredients and make into a smooth dough.
Step Four : Let this rest covered in cling wrap for at least 30 minutes in a warm place.
Step Four : By now the dough has risen to twice its size.Punch it in and transfer to a floured surface.
Step Five : Roll the dough into a log shape and divide into 2 then portion out into 4,again divide them into another 4 which ends up in a total of 8 portions.
Step Six : Place this on a flat surface and spread out using your fingers into a vertically rectangular shape.You could use a rolling pin but ideally you should be using your fingers to the perfect fluffiness.
Step Seven : Roll this away from you,similar to how you would roll for a croissant before folding the sides in.The finished product to resemble the shape of the kimbula bun.
Step Eight : Carefully dip the top in water then in sugar granules.I used larger brown sugar not the fine ones just for more crunch.Some also dip in sugar syrup instead of water but I just do water.
Step Nine : Place this on a lined baking tray and let it rest for 15 minutes before baking in a preheated oven.Bake for 15-20 minutes or until the top turns beautiful and golden.
You are now qualified for making some delicious Kimbula Bunis.Look at that perfect caramelisation……Yummmm
Your kitchen smells divine by now and nothing will stop you from stuffing yourself with these warm and crusty buns
This was my contribution to the weekly challenge hosted by my friends Hafsa from MY BAKING JOURNAL and Roshani from HUNGRY LANKAN.Refer to their pages : Link is attached below
https://instagram.com/my_baking_journal?igshid=29xusoahiyir
https://instagram.com/hungry_lankan?igshid=1qj43p4feypen
Stay Safe and Be Responsible
Much Love 💓 Nuzrath
srilankanfoodie #mylankanfoodjournal #foodblog #colombofoodbloggers #colombolife #foodiesofintsagram#onthetable #instadaily #igers #eatpraylove #positivevibesonly#alhamdulillaforeverything💕