Kaak is a traditional Arabic sweet pastry stuffed with sweet filling shaped like a mini croissant
I saw this for the first time on Walla Abu Eid's page and immediately decided to give it a try.Alhamdulilla it was successful!!!
The recipe is on her page
https://instagram.com/walla_abueid?igshid=efp2kg8ph9v9
Let's get started on my version
Part One : The Buttery Dough
You Will Need
500g All Purpose Flour
5 tsp baking powder
200g melted unsalted butter
1 cup Heavy Cream
vanilla extract
Step One Mix in melted butter into dry ingredients (flour & baking soda)
Step Two Gradually add heavy cream, and start mixing using a spatula.Use your hands if it is not manageable
Step Three Form into a rather smooth dough
Step Five Make into large tennis sized balls.I made larger quantity but you could make about 8-10 balls.Let this rest for an hour while you make the date filling
Part Two : Date Filling
You Will Need
Pitted Dates 400g
Walnuts 200g
Cinnamon powder 1/4 tsp
Anise seed powder 1/4 tsp
Olive Oil as needed few Tbsp
This is my preferred filling flavours with my preferred spices as I didn't have access to all arabic spices, you could adjust accordingly.You could also stuff them with crushed nuts mixed in simple syrup…yumm
Step One Add in all ingredients into the food processor.Make sure the dates are at room temperature.Makes it so much easier to blend.Otherwise warm it up over a pan on low flame till its softened,then use to blend.
Step Two Blend till mixture is at your consistency.I prefer it smooth
Step Three Refrigerate to make it easy to handle
Step Four Drizzle more olive oil & roll into 1/2 tsp sized balls using your palms.
Part Three : Lets Start Making These Babies
Place dough balls on a floured surface & roll to make any shape you prefer!!!
Refer To Image Below For Step By Step Instructions On How To Make The Croissant Shaped Mini Biscuits.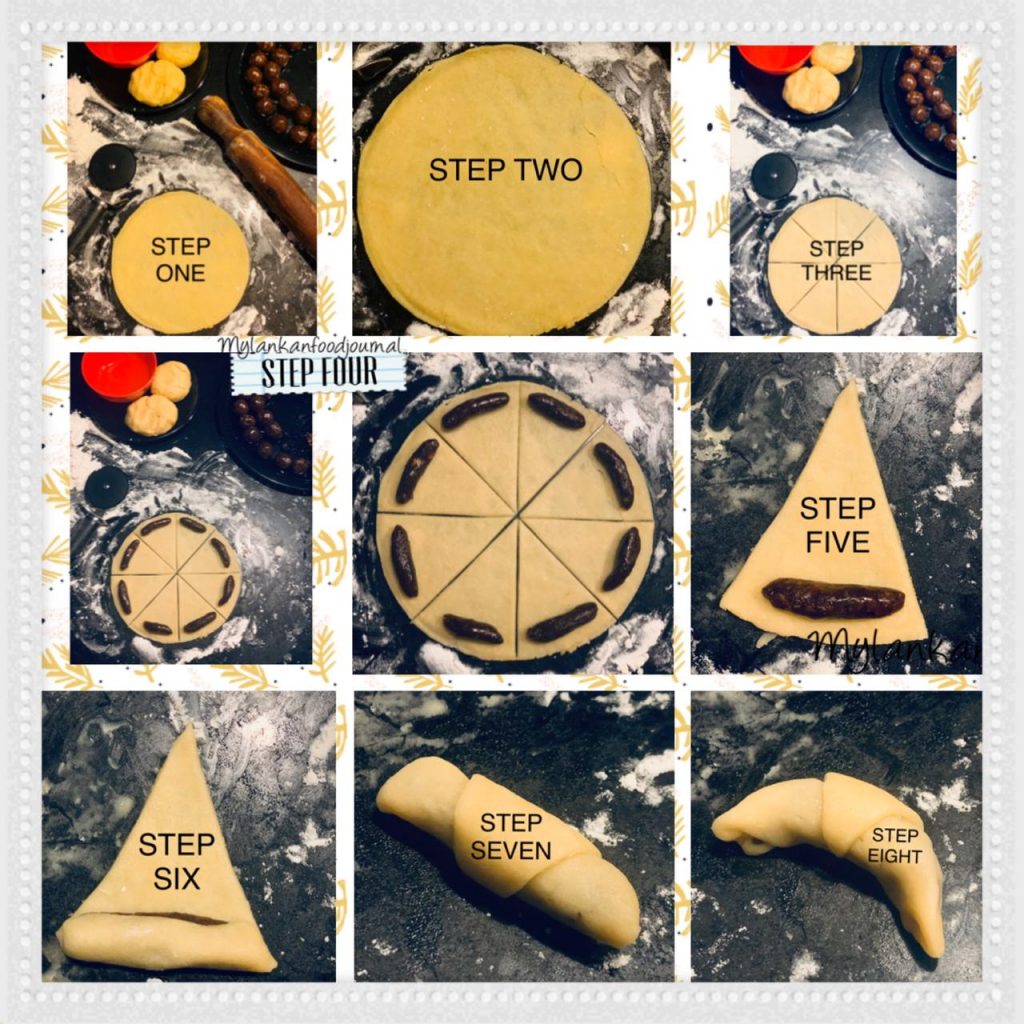 Place them on a lined baking sheet & bake in a preheated oven @ 180′ for only 10-15 minutes or until golden brown.Dust with icing sugar and enjoy them with a hot cup of tea or coffee!!!!
By now your kitchen smells amazing….
This made it to our small Eid sweet pack which was distributed by my kids amongst their cousins!!!Just a little something to share some love from afar ? ? ?
Would love to see your remakes on this
Much Love Nuzrath ?