Although it's been a challenging year for almost everyone… this should not stop us from moving ahead and making the most of what we have left!!!
Be kind & spread positivity because I believe there's always some good in every challenge that comes your way!!!
We may not have everything we used to have pre Covid but we are still safe and away from harm
So let's be grateful for whatever we have right now than worry about what we don't have or can't have.Take it day by day
During the first Covid Outbreak and Lockdown there was so much taught to us, adaptation to unimaginable lengths
Little Things Are Big Things???
Just like these warm buttery Easter inspired Hot Cross Buns??????
With Easter around the corner I thought I must share this recipe with you because I first came across this on another food bloggers page.He's Amal and he presents Art in the form of his food.His page is Thunapaha Diaries on social media
Recipe For The Dough
500g All Purpose Flour
2 tbsp Milk Pwd
1 tsp Salt
2 tsp Cinnamon
1 tbsp Yeast
2 tbsp Sugar
250ml whole milk
50g Melted Butter
One Whole Beaten Egg
Step One : Mix in Yeast with luke warm milk and let this bloom
Make sure the milk is not too hot, you, will kill the yeast.If it's too cold, the yeast will not react…
Step Two : Combine melted butter and beaten egg into this yeasty milk mixture
Step Three : Mix in dry ingredients with wet ingredients and form into a dough
Step Four : You could add 50g Raisins and 100G Choc Chips into this dough at this point (Completely Optional)
Step Five : Cover & Let This Dough Rest For An Hour
Step Six : One hour later : Punch dough in, divide dough into 10 circular shaped balls and place on a lined baking tray.Cover and let this rest for another one hour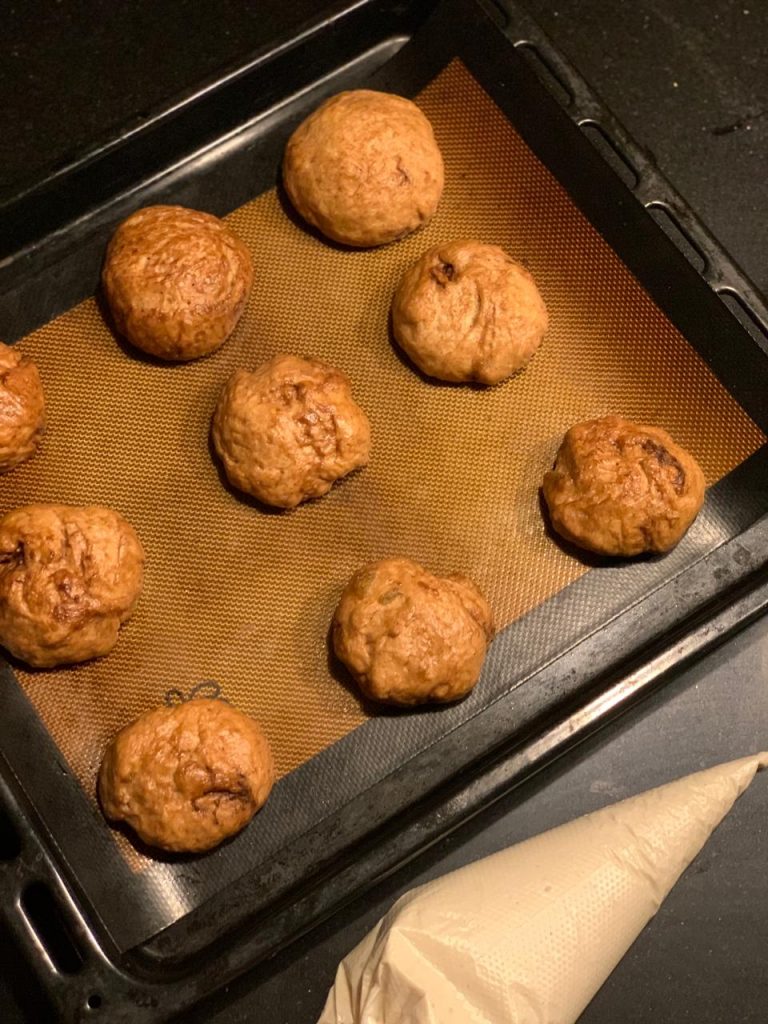 Step Seven : Original Cross Over The Buns: Blend 100g All Purpose Flour with one cup plain water and transfer into a piping bag.Pipe this over the buns just before going into the oven
Step Eight : Bake at 180' For at least 30 minutes or until they're beautifully golden and done
Step Nine : As soon as the buns are out of the oven, apply Honey over the top of the Buns while they're still warm
If you love Chocolate on everything, you could drizzle melted chocolate over the warm buns instead….Yumm
Serve right away just like I did with some foamy Dalgona Coffee ?????? Or your favourite cuppa!!!
The recipe for trending Dalgona Coffee is available in the blog site.Refer to link below :
Would love to see your remakes on this deliciousness.Be sure to tag me on social media or send me a screenshot if your account is private so I can re share it on my stories
Much Love ? Nuzrath