This Biscoff Deliciousness is so rich and creamy, once you try you're definitely not turning back.It is that good!!! Takes some time but worth all the effort….Good things take time
One of my favourite Biscoff Recipes because this is not your regular light and fluffy Cheesecake.It is more dense but the combination is phenomenal!!!Try making this and thank me later…So excited to share the recipe with you guys!!!
This particular cheesecake has three layers
Layer One : Lotus Biscuit Base
Layer Two : Chocolate Brownie Base
Layer Three : Biscoff Cheesecake
Let's Get Started
Layer One : Lotus Biscuit Base
What You Need
250g Crushed Lotus Biscuits
40z. Melted Butter
8″ loose bottom pan lined with baking paper and covered with foil at the bottom to avoid leaking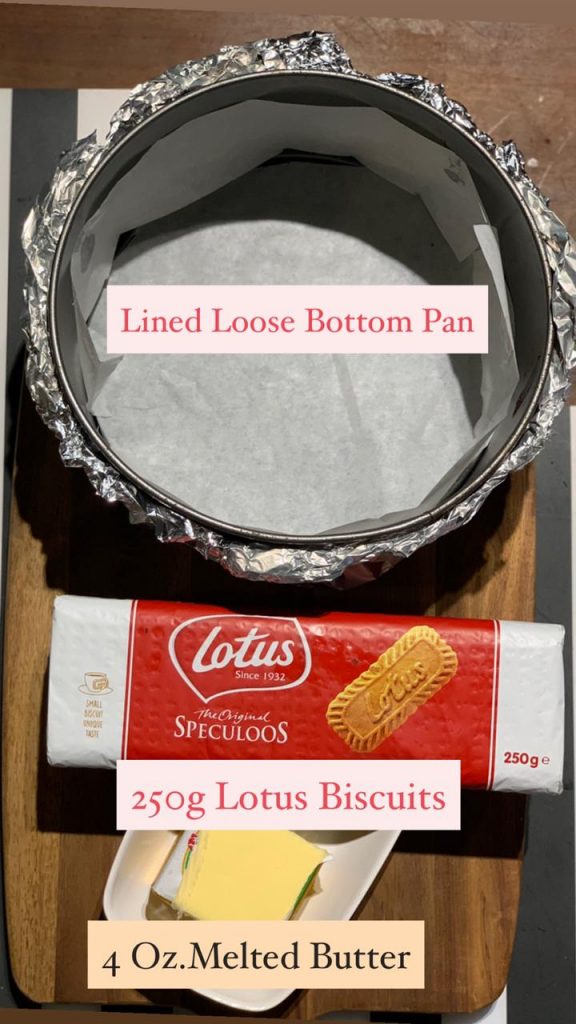 Step One
Crush the lotus biscuits in a food processor or use a ziplock bag and smash them using a rolling pin
Step Two
Pour warm melted butter into crushed crumbs and mix well.
Make sure every crumb is coated well
Step Three
Press the biscuit layer into the bottom of the lined baking tin using the back of a spoon or using your fingers.Press firmly.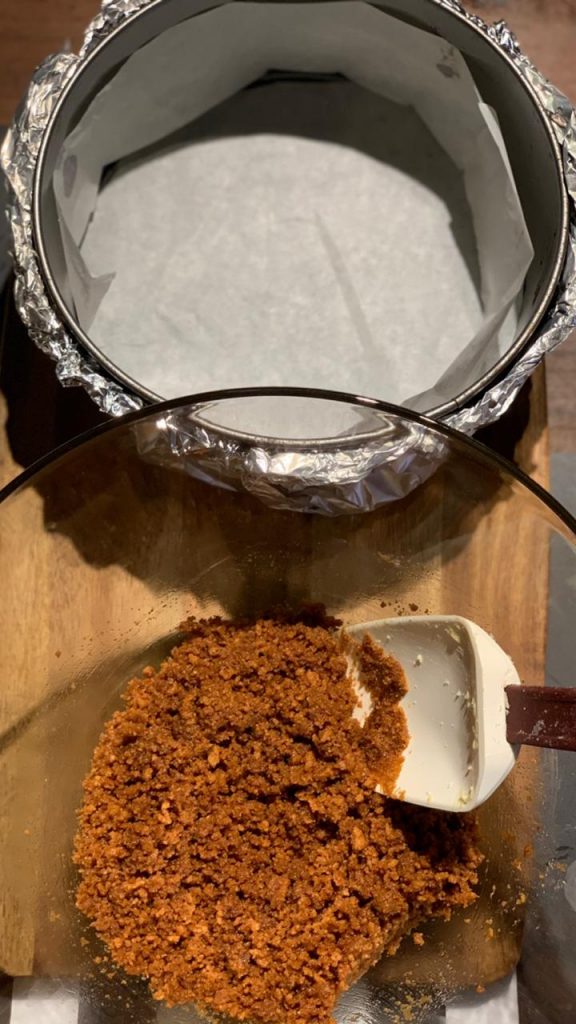 Step Four
Refrigerate this till you make the rest of the layers
Layer Two : Chocolate Brownie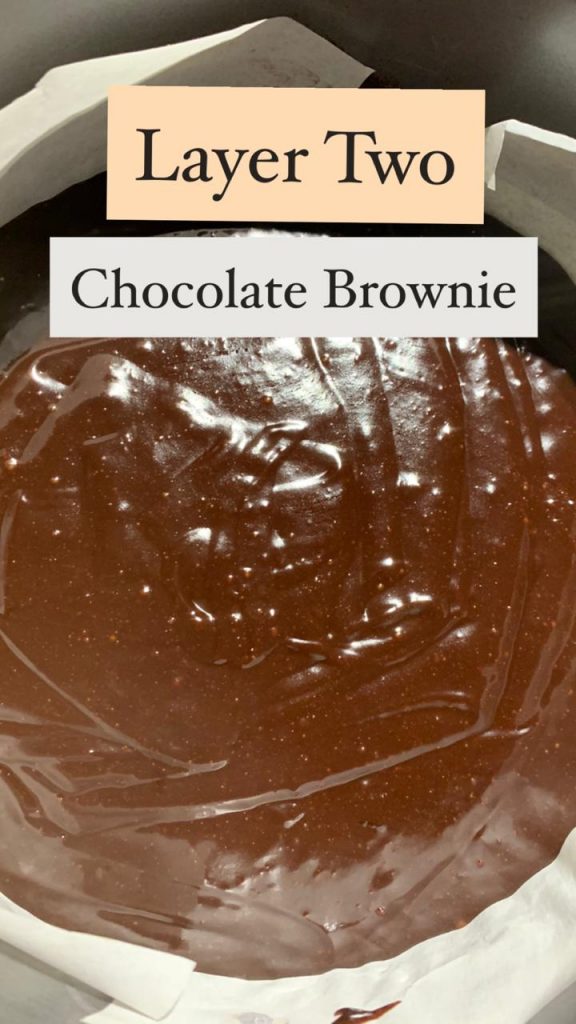 The recipe for Chocolate Brownie is available on the link attached below
Layer Three : Biscoff Cheesecake
What You Need
500g Cream Cheese at room temperature
2 tbsp Cornflour
3 Eggs
One Cup Heavy Cream
One Jar of Lotus Biscoff Spread (Leave some to go on top)
Vanilla
Step One
Beat Cream Cheese till nice and creamy
Step Two
Add Heavy Cream,Vanilla and Cornflour
Step Three
Add Lotus Biscoff Spread.Leave some for drizzling on top
Step Four
Add Eggs one by one and beat well.
The Cheesecake Batter is ready
Time to assemble the Chocolate Biscoff Cheesecake
Take the Baking tin out of the refrigerator and pour the Chocolate Brownie Batter first.Then carefully spoon the Biscoff Cheesecake Layer over this.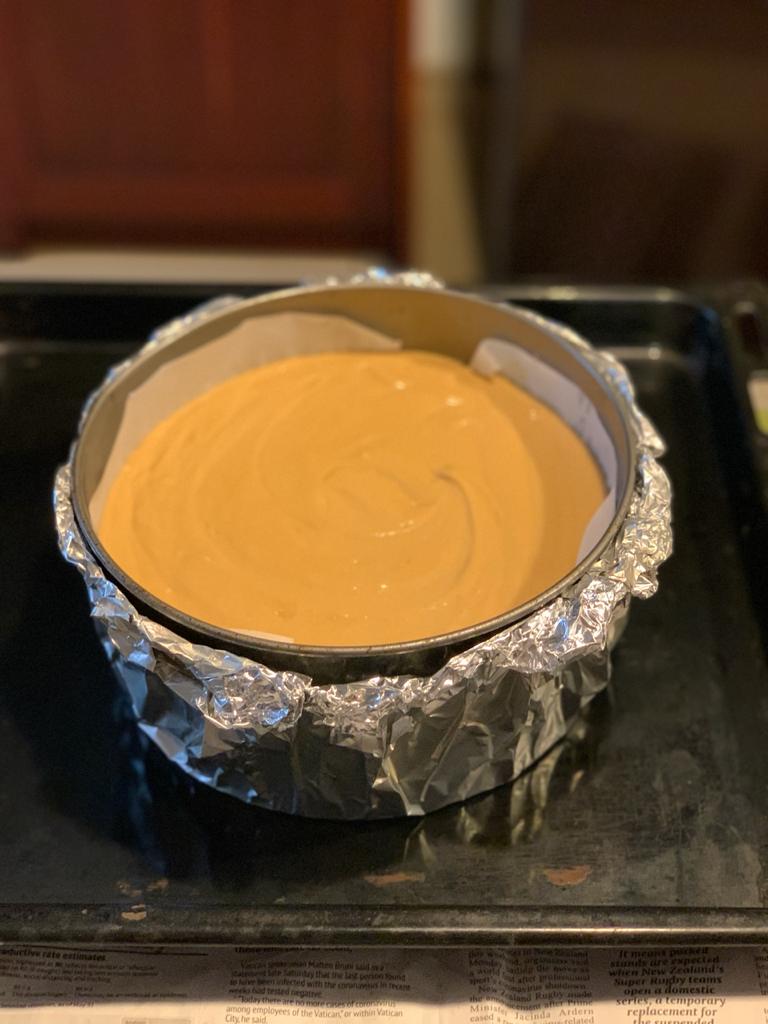 Cover with foil and bake over a water bath in a preheated oven @180′ for at least 60 minutes or until its completely cooked and not jiggly.
Let this completely cool down before umoulding or refrigerate overnight for best results.Its easier to unmould when firm and there are less chances of the whole cake breaking up.
If you're doing this for the first time and you're scared to handle a loose bottom pan you could do the same in an oven proof baking dish like I did previously.(Refer to image below)
Don't forget to check out my previous post with the recipe for Chocolate Biscoff Cheesecake Bars.Refer to link attached below
Anyway I would love to see your remakes on this.Be sure to tag me on social media or send me a screen shot if you're a private account so I can reshare it on my stories
Check out my instagram post on this.Refer to link attached below :
https://www.instagram.com/p/CIqhbLQBtI7/?igshid=3cx0sqmlb0us
Hope everyone's staying safe and indoors these days…
Stay Safe Stay Home Stay Sane
Much Love 💕 Nuzrath