Hope everyone's enjoying this Sunday indoors safely with your loved ones…
As terrifying as it is about not knowing what to expect from the second covid outbreak : Iam keeping myself calm by taking it positively day by day and praying for everyone's safety🙏🏻🙏🏻🙏🏻
Anyway,I tried out this Cashew tart inspired by kolu.This recipe was from one of my first recipe books,originally an Almond Tart recipe but being so SriLankan I switched to these oven roasted cashews I got from King Creek Farms (Link is attached below)
https://instagram.com/kingcreek_farms_?igshid=8zda7p0ek0po
They have started their range of flavored cashew like chocolate coated,caramel butterscotch and even salted…If you haven't tried them this is the best time to place your orders !!! With every first order claim your 5% discount using my code "nuz" or just mention my Instagram page (Link is attached below)
https://www.instagram.com/p/CGwzmlIB_no/?igshid=1teeap8hauxz8
They're all made fresh only on pre order.I must warn you though…They're the once you pop you can't stop kind!!! So addictive
Let's Get Started with the recipe
You Will Need
Sweet Tart Base and Filling
Tart Base :
This is the standard sweet tart dough & can be used to make any kind of sweet tart.Just adjust few flavours accordingly.I tried making pumpkin pie using same tart dough
Ingredients
Two Cups All Purpose Flour
100g Salted Butter cold cubes
3/4 Cup Brown Sugar
2 Egg yolks
Vanilla
1/2 Tsp Mixed Spices
Half Cup Milk/Water (Maybe little less)
Step One :
Mix in the cold butter with the flour till it resembles breadcrumbs.
Step Two
Mix wet with dry ingredients and form a manageable dough.Not too dry but not overly sticky. You can skip the mixed spices if you don't prefer it.
Step Three
Clingwrap the dough and refrigerate till needed.At least 30 minutes
Time to make the Cashew Filling till this is chilling
Cashew Filling
Ingredients
4oz. Melted Butter (make sure butter is not hot when adding into the egg mixture
3 Eggs beaten
200g Chopped Cashew (Leave some to go on top)
3oz. Grated Jaggery/Brown Sugar
Vanilla/Mixed Spices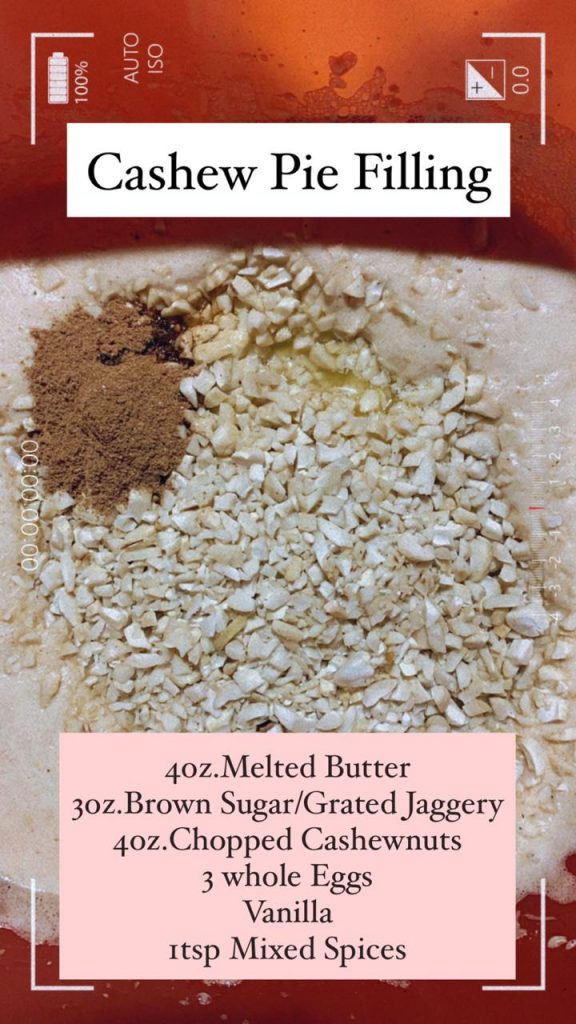 Beat eggs till light and fluffy.Then mix other ingredients in one by one into the mixing bowl till well combined.The filling is ready.
Let's Assemble The Tart
Step One
Roll out chilled pastry on a flat surface.Use flour if needed.I usually roll this dough in between two lunch sheets to avoid the dough sticking onto the rolling pin.This way you don't even need flour for sprinkling
Step Two
Transfer rolled out dough carefully into a lined tart tin.I used a 7″ loose bottom pan.Trim the edges neatly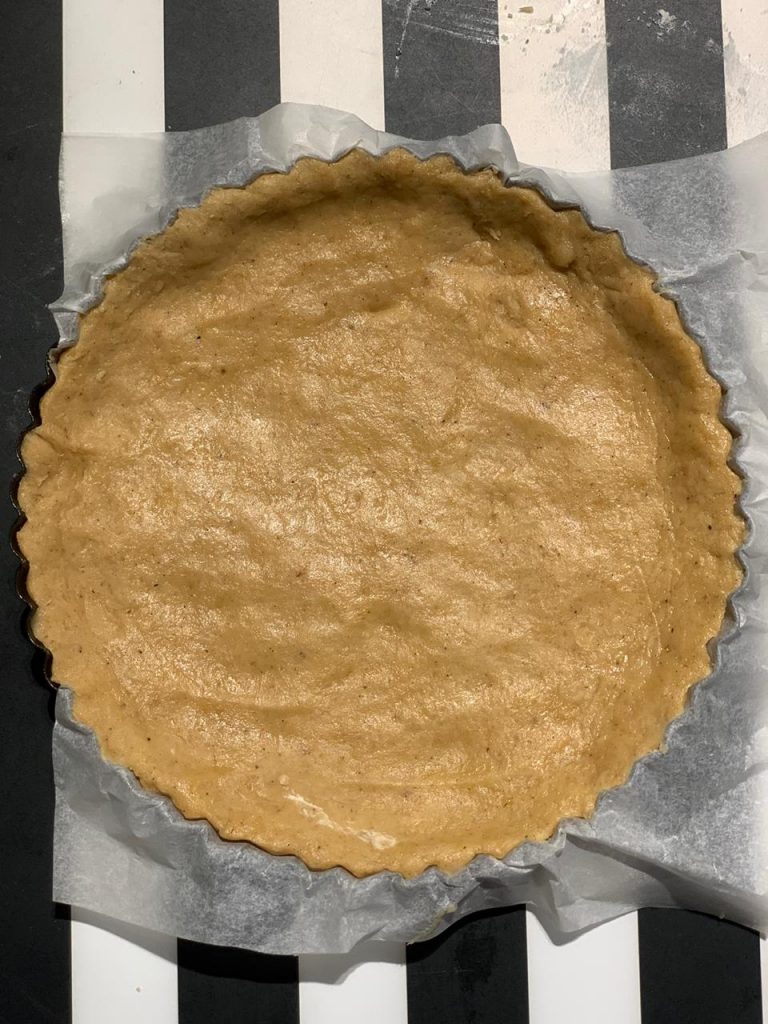 Step Three
Spoon the filling on this prepared tray.You could half bake the tart but I prefer not to do so unless I'm storing it in the chiller to be used for later.Tap to let air bubbles out.
Step Four
Decorate using halved cashews
Step Five
Bake in a preheated oven @180′ for 20 minutes or until its beautiful and golden.The cooking time entirely depends on each oven so make sure you're checking every now & then from the outside.Do not keep opening the oven door and peeping inside…lol
let it Cool down abit before serving
Enjoy a slice of this Deliciousness with a cup of Ceylon Tea.Love how the filling turned out to be perfectly balanced with the sweetness and tiny kick of spiciness and not too overwhelming.My kitchen smells amazing right now…
I make my own Mixed Spices or Pumpkin Spice. Refer to image below:
Would love to see your remakes in this.Tag me when you post it on Instagram and I will reshare in my stories.If you're a private account send me a screenshot.
Stay Safe Stay Home Stay Sane
Much Love 💕 Nuzrath
srilankanfoodie #mylankanfoodjournal #colombofoodbloggers #instafood #feedfeed #huffposttaste #onthetable #instadaily #foodphotgraphy #eatpraylove #begrateful #positivevibesonly#alhamdulillaforeverything💕