If you're a fan of Gordon Ramsay then you definitely know what Beef Wellington is ….
His Signature Dish as he likes to call it is a recreation of The British Classic that dates back to the late 1700s
This Blowout Pie is made with the best beef tenderloin that is seared in butter first, then smothered with English mustard while warm to get all the best juices absorbed in
Next this juicy chunk is blanketed with mushrooms and fragrant black garlic then carefully wrapped in buttery puff pastry which is baked to perfection : golden on the outside and flaky on the inside !!!! I'm sure you are tasting it already !!! Served it with some Sautéd Veges on the side and you got yourself an Elegant Meal for the Season !!!!
Fresh Meat is a company that delivers fresh halal meat and poultry to your doorstep.
They specialize in a variety of cuts depending on what dish you're planning to make and I think that's amazing because it's quite challenging to trust your local butchers to understand what part you exactly want…
Place your orders with them directly from their website : www.FreshMeat.lk
Or Call them on : 0772209331
They offer free delivery for purchases over 1500/- place your orders already
Let's Get Started
You Will Need
Puff Pastry 500g
Beef Tenderloin 1kg
Mushroom Filling
Puff Pastry
I used the store bought one today but if you're good at making your own puff pastry, go ahead and give it a go…
Let it thaw for at least an hour if frozen before using
Beef Tenderloin
Refer to Image Below for Steps
Step One : Marinate the beef tenderloin with salt and pepper
Step Two : Heat some butter and oil in a heavy bottom pan and place the meat on it.Let this sear for 5 minutes on each side
Step Three : Bring it to the edge of the pan to make sure you get the browning on all sides
Step Four : Make sure the flame is on medium high for best results
Step Five : Keeping a weight on top helps tenderise the meat
Step Six : Once its done,immediately brush some mustard paste and set this aside to rest for at least 30 minutes before using…This helps retain all the flavours.
By now your meat is only browned on the outside, it's not fully cooked.
You could completely cook the meat by keeping for longer with the weight.This makes a great meal on its own otherwise you could even serve with some oven roasted potatoes.Scroll Down to the end of this post to see how I served this particular fully seared steak over oven roasted potatoes
So Delicious and Fulfilling for Iftar
Do not discard the drippings from the meat, I made a quick gravy to go with it
The Gravy
You Will Need
Drippings from Steak
1 tbsp Butter
2 tbsp chopped garlic
salt,pepper
One Cup Coconut Milk
One Cup Heavy Cream
Lime Juice of one lime
1 tbsp Coconut Aminos or Soy Sauce
Step One : In the same pan add more butter and fry finely chopped garlic and let it get golden brown.Add in one cup heavy cream and coconut milk and keep stirring
Step Two : Let this come to a boil on low, add salt and pepper if needed.Coconut Aminos and lime juice
Step Three : Let the sauce simmer and Switch off flame when it is at a little thinner consistency than you would like it to be because it thickens as it cools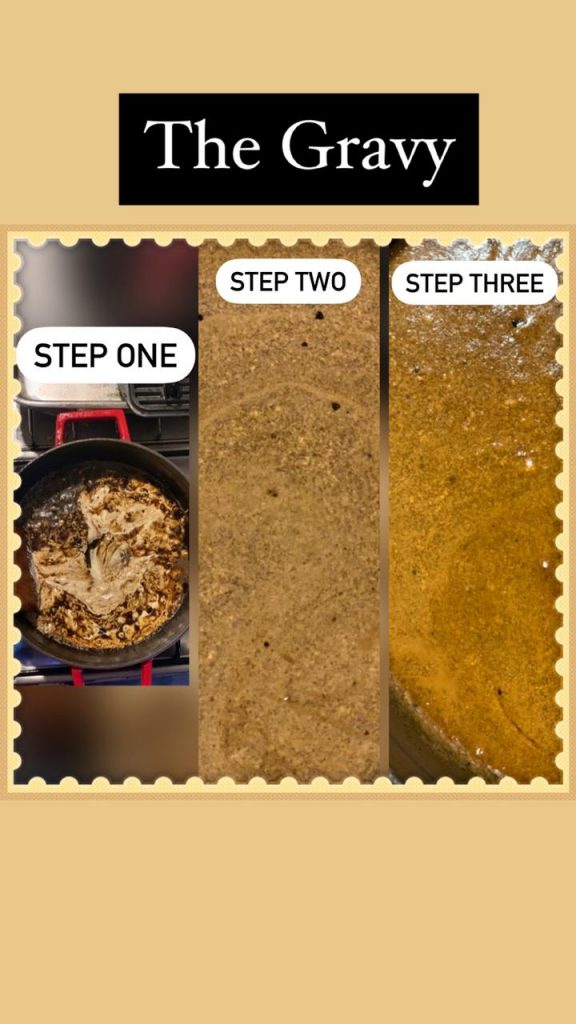 Mushroom Filling
You Will Need
2 tbsp Finely Chopped Garlic
1 B onion finely chopped
3 tbsp Olive oil
300g Finely chopped mushrooms
Fresh or Dried Herbs of choice
1 tsp mustard paste
salt,pepper
Lime juice of one lime
Finely Chopped parsley
Step One : Heat oil in a pan and sauté onions and garlic till golden brown
Step Two : Add in mustard paste, chopped mushrooms and increase heat and keep on medium high flameAdd herbs
Step Three : By now you will realise it releases so much of water.Let this simmer down completely and add salt and pepper
Step Four : Finally add in the rest of the ingredients and mix well.This has to be quite dry and not runny.
The filling is ready
Time to Assemble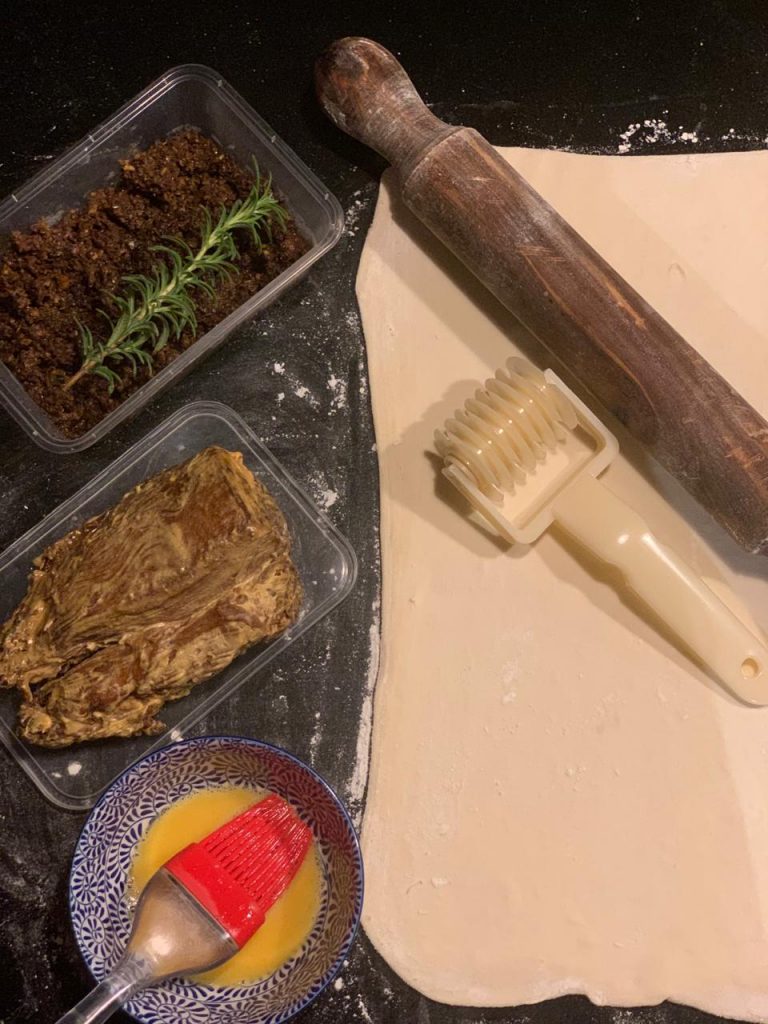 Refer to image below for details on the steps
Step One : On a floured flat surface, roll Out Puff pastry into a rectangular shape
Step Two : Spread Mushroom filling in the middle of the flat rolled out dough leaving at least halfway on each side for folding over
Step Three : Place the cooked chunk of meat over the mushroom filling
Step Four : Fold Over one side
Step Five : You could just fold over the other side but I decided to do a lattice pattern using a lattice roller.This is completely optional so skip that part if you don't have a lattice roller.
Step Six : Tuck both sides in well making sure they won't puff upwards while baking and open up
Step Seven : Egg wash
Step Eight : Bake in a pre heated oven at 180′ for at least 90 minutes or until you know it's ready…
By now, everything smells absolutely amazing….
Hear the crackle in my Instagram post.Link is attached below :
https://www.instagram.com/p/CIgWw-UBx8N/?igshid=1f0tchb8em7gq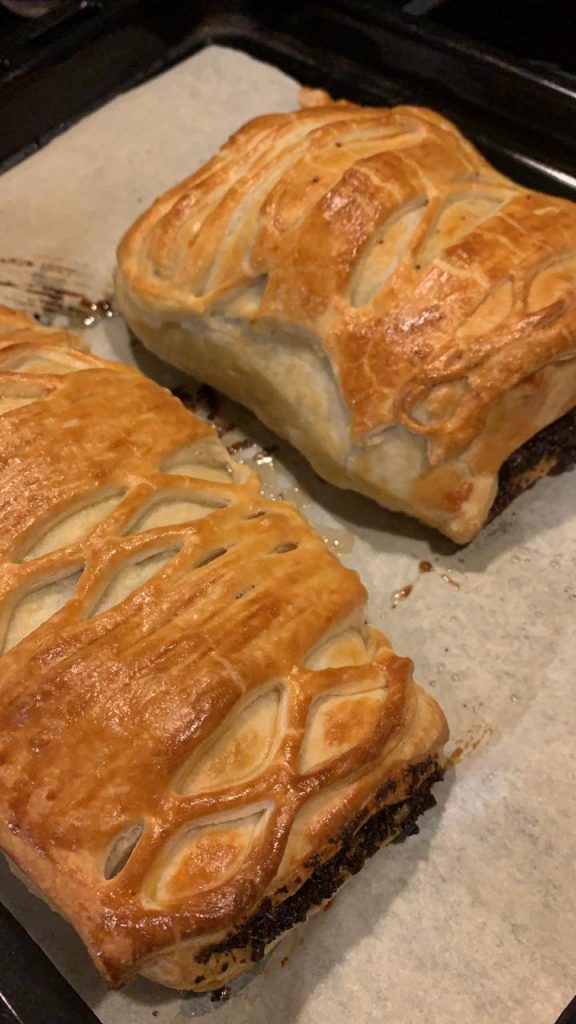 Let this rest for at least 15 minutes before slicing it up for serving
If you feel the insides are not completely done enough after slicing, neatly place them bake in the baking tray slice down and bake again for 20 minutes or till they're fully cooked.I know medium rare is not everyone's thing..
We served with extra vegetables on the side
I used the same method to sear the steak for any recipe.The image below shows the Steak I made some time ago, sliced it up and served with Oven Roasted veges and fresh Dinner Rolls…What a feast !!!
Simply toss the sliced potato wedges in olive oil, dried and fresh herbs.You could also throw in extra garlic, onions and red bell pepper for more flavour.Bake this in a pre heated oven for at least 45 minutes or until the potatoes are beautiful and golden….
The kids love this instead of French Fries and I'm the happiest because I don't have to deep-fry them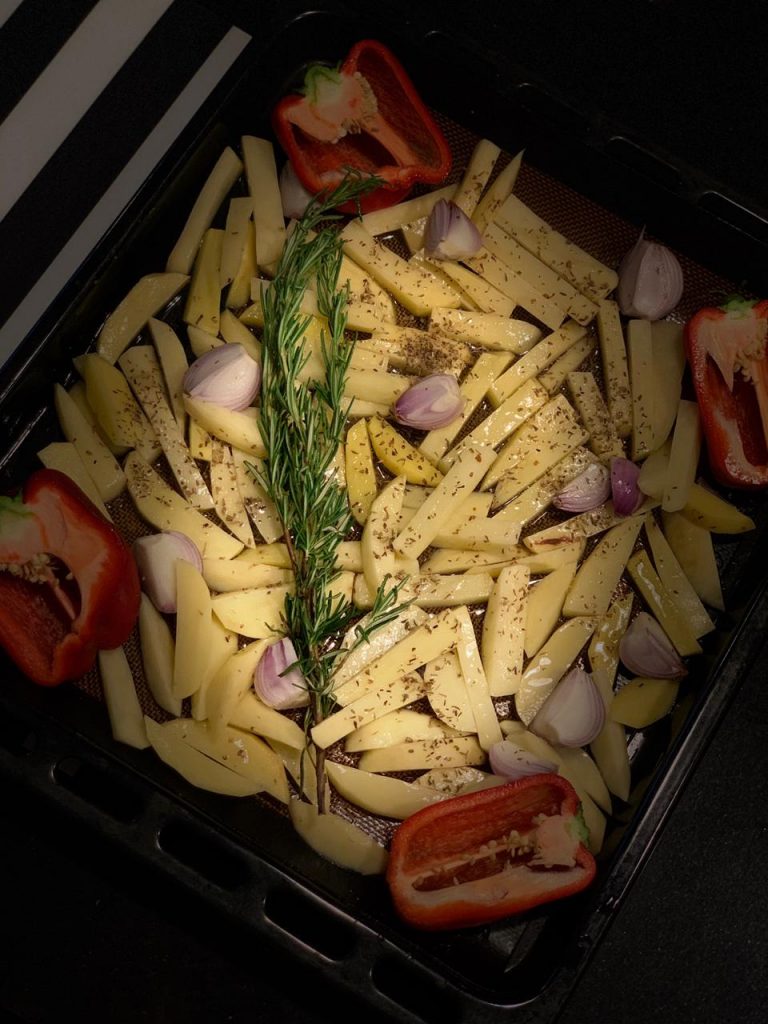 I have made many variations using the same method for The Steak.Now that you know how to get a Steak done right, you can start making your own twist to the original versions…I love tweaking recipes according to my family's preference…
The image below shows twice cooked steak with potatoes and cheesy greens on the side.After slicing the medium rare steak, I mixed it with cubed potatoes that are tossed in some butter and fresh herbs.Then baked in a preheated oven for 50 minutes or until they're beautifully golden on top but not dry…
Would love to see your version of remakes on this Deliciousness.Be sure to tag me on social media and send me a screenshot if you're account is private so I can reshare on my stories
Stay Safe 💕Stay Home💕 Stay Sane 💕Be Responsible
Much Love 💗 Nuzrath
freshmeat.lk #halal #Colombo #chicken #mutton #beef #freedelivery #Tenderloin #fillet #srilankanfoodie #mylankanfoodjournal #foodblog #colombofoodbloggers #colombolife #foodiesofintsagram#onthetable #instadaily #igers #eatpraylove #positivevibesonly#alham