Beef Chukka is a Popular dish from Western India
This particular Meat Dish is made with a lot of care and attention,hence the taste is phenomenal.
Beef Chukka is made in Several Stages
Stage One : The meat is first carefully tenderised or forked and marinated for a few hours.
Stage Two : Then cooked with vinegar and brine
Stage Three : Fried lightly to perfection
Stage Four : Tossed in a freshly ground spice powder.
Stage Five : Chukka is made using lots of fresh ginger garlic and curry leaves.
This recipe was passed down from my beloved aunt Hameeda : who left this world not long ago…(May Allah forgive her sins and grant her a highest place in Jannah)My sister always made the best Beef Chukka in the family and it was one of my father's favourite dishes till date.
I have tweaked it abit using a few extra things so I wouldn't say mine is the most authentic one
Let's Get Started
You Will Need
Stage One
Marinate the beef for at least two hours
1 Kg Beef cut into large pieces ( I used part with bone because that's how we prefer )
One cup vinegar
One Cup Water
Salt and Pepper
Coconut Aminos 2 tbsp or Soy Sauce
Stage Two
Add all ingredients and cook beef till tender.Not too soft, they will break when frying.Pressure cooking will make it faster (5 whistles)
Coconut Aminos is a healthier alternative to Soy sauce
Stage Three
Strain water and remove meat pieces.You could deep-fry or shallow fry
Reserve liquid to be used later
Stage Four
Make the spice mix : You will need
Cinnamon Stick 3″
Cardamom 10
1 Tbsp Black Peppercorns
2 Tbsp Cumin Seeds
2 Tbsp Coriander Seeds
Curry Leaves
Pandan Leaves
Dry Roast the whole spices in a saucepan, let it cool and then grind into a fine powder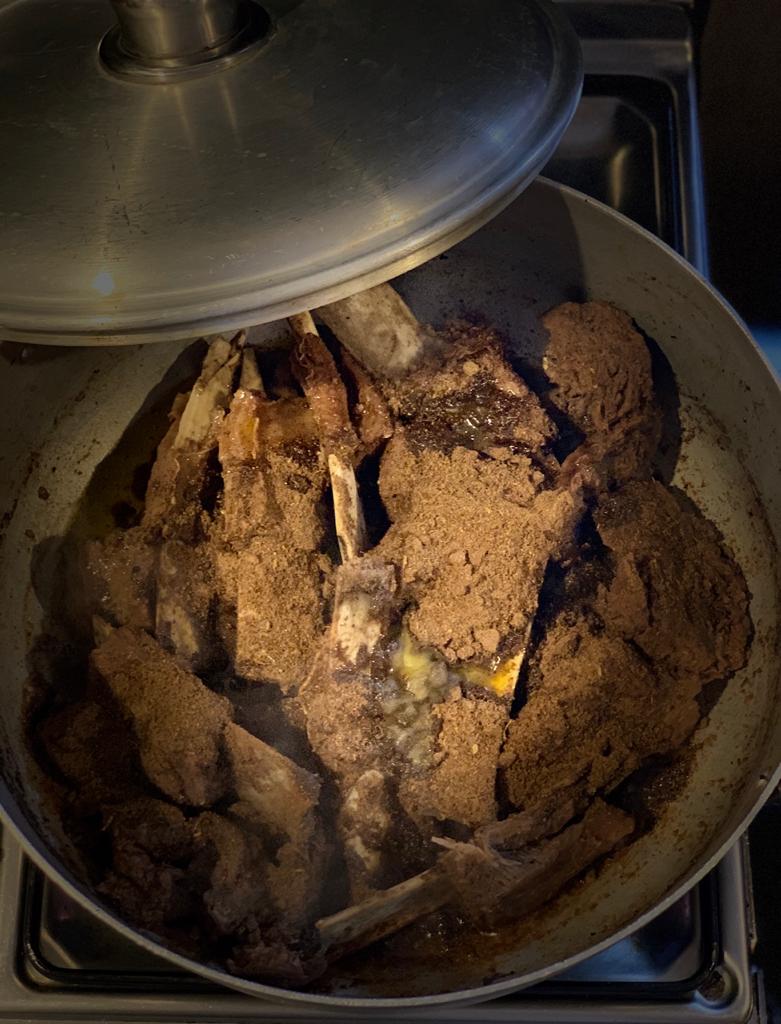 Add this into the fried meat and mix it around.Set this meat aside and start prepping for the Chukka
Make sure the meat is well coated
Stage Five
For the Chukka you will need :
1 B onion chopped finely
Ginger and Garlic 100g
Curry leaves
Pandan Leaves
Lime juice of one lime
Tamarind Pulp 1 tbsp
Salt if needed
In another pan, heat ghee and add in onions.Let this fry and get beautifully golden.
Next, add in garlic,curry leaves,pandan leaves
Now add in ginger and mix well.
Let this cook for a few minutes till you see the oil seperates.And add in the Meat and mix well
Finally mix in tamarind pulp, lime juice and the stock that was remaining after boiling the meat earlier.Let this come to a simmer on high, once it has reduced down to the consistency you prefer,switch off the flame and let this settle for few minutes before serving.
Ideally this dish is dry but if you prefer with more gravy, you could either add 1/2 cup stock that was left after boiling the meat from earlier or whisk in 2 tbsp Maggi Coconut Milk Powder with that stock and pour that to make a creamy gravy
There are few things you need to top this with after plating.
1 B Onion sliced into rings
5 Green Chillies slit lengthwise
3 Capsicums sliced to an angle
Fresh Coriander Leaves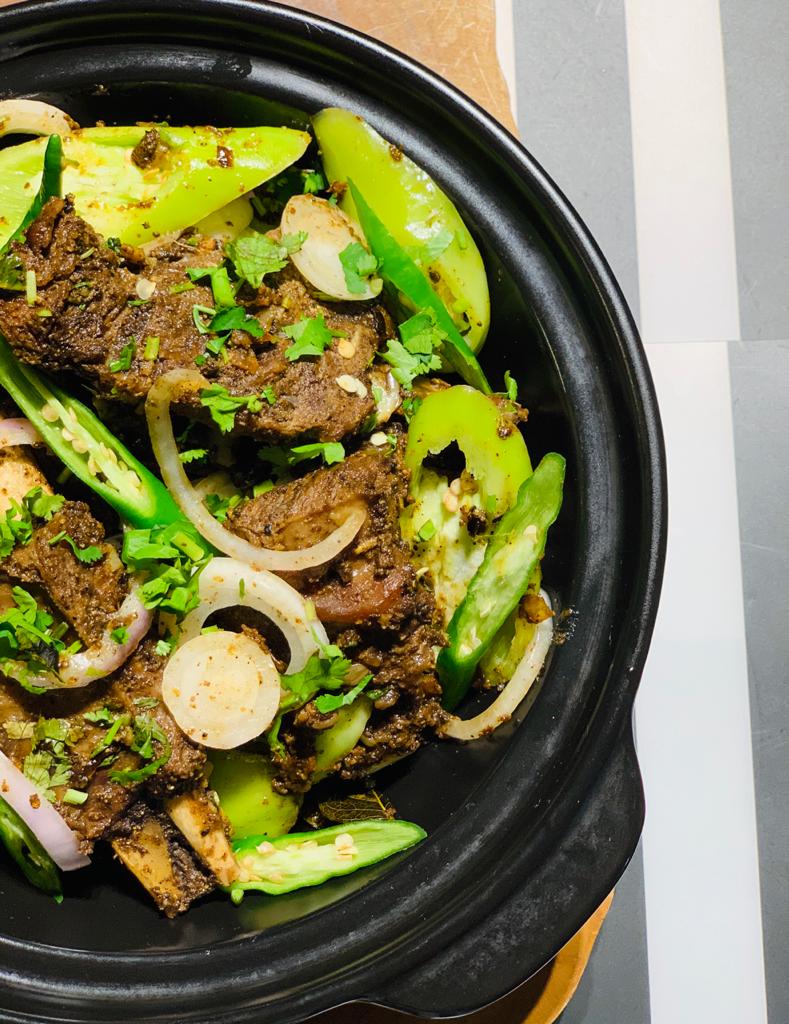 I hope I have done justice to my aunt's recipe.Miss her so much and it's been almost 40 days.Please say a small prayer for her if you ever make this delicious dish
It is well paired with Coconut Rice or plain Chappathi
My recipe for Coconut Rice is on the blog : will attach the link below
Would love to see your remakes on this lip smacking Deliciousness.Be sure to tag me on social media or send me a screen shot if your account is private. So I can reshare them in my stories
Stay Safe
Stay Sane
Stay Responsible
Much Love ? Nuzrath
srilankanfoodie #mylankanfoodjournal #colombofoodbloggers #instafood #feedfeed #huffposttaste #onthetable #instadaily #foodphotgraphy #eatpraylove #begrateful #positivevibesonly#alhamdulillaforeverything?