Something we've learnt from 2020 : Being able to find happiness in the most simplest things and being content…Exactly how our parents taught us about life, would you agree?
This is a humble dessert that can be made using pantry staples,the results turn out to be so fulfilling and delicious
This Halwa is made from Atta Flour/Whole Wheat Flour so it's definitely a healthier alternative to any other kind of sweet treat
I first saw this on my friend Monali's feed and I gave this a try the very next day altering it and switching things around with the help of my sil Thuri who's family makes the best mithai.Been making it quite often that day onwards…Do check out Monali's Instagram page for some delicious drool worthy dishes
https://instagram.com/califoodiemama?igshid=1n4b1yh278qls
Requires minimal time and effort : Just what you want these days yeah?
You could use sugar or treacle instead of jaggery and skip the cardomom to vanilla flavour.I'm well aware that cardomom prices have gone over the roof these days !!!
Ingredients for The Atta Halwa
One cup Atta Flour
One cup Ghee
One Cup Jaggery melted with One Cup Water
Cardomom for flavour
Check my instagram post for video demos : Link is attached below
https://www.instagram.com/p/CHJzw0MBopB/?igshid=ovwvhnjz0rfr
Step One : Melt Jaggery in a pan with the wate,cardamom and make into a syrup
Step Two : Mix ghee and atta flour in a non stick pan and roast this with the cardamom till nice and fragrant.Just to make sure the raw smell is no more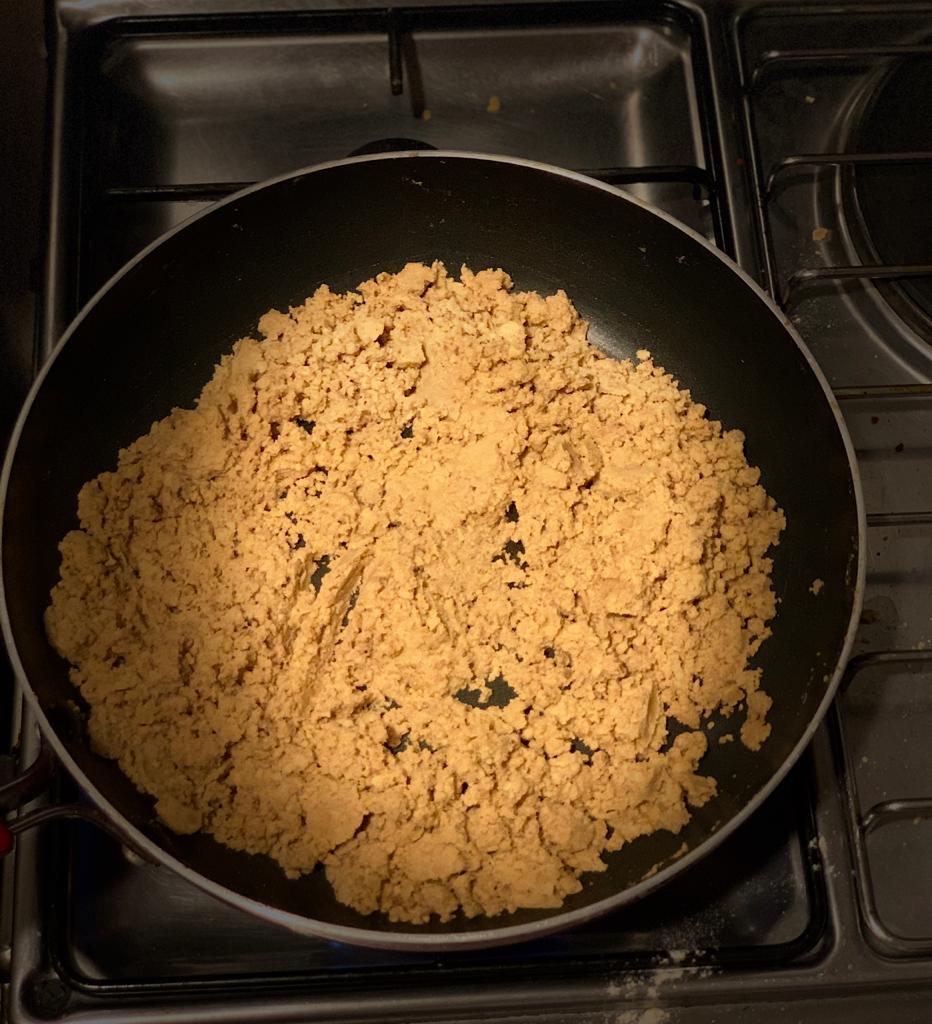 Step Three : Add the melted Jaggery into the roasted flour, while the flame is still on and keep stirring for a few minutes till they're well combined.You will notice the oil comes off the edge of the pan.This doesn't take too long though.10 minutes
When the mixture comes off the pan forming into one lump you know it's ready to be transferred to a greased tray
Sprinkle nuts if you prefer
I just love to dig in right off the pan.So quick and easy but so warm and delicious
Would love to see your remakes on this Deliciousness
Be sure to tag me on social media or send me a screenshot if your account is private.So I can reshare them on my stories
Stay Safe Stay Home Stay Sane and Be Responsible
Much Love 💕 Nuzrath
srilankanfoodie #mylankanfoodjournal #colombofoodbloggers #instafood #feedfeed #huffposttaste #onthetable #instadaily #foodphotgraphy #eatpraylove #begrateful #positivevibesonly#alhamdulillaforeverything💕