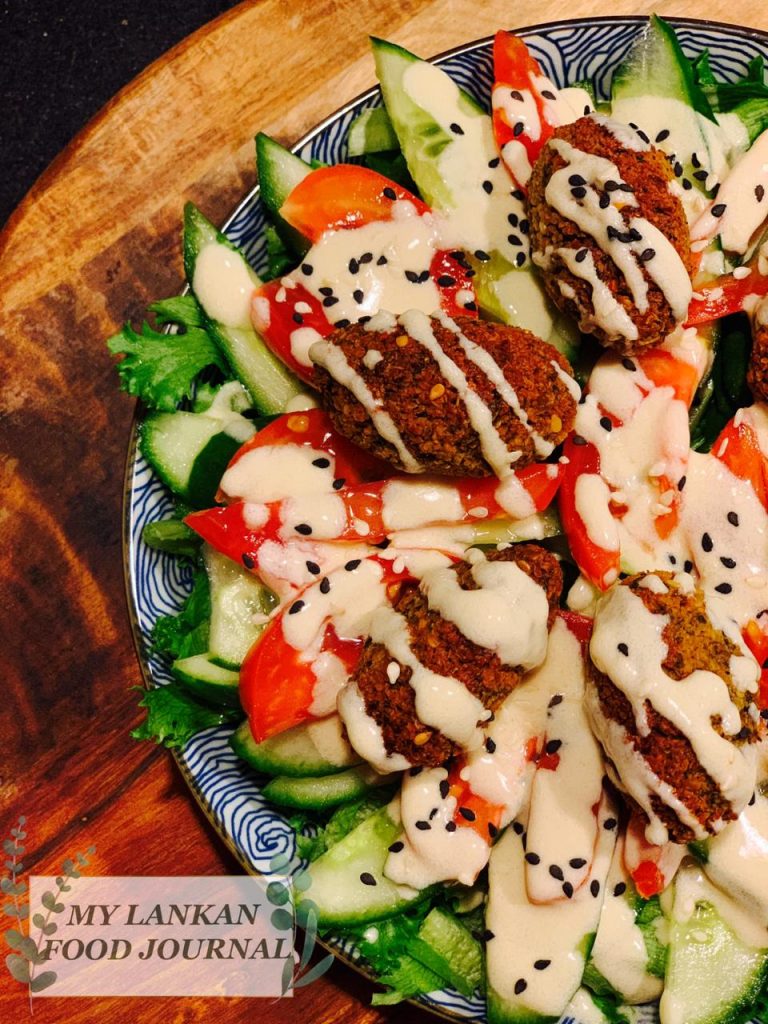 Falafel is a deep fried patty usually made with either chickpeas or fava beans.Sometimes they even use both to make a delicious falafel.Theyr usually wrapped in pita pockets and loaded with crispy fries and drizzled with tahini sauce….Also salad and tomatoes yummm
When I was younger and we visited Saudi Arabia atleast once a year my dad would always buy me a loaded falafel sandwich(with no tomato) or a yummy shawarma and a hot take away tea !!!! That's where I first tried a falafel when I didn't even know what it was called,lol !!! Anyone else has falafel memories….
Anyway this is a healthier version because I oven baked it and topped over salad instead.We also had it with pita chips but I couldn't get it on the picture this time.You could definitely deep fry yours like how it's usually done but this is my version and definitely not the authentic one ??????
Having less carbs with meals has always helped me feel more comfortable specially during the night.
This is so easy to make and freezes really well too.I was supposed to freeze a batch but it was too good and the kids gobbled them up too!!! I would modify it each time I used a batch.
? Check out my Instagram post and show some love ? (Link is attached below)
Let's Get Started
You Will Need
2 cups Soaked Chickpeas (Soak them for at least 24 hours with 2 tsp baking soda)
Fresh parsley
Fresh coriander leaves(optional)
Fresh Mint leaves(optional)
2 cloves garlic
1 tbsp Sesame seeds
salt, black pepper
1 tsp Cayenne Pepper for heat (much healthier than regular chilli powder)
1 tsp unroasted curry powder/cumin powder/coriander powder
lime juice
Step One
REMEMBER : The chickpeas are blended raw not cooked.Since they're soaked for at least overnight or 24 hours.
Just blend these ingredients well in a food processor till they're well incorporated. Check image below
Step Two
Chill this for at least an hour minimum.This plays a big role in getting the right consistency
Step Three
Form into circular shapes and keep chilled till you want to fry these bad boys or oven bake them like I did….Either way So good !!!!
Step Four
Oven bake for at least 30 minutes at 180′
Serve warm or cool and freeze till needed
This is how I plated mine : Over a plate of fresh salad and drizzled with home made Tahini Sauce and Oven Baked Pita Chips
You could stuff them in pita pockets and serve with loaded fries if you prefer that way…that's definitely a good choice if you're not watching the calories!!!Make it your version !!!
EASY TAHINI SAUCE
Whisk 2 tbsp Tahini with juice of one lime and a drizzle of extra virgin olive oil.Its as easy as that !!You could add ice water if needed to adjust the consistency according to your preference
Would love to see your remakes on this : be sure to tag me and send me a screenshot if you're a private account otherwise I won't be able to see your story.
Hope everyone's doing well and staying safe around the globe ?
Much Love ? Nuzrath
srilankanfoodie #mylankanfoodjournal #colombofoodbloggers #instafood #onthetable #instadaily #foodphotgraphy #eatpraylove #begrateful #positivevibesonly#alhamdulillaforeverything?