Quick and Easy Devilled Beef for busy days or not !!!
When you're having a long day but eating out is not really a safe option these days, because of COVID-19
This was a total fridge raid situation so I used whatever was available to bring out this plate of deliciousness.Having to feed many hungry kids, you get used to making the most of whatever that's available and I'm humbly proud of that Alhamdulilla
Anyway, let's get started
You will need
1 kg Meat boiled and deep-fried or shallow fried.Leftover meat would be ideal too.To boil meat I only add salt, pepper and vinegar.
2 tbsp Minced Garlic
1″ piece ginger crushed(check out my previous posts to see how I store ginger)
Few Curry Leaves
2 B Onions cut into wedges (medium sized)
2 Tomatoes cut into wedges
3 Capsicums Sliced (angle length)
2 Green Chillies slit
Salt,1 tsp Pepper,1 tbsp Chilli Flakes,1 tbsp Kashmir Chilli Powder
Coconut Aminos (healthier soy sauce substitute)
Sriracha Hot Sauce (if you prefer mild spice avoid this)
Roasted Red Pepper Paste (tomato sauce substitute)Check out my post on Roasted Pepper Hummus to see how I easily make this at home.
1 tbsp tamarind pulp
Fresh Coriander leaves
Step One
Heat oil in a pan and sauté the garlic and ginger.Let this get beautiful and golden.Then add in curry leaves, spice powders and let this fry for few minutes.Then drop in the deep-fried meat.
Having pre boiled Meat in the freezer is a life saver for me,because I cannot afford to spend long hours in the kitchen when the kids are around
Step Two
Add in fresh onions, tomatoes,capsicums and green chillies.keep fire on medium high but make sure its not burning.
Step Three
Add in sauces and pastes.Check for salt and adjust accordingly
Sprinkle fresh Coriander leaves before serving
The dish is ready to be enjoyed!!! Thats how quick and easy it is to make when you have everything cut and ready…Yumm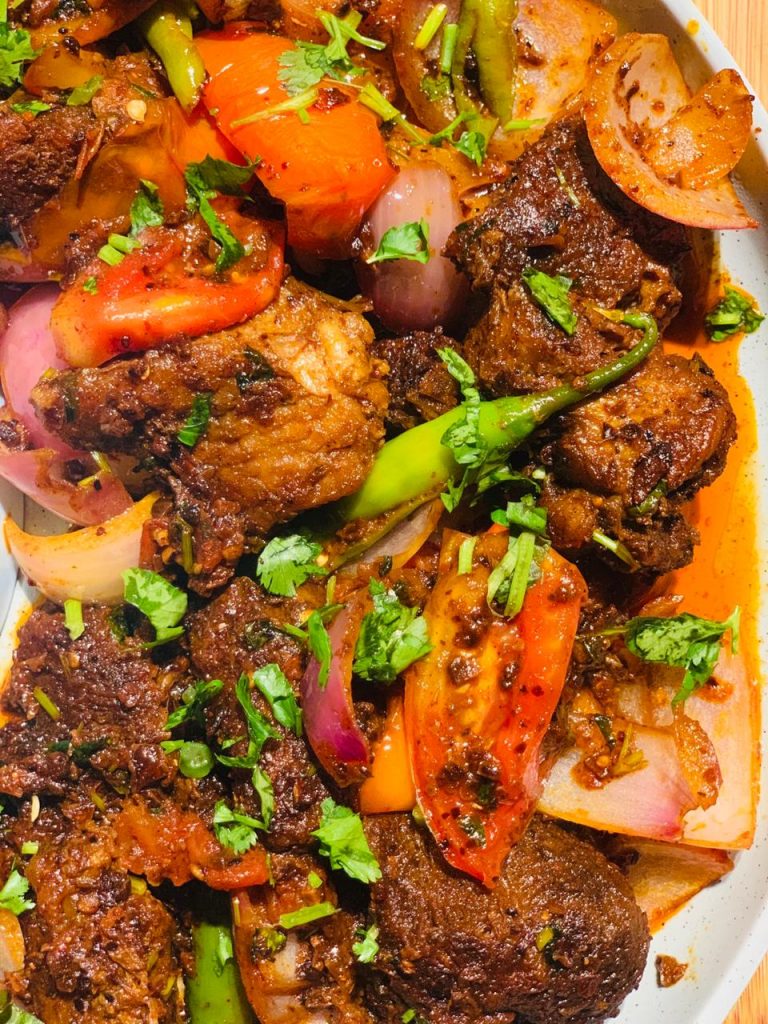 I served this with Garlic Fried Rice and a simple salad.The hubster also made some batter fried Octopus on the side.This complete meal took less than 30 minutes to make…How fantastic is that???
I couldn't capture any images on how I made the Garlic Fried Rice this time,the next time I promise I will
Would love to see your remakes on this meal
Stay Safe Everyone
Much Love 💕 Nuzrath