If you're a seafood lover like me then a Messy Crabby Meal like this is mandatory every once in awhile
My recipe definitely has much more ingredients than a regular Crab Curry….. But once you've tried this version there's no going back for sure !!!
Let's Get Started
What You Will Need
One Kg Crabs
10 Small Onions Sliced
2 Tbsp Chopped Garlic
1 Tbsp Chopped Ginger
Curry Leaves
Lemon Grass
Kaffir Lime Leaves
1 tsp Tumeric pwd
1″ Cinnamon
5 Cardamom
1 Tsp Kashmir Chilli Pwd
1 Tsp Jaffna Curry Powder
1 Tsp Chilli Flakes
1 tsp Pepper Powder
1 Tbsp Middle Cut Chilli Paste
1 Tbsp Red Curry Paste
1 Tbsp White Poppy Seeds and 1 Tbsp Cashew soaked and blended into a fine paste
Lime Juice of one lime
1 Tbsp Tamarind Pulp
One Cup blended tomato and fried onions
One Cup Coconut blended with 10 Dried Chillies
1 Tbsp Coconut Aminos
1 Tbsp Fish Sauce
One Egg Beaten
2 Cups Coconut Milk
Fresh Red Chillies
Moringa Leaves or Fresh Coriander leaves
Step One : Mix salt and lime juice with milk and pour over the fresh crabs.Let this sit for 30 minutes before cooking
Step Two : Heat Oil in a pan and add in ginger garlic and onions.Let this turn golden brown
Step Three : Add whole spices and curry leaves,kaffir lime leaves and lemon grass.Let this get aromatic
Step Four : Add in spice powders and mix well
Step Five : Add Chilli Paste and Red Curry Paste
Step Six : Tamarind Pulp and Sauces
Step Seven : Add Blended Tomatoes and Coconut Paste
Step Eight : Let this cook on low for at least 10 minutes and you will notice the oil coming off the sides.Then you know the whole mixture is well cooked.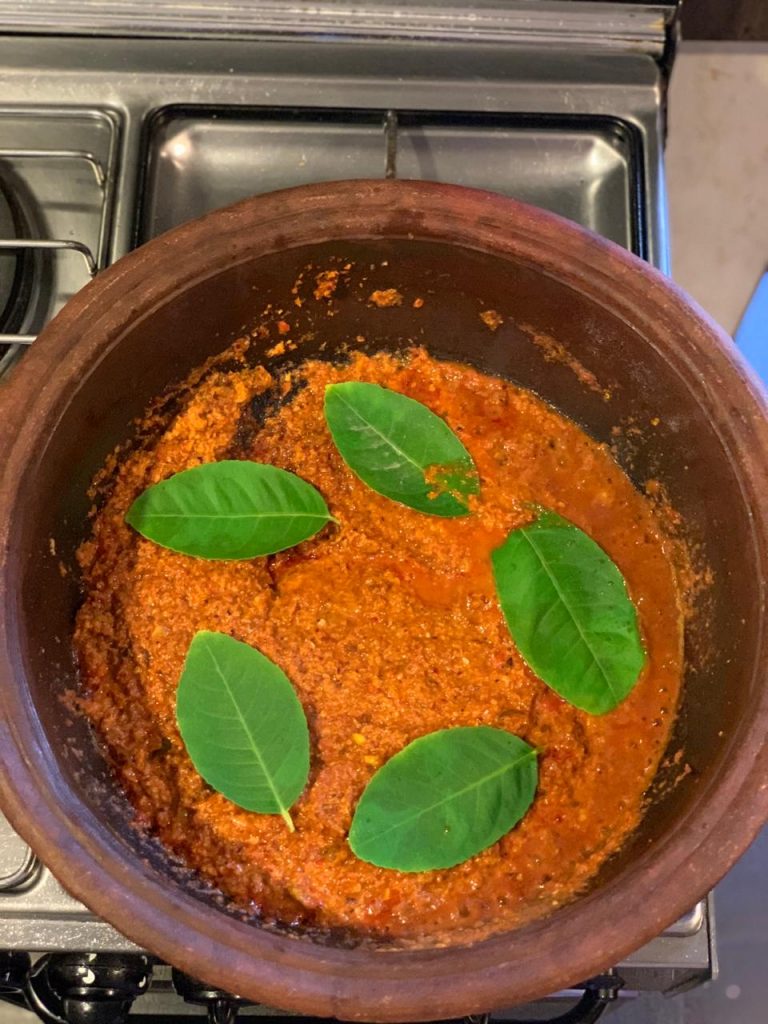 Step Nine : Time to add in the Crabbys
Step Ten : Let this cook on low for at least 30 minutes while covered
Step Eleven : Add in Moringa Leaves and Ground Cashew and Poppy Seed Paste.Increase flame to high and let it simmer to little thinner than you prefer because it will thicken as it cools.If you prefer more gravy add more milk
Step Twelve : Just before you switch off the flame, check for salt and adjust accordingly.Pour the beaten egg along the edges of the pan.This will give a wonderful texture to your Crab Curry
Garnish with more fresh red chillies and Moringa Leaves
This can be enjoyed with plain rice or steamed roast paan.Today we enjoyed with rice and vegetable chop suey…So delish !!!
The vegetables were sourced from Sunny Bees : our only choice for fresh fruits and vegetables. Check them out on social media to place your order.Link is attached below :
https://instagram.com/sunnybees.lk?igshid=16i4byfnuq43r
The Star of the Dish is The Fresh Sea Crab and my choice is always The Middle Cut Company
They specialise in Fresh Local Seafood Only : Not the frozen kind !!!Do Check Out their page for more details and images of their daily catch
https://instagram.com/middle.cut?igshid=ruakvem5m6s3
These are their new additions the Mean Mud Crabs and they're THE BEST!!!!
Check Them Out
Anyway I hope you would give this delicious recipe a try and If you do be sure to tag me on social media or send me a screen shot of your post.I will re share them on my stories
Would love to see your remakes on this
Stay Safe ? Stay Safe ? Stay Home ? Be Responsible
Much Love ? Nuzrath