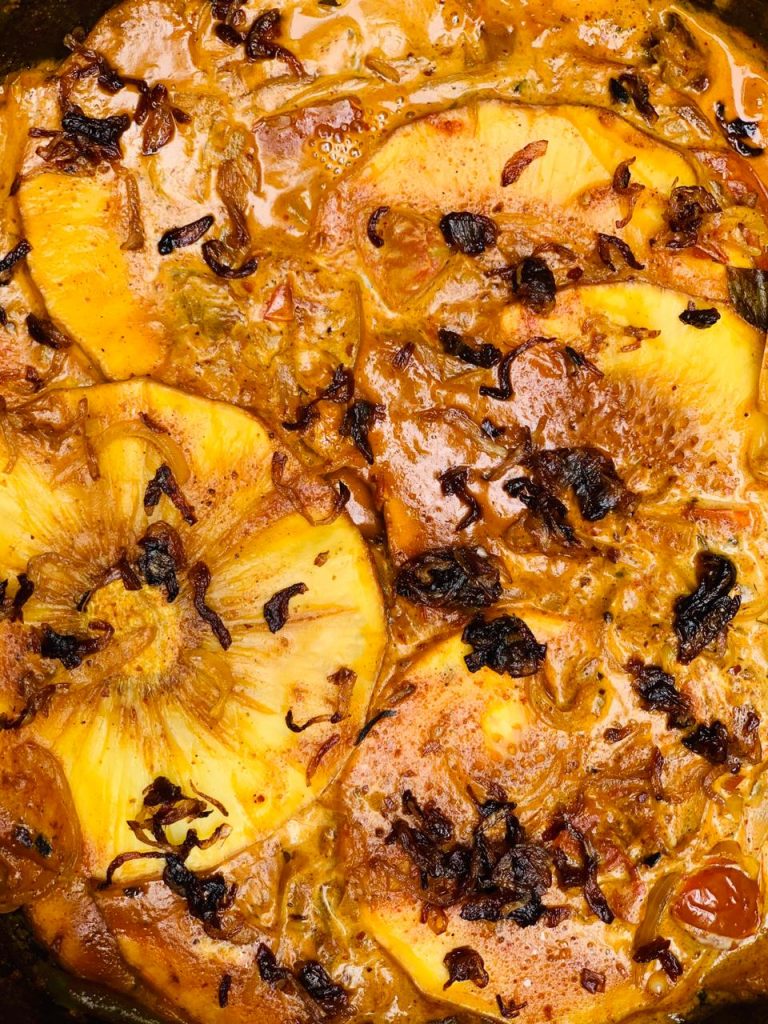 My dads favorite way to eat Bread Fruit….Love love this method
This is ideally cooked in a traditional clay pot over a mud hearth by my mom but I used only a clay pot over a gas stove just to keep the flavours sealed….
This fruit was from my aunts tree and it tasted so creamy and fresh.This made me feel nostalgic and brought back wonderful memories with my mom
There are many other ways to cook the Bread Fruit or the Jack Fruit (same family) srilankan style : with meat,dry fish,spinach,fried sambol with the seeds and there's even a popular sweet version in the form of fried chips coated in melted jaggery that my mom makes especially for my eldest brother who was always her golden child🤣🤣🤣
Let's Get Started
You Will Need :
Fresh Bread Fruit sliced and deep-fried on medium heat till golden brown
Then, these large deep-fried circles are tossed in a creamy spiced coconut gravy….so good!
Refer to image for steps
Ingredients :
2 B Onion sliced
1 whole garlic bulb chopped finely, ginger finely grated
Curry leaves,pandan leaves
1 whole Cinnamon,4 Cardamoms
1 tbsp Maldive Fish Chips
2 Tomatoes chopped
2 green chillies sliced
spices : 2 tsp chilli pwd,2 tsp jaffna curry pwd,2 tsp salt,1 tsp tumeric,1 tsp unroasted curry powder
tamarind pulp 1 tbsp
2 cups coconut milk
Fried Onions for topping
Step One : Heat coconut oil and sauté chopped garlic,ginger till golden brown.Then add in cinnamon and cardamom.Curry leaves
Step Two : Add in sliced B Onions and keep stirring in-between to prevent burning.Let this get nice and light brown.
Step Three : Add in spices and tomatoes,mix well…
Step Four : Green chillies, tamarind pulp and maldive fish chips and keep on low…
Step Five : Add half the coconut milk..
Step Six : Let the spices cook on low for 5 minutes.
Step Seven : Place the deep fried bread fruit one by one and slowly pour the gravy over the sides without breaking them…
Step Eight : Add the remaining coconut milk
Step Nine : Cover and cook for 10 more minutes or until the gravy is thickened up to your preference.Remember this gravy thickens as it cools so remove off fire while a little runny…The clay pot helps in the thickening process too!
Sprinkle fried onions before serving
This is enjoyed mostly with steaming rice but I could eat this all up plain…so good!!!
Would love to see your remakes on this delicious meal!!!
Which way have you tried???
Much love Nuzrath💕
srilankanfoodie #mylankanfoodjournal #colombofoodbloggers #instafood #feedfeed #huffposttaste #onthetable #instadaily #foodphotgraphy #eatpraylove #begrateful #positivevibesonly#alhamdulillaforeverything💕