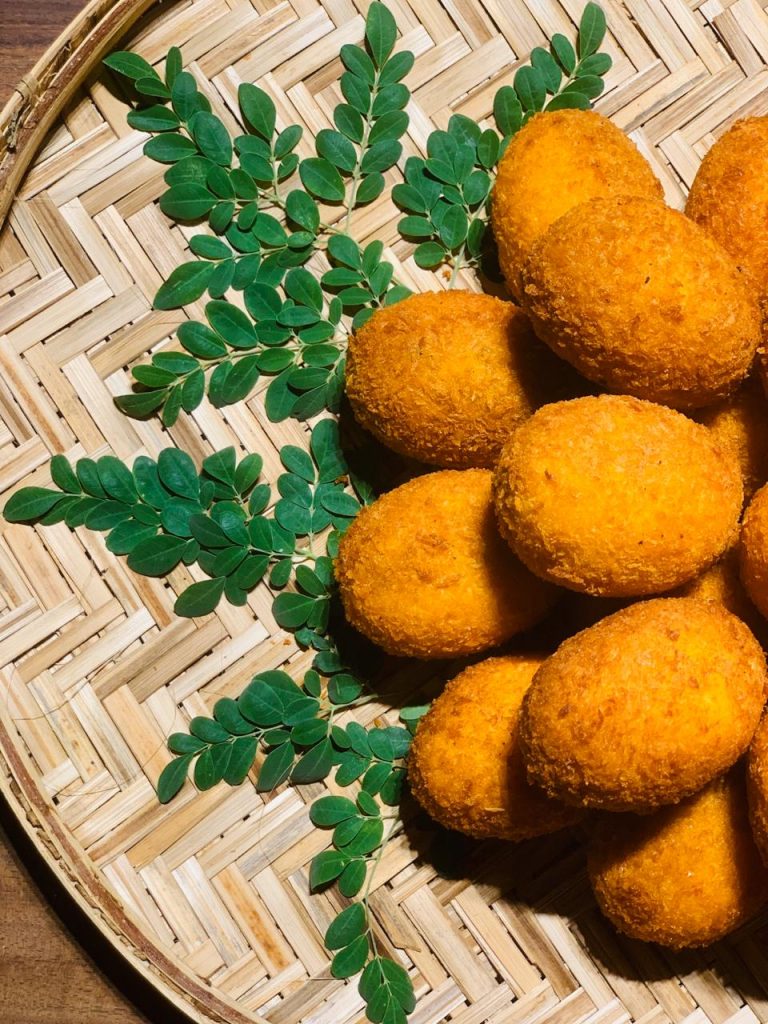 Crispy Srilankan Egg Cutlets
These Crispy Treats Are One Of My Dads Favorite Snacks To Enjoy During Iftar
We Srilankans Enjoy Snacks In The Form Of "Shorteats"
To Start I Prepped By Full Boiling 8 Eggs Earlier & Sprinkled With Salt & Pepper & Set Aside
.
Boil The Potatoes
.
In The Meantime,I Made The Filling With Tuna
I Use The Diamond Brand
https://instagram.com/diamondbestfoodslk?igshid=1k1j3afh2iqhx
https://m.youtube.com/channel/UCB1U-_Rk87ULlWu3tql3cZg?view_as=subscriber
.
This Filling Was Made In A Different Way Compared To The Other Methods I've Done Before
First Mix In The Spices Such As Kashmir Chilli Pwd,Chilli Flakes,Pepper Pwd,Tumeric & One Tsp Roasted Curry Pwd With 4 finely Chopped B Onions In A Bowl.
Then Heat Up 1/2 Cup Of Coconut Oil In A Pan & Add These Spiced Up Onions & Cook On Low For Atleast 5 Minutes.
Add Curry Leaves
When The Onions Have Turned Translucent & Getting Lightly Golden,Add In Tamarind Pulp & Mix Well.Then Add In A Can Of Tuna & Combine.
Check For Salt
Add In Sliced Green Chillies If You Prefer Heat
Next Add In Five Medium Sized Potatoes That Were Boiled & Mashed Up
I Didn't Have Fresh Corriander Leaves Today So I Added Fresh Moringa Leaves & That Worked Well Too.
Finally Drizzle Lime Juice If One Lime.
This Is The Basic Cutlet Filling.
Now Set Up The Crumb Coating Station
Lets Start Making The Egg Cutlets
.
Use A TableSpoon Of Filling & Mould It & Form An Oval Shape With The Halved Egg To Basically Look Like A Whole Egg
🥚🥚🥚🥚🥚🥚🥚🥚🥚🥚🥚🥚🥚🥚
You Could Make About 16 Egg Cutlets
Depends On The Size Of Your Eggs,We Made Regular Cutlets With The LeftOver Filling
.
Layer One Coat In All Purpose Flour
.
Layer Two Next Beaten Egg
.
Layer Three First Crumb Coat
.
Layer Four Back To Egg
.
Layer Five Second Crumb Coat

Would Love To See Your Remakes On This
.
Stay Safe💕StayHome💕StaySane💕
.
Love Nuzrath
srilankanfoodie #mylankanfoodjournal #colombofoodbloggers #homemadewithlove #ramadanseries2020 #ramadanwithme #ramadan2020 #ramadanvibes #smartcooking #smartsnacking #eggcutlets #srilankanshorteat #quarantineandchill #stayhome #staysafe #staysane #instafood #instadaily #foodphotgraphy #foodstagram #eatpraylove #begrateful #positivevibesonly #alhamdulillahforeverything💕